M. Gail Hamner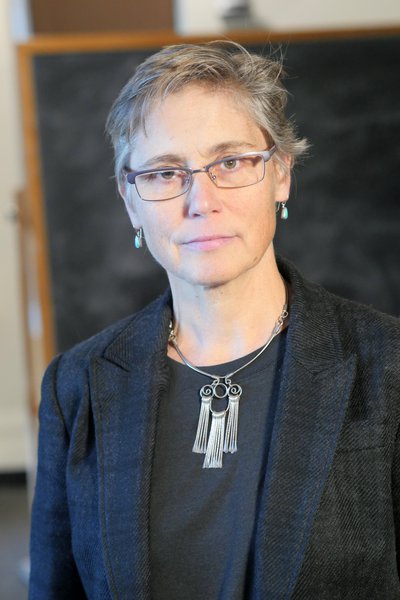 M. Gail Hamner
Professor

CONTACT
Religion
512 Hall of Languages
Email: mghamner@syr.edu
Office: 315.443.5716

A&S AFFILIATIONS
Women's and Gender Studies

Degrees
Ph.D., Religion, Duke University, Durham, NC, 1997
M.T.S., Philosophical Theology, valedictorian, Boston University School of Theology, Boston, MA, 1989
B.S., Biology, Duke University, Durham, NC, 1985
Courses Taught
REL 246 Religion and Popular Culture
REL 291 Comparative Themes and Issues
REL 326 Religion and Film
REL 353 Religion and Nature
REL 358 Critical Issues in Religious Thought
REL 391 Advanced Religion Seminar
REL 500 Confessions
REL 644 Feminist Theology
REL 661 Self, Body, Transcendence
REL 662 Marx and Foucault
REL 663 Religion and Revolution
Research and Teaching Interests
Professor Hamner specializes in religion and culture and teaches at the intersections of continental philosophy, feminist and gender theories, and media/film theory. She is the author of American Pragmatism: A Religious Genealogy (Oxford: 2002) and Religion and Film: The Politics of Nostalgia (Palgrave: 2012) and is currently working on a manuscript that rethinks the public sphere and the place of religion within the public sphere in light of our intensely hyperlinked and socially mediated world.
2013 Full Professor, Department of Religion, Syracuse University
2008 Associated faculty for the Women and Gender Studies Program, Syracuse University.
2005-present Associate Professor, Department of Religion, Syrause University.
1998-2005 Assistant Professor, Department of Religion, Syracuse University.
1997-1998 Lecturer, Duke University, Religion Department.
Other Publications/Submissions
Response to Sara Ahmed's Living a Feminist Life, in Syndicate. (Jan-Feb 2018).
Working on a chapter on "Scorsese as a critic of modernity" for a volume on Scorsese edited by Chris Barnett of Villanova.
"Matters of Place: Placing Religion in Film", Material Religions: Exploring the material basis of religious traditions, 7/24/2017"
Askesis and the Logic of the Spiral," Theology and Sexuality 22:3 (2017), 143-154. (Published online June 26, 2017)
"Sensing Religion in Alfonso Cuarón's Children of Men," in Religions, December 2015.
"Filming Reconciliation: Affect and Nostalgia in The Tree of Life," in The Journal of Religion and Film, spring 2014.
"Work and Life in the Balance," short 'round-table' contribution to Religious Studies News, spring 2015.
"Acting in Common: How the Flesh of Multitude can become Incarnate Words against Empire", in Evangelicals and Empire: Christian Alternatives to the Political Status Quo, ed. B.E. Benson and P. Heltzel (Grand Rapids, MI: Brazos Press, 2008), pp. 43-53.
"What is an Act?: Reflexive Action in Pragmatism and Praxis Philosophy," PoLAR: The Political and Legal Anthropology Review, November, 2003.
"The Work of Love", in Opting for the Margins: Postmodernity and Liberation in Christian Theology, ed. Joerg Rieger, Oxford University Press, 2003.
"Cultural Saints", in Luis León and Gary Laderman, eds., Religion and American Culture (Santa Barbara : ABC-CLIO, 2014).
Papers and Presentations (2013-Present)
2017
2016

Nov "Genealogy of Affect and Technologies of Mediation" for Got Genealogy session of the Cultural History and the Study of Religion Group, AAR San Antonio, November.

2015

Feb "Affect Theory as a Tool for Examining Religion Documentaries." John Corrigan's AAR Grant Symposium on Religion and Affect. National Humanities Center, Research Triangle, NC.
Oct "Justice and Forgiveness, Wombs and Strangers: A Response to Claire Katz" Psychology and the Other Conference, Cambridge, MA
Oct "Affect and Religion Documentaries". Worldings/Tensions/Futures, Affect Theory Conference. Lancaster PA.
Nov "Eros and Ascesis: A Response to Lynne Huffer." American Academy of Religion, Atlanta, GA (Social Theory and Religion Group)
Nov "Secularity, Sacrifice, Impasse". American Academy of Religion, Atlanta, GA (Philosophy of Religion Section)

2014

Apr "Mask and Materiality in Sembene's Black Girl", International Conference on Religion and Film, Omaha Nebraska, April 10-12.

Interviewed by Kristian Petersen for his New Books in Religion podcast on my book Imaging Religion in Film

Sept "Light as Eternity: The Temporal Dynamics of No Country for Old Men", International Society for Religion, Literature and Culture, Leuven Belgium, Sept 18-20.
Nov The American Academy of Religion, National Meeting, San Diego, CA

"Mediated Affect", for the Religion and Media Workshop, Nov. 21
"Foucault, Affect, and Social Power", for the Critical Theories and Discourses on Religion Group, Nov. 22

2013

Apr Invited public lecture on Alfonso Cuaron's Children of Men at Haverford College
Nov The American Academy of Religion, National Meeting, Baltimore, MD

"Religion as anti-consumerism in the Coens' The Man Who Wasn't There" for the Religion, Film and Visual Culture Group
"Affect and Religion," for the Theology and Religious Reflection Group