Biko Mandela Gray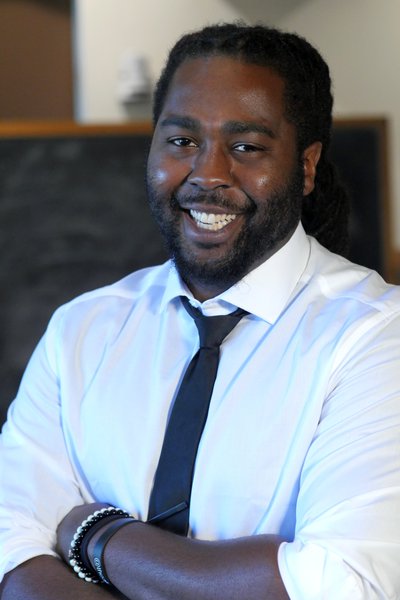 Biko Mandela Gray
Associate Professor and Director of Undergraduate Studies

CONTACT
Religion
513 Hall of Languages
Email: bmgray@syr.edu
Office: 315.443.3863

A&S AFFILIATIONS
African American Studies
Women's and Gender Studies

Degrees
PhD, Rice University, Department of Religion, 2017
MA, Rice University, Department of Religion, 2013
MTS, Vanderbilt Divinity School, 2010
BA, Xavier University of Louisiana, 2008
Courses Taught
REL 100 Intro. to African American Religion
REL 300 God the Activist
Research and Teaching Interests
Dr. Gray's work operates at the nexus and interplay between continental philosophy of religion and theories and methods in African American religion. His research is primarily on the connection between race, subjectivity, religion, and embodiment, exploring how these four categories play on one another in the concrete space of human experience. He also is interested in the religious implications of social justice movements. He is currently working on a book project that explores how contemporary racial justice movements, like Blacklivesmatter, demonstrate new ways of theorizing the connection between embodiment, religion, and subjectivity.
Syracuse University, Assistant Professor, Department of Religion, 2017-Present
University of Houston, Lecturer, Department of Religion, 2014-2016
"Show and Prove: Five Percenters and the Study of African American Esotericism," in There is a Mystery, editors Margarita Guillory, Stephen Finley, and Hugh Page (Leiden: Brill Press, 2014).
"Bun B on Religion and Hip Hop: An Interview (by Biko Gray)," in Religion in Hip Hop: Mapping the New Terrain, ed. Anthony Pinn, Monica Miller, and Bernard "Bun B" Freeman (New York: Bloomsbury Academic, 2015)
Co-authored with Stephen C. Finley, "God is a White Racist: Immanent Atheism as a Religious Response to Black Lives Matter and Antiblack State-Sanctioned Violence," published as part of a Roundtable discussion in the Journal of Africana Religions, Vol. 3, No. 4 (2015), 443-453.