Delali Kumavie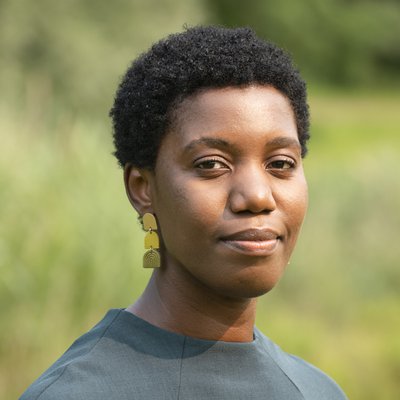 Delali Kumavie
Assistant Professor

CONTACT
English

Email: fkumavie@syr.edu

A&S AFFILIATIONS
Women's and Gender Studies

Courses Taught
ENG 183 – Call and Response: Introduction to Black Literature
ENG 242 – Reading and Interpretation
ENG 352 – Black Worldmaking
WNG 352 – Black Cities
Delali Kumavie earned her doctoral degree in English from Northwestern University in 2020. Prior to coming to Syracuse, she was a postdoctoral fellow at the Mahindra Humanities Institute at Harvard University, and a predoctoral fellow at the Carter G. Woodson Institute for African American and African Studies at the University of Virginia. Professor Kumavie's teaching and research interests are situated at the intersection of Global Black Literature, Studies in Science and Technology, Global Migration, and Black Ecologies. Her current book project, Aerial Geographies: Mapping Aviation in Global Black Literature, analyzes how the sites of air travel—air space, the technology of the airplane, and the infrastructure of the airport—construct, reimagine, and disrupt the figuration of blackness in the world. It argues that the air, the airplane, and the airport are crucial sites for examining not only the contours of Black travel and mobility but also Black life and death. Reading beyond the silos of national boundaries, the book shows that air travel, aviation technologies, and infrastructure must be viewed within the instantiation and persistence of global racial structures.
Global Black Literature, African Literature, Global Migration, Studies in Transportation, Studies in Science and Technology, Black Ecologies, Gender and Sexuality Studies, Critical Theory
"The Para-Worlds of Lesley Nneka Arimah's What it Means When a Man Falls from the Sky." Qui Parle. Vol. 31, No. 1, 2022 (In Press)
"Trapped in the Airport: Borders, Hauntings and the Myth of the Global Citizen in Abdulrazak Gurnah's By the Sea" in Postcolonial Texts Vol. 16, No. 3, 2021.
"Haunted Airports and Sexual Anxieties in Nana Nyarko Boateng's "Swallowing Ice" Feminist Africa special Issue on Gender and Sexuality in African Futurism Vol. 2, Issue 2. 2021.
"The Reinvention of the Slave as Human: Charlottesville and the Memorialization of Slavery." Propter Nos. Vol. 4, Fall 2020.