Carlos A. Castañeda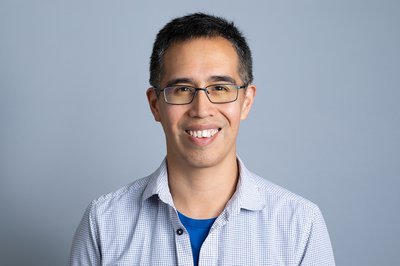 Carlos A. Castañeda
Associate Professor

CONTACT
Biology
Chemistry
240 Life Sciences Complex
Email: cacastan@syr.edu
Office: 315.443.3673

PROGRAM AFFILIATIONS
Biochemistry

Degrees
Postdoctoral Fellow, Biochemistry & Structural Biology, University of Maryland, College Park (2009-2014)
Ph.D., Biophysics, Johns Hopkins University (2008)
B.A., Chemistry & Mathematics, La Salle University (2001)
Courses Taught
BCM 476/676: Biochemistry II
BCM 678: Perspectives in Biochemistry
BCM 475: Biochemistry I
CHE 474/674: Structural and Physical Biochemistry
Biophysics, biochemistry, structural biology, chemical biology, physical biochemistry. Liquid-liquid phase separation, biomolecular condensates. Neurological disorders including ALS. Ubiquitin and ubiquitin-like proteins. Nuclear magnetic resonance, mass spectrometry, and microscopy.
Our lab studies protein quality control mechanisms and protein homeostasis. In so doing, we are very interested in how ubiquitin and ubiquitin-related processes function in the cell. We are focused on proteins associated with neurodegenerative and neuromuscular diseases such as amyotrophic lateral sclerosis (ALS), a debilitating motor neuron disease with no known cure.
In recent years, we have studied the structure, dynamics, and function of ubiquilins (UBQLNs), shuttle proteins that are involved in proteasomal degradation and autophagy. Ubiquilins are also implicated in neurological disorders. For example, mutant UBQLN2 protein is found in protein-containing inclusions of degenerated motor neurons in ALS patients and mouse models post-mortem. In addition, wild-type UBQLN2 is also found in these inclusions suggesting that dysfunction of protein quality control mechanisms is linked to ALS and other neurodegenerative disorders.
We recently determined that UBQLN2 undergoes liquid-liquid phase separation (LLPS), a process by which proteins condense into liquid-like droplets. We showed that UBQLN2 is recruited to stress granules, a type of stress-responsive membraneless organelle that is also formed by LLPS. Furthermore, we've shown that ALS-linked disease mutations alter the phase separation properties of UBQLN2 in vitro, increase the propensity of UBQLN2 to self-associate, and promote liquid-to-solid transitions that resemble the material properties of inclusions.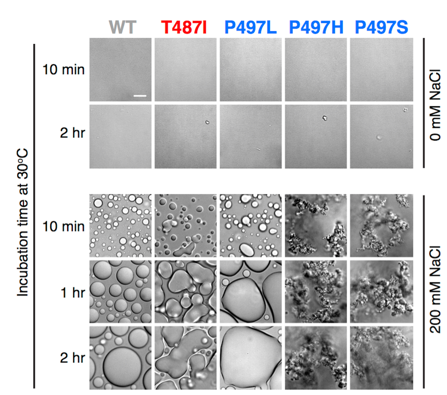 Our lab is thus currently focused on understanding the molecular mechanisms governing LLPS of ubiquilins, and how LLPS is disrupted in disease. To address these important and broad questions, we employ a variety of interdisciplinary, experimental and computational techniques, including biomolecular NMR, microscopy, small angle scattering, mass spectrometry, and simulations. We have built exciting collaborations with multiple labs in the Syracuse area and across the U.S. to help us achieve our goals. See our research lab page for more information.
In addition, we are interested in the effects of post-translational modifications such as ubiquitination and deimination/citrullination on proteins associated with neurological disorders.
If you are interested in joining our research program, please contact Prof. Castañeda! Our lab is always looking for motivated, excited Chemistry and Biology graduate and undergraduate students. Interested undergraduate freshmen and sophomores are especially encouraged to apply.
NIH NIGMS R01 (2020)
NSF CAREER Award (2018)
ALS Association 3-year Grant Award (2017)
Ralph Powe Junior Faculty Enhancement Award (2016)
ALS Starter Grant Award (2016)
Nappi Family Research Award (2016)
NSF Postdoctoral Fellowship in Biology (2009-2011)
Burroughs-Wellcome Predoctoral Fellowship (2002-2007)
Dao TP, Martyniak B, Canning AJ, Lei Y, Colicino EG, Cosgrove MS, Hehnly H, Castañeda CA*. (2019) ALS-linked mutations affect UBQLN2 oligomerization and phase separation in a position- and amino acid-dependent manner. Structure. 27: 937-951. DOI: 10.1016/j.str.2019.03.012.
Yiran Y, Jones HB, Dao TP, Castañeda CA*. (2019) Single amino acid substitutions in stickers, but not spacers, substantially alter UBQLN2 phase transitions and dense phase material properties. Journal of Physical Chemistry B. 123: 3618-3629. DOI: 10.1021/acs.jpcb.9b01024.
Kemp Eliminases of the AlleyCat Family Possess High Substrate Promiscuity, (ChemCatChem 5/2019), Dr. Elizabeth A. Caselle, Jennifer H. Yoon, Sagar Bhattacharya, Joel J. L. Rempillo , Zsófia Lengyel, Dr. Areetha D'Souza, Dr. Yurii S. Moroz, Patricia L. Tolbert, Dr. Alexander N. Volkov, Prof. Dr. Marcello Forconi, Prof. Dr. Carlos A. Castañeda, Prof. Dr. Olga V. Makhlynets, Prof. Dr. Ivan V. Korendovych, https://doi.org/10.1002/cctc.201900266
Dao TP, Kolaitis R-M, Kim HJ, O'Donovan K, Martyniak B, Colicino E, Hehnly H, Taylor JP, Castañeda CA*. (2018) Ubiquitin modulates liquid-liquid phase separation of UBQLN2 via disruption of multivalent interactions. Molecular Cell. 69: 965-978. DOI: 10.1016/j.molcel.2018.02.004.
Castañeda CA*, Chaturvedi A, Camara CM, Curtis JE, Krueger S, Fushman D. (2016) Linkage-specific conformational ensembles of non-canonical polyubiquitin chains. Phys Chem Chem Phys 18: 5771-5788. DOI: 0.1039/C5CP04601G.
Castañeda CA, Liu J, Chaturvedi A, Nowicka U, Cropp TA, Fushman D. (2011) Nonenzymatic assembly of natural polyubiquitin chains of any linkage composition and isotopic labeling scheme. J. Am. Chem. Soc. 133: 17855-17868. DOI: 10.1021/ja207220g.