Katie M. Becklin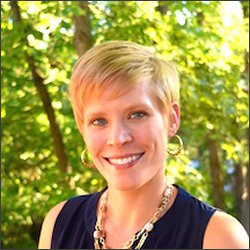 Katie M. Becklin
Assistant Professor

CONTACT
Biology
442 Life Sciences Complex
Email: kmbeckli@syr.edu
Office: 315.443.2155

Degrees
Postdoctoral Fellow, University of Kansas (2010-2017)
Ph.D., University of Missouri (2010)
B.S., University of Puget Sound (2004)
Courses Taught
BIO 400/600: Isotopic Approaches in Global Change Ecology (Fall 2017)
BIO 345: Ecology & Evolution (Fall 2018)
Physiology, ecology, and evolution of species interactions, and their responses to environmental change.
Research Spotlight
The Becklin lab explores the physiology, ecology, and evolution of species interactions, and their responses to environmental change across paleo and contemporary time periods. Specifically, we aim to (1) characterize physiological mechanisms driving functional variation in species interactions across environmental gradients, and (2) trace the impacts of such variation on ecological and evolutionary processes within natural and managed ecosystems.
We use mycorrhizal associations, plant-fungal symbioses, as a model system for this work. Spatio-temporal variation in the physiology of mycorrhizal partners can generate feedbacks that scale to influence population, community, and ecosystem dynamics. Thus, determining the causes and consequences of variation in these symbioses is key to understanding eco-evolutionary dynamics across biological scales in a changing world.
Global change effects on plant physiology, species interactions, and community dynamics.
Physiological mechanisms driving spatial and temporal variation in species interactions.
Eco-evolutionary dynamics of complex interaction webs across environmental gradients.
Impacts of microbial symbionts on plant physiology, species distributions, and eco-evolutionary dynamics across space and time.
Becklin KM, Walker SM, Way DA, and Ward JK. 2017. CO2 studies remain key to understanding a future world. New Phytologist, 214: 34-40.
Becklin KM, Anderson JT, Gerhart LM, Wadgymar SW, Wessinger CA, and Ward JK. 2016. Examining plant physiological responses to climate change through an evolutionary lens. Plant Physiology, 172: 635-649.
Becklin KM, Mullinix GWR, and Ward JK. 2016. Host plant physiology and mycorrhizal functioning shift across a glacial through future [CO2] gradient. Plant Physiology, 172: 789-801.
Voelker SL, Brookes JR, Meinzer FC, Anderson R, Bader M, Battipaglia G, Becklin KM, Beerling D, Bert D, Betancourt JL, Dawson TE, Domec J-C, Guyette RP, Körner C, Leavitt SW, Linder S, Marshall JD, Mildner M, Ogée J, Panyushkina I, Plumpton HJ, Pregitzer KS, Saurer M, Smith AR, Siegwolf RTW, Stambaugh MC, Talhelm AF, Tardif JC, Van de Water PK, Ward JK, and Wingate L. 2016. A dynamic leaf gas-exchange strategy is conserved in woody plants under changing ambient CO2: Evidence from carbon isotope discrimination in paleo and CO2 enrichment studies. Global Change Biology, 22:889-902.
Becklin KM, Medeiros JS, Sale KR, and Ward JK. 2014. Evolutionary history underlies plant physiological responses to global change since the Last Glacial Maximum. Ecology Letters, 17:691-699.
Becklin KM, Hertweck KL, and Jumpponen A. 2012. Host identity impacts rhizosphere fungal communities associated with three alpine plant species. Microbial Ecology, 63:682-693.
Becklin KM, Pallo ML, and Galen C. 2012. Willows indirectly reduce arbuscular mycorrhizal colonization of understorey plants. Journal of Ecology, 100:343-351.