Austin M. Garner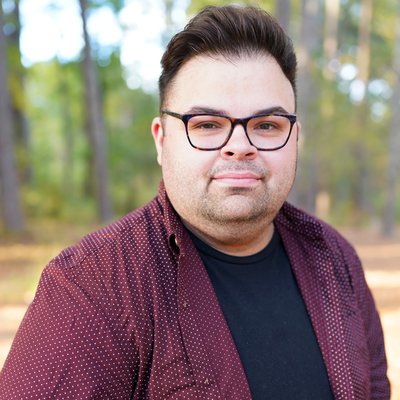 Austin M. Garner
Pronouns: He/him/his
Assistant Professor

CONTACT
Biology
242 Life Sciences Complex
Email: agarner@syr.edu
Office: 315.443.5816

PROGRAM AFFILIATIONS
Biochemistry

Degrees
Ph.D. in Integrated Bioscience, The University of Akron (2021)
B.Sc. in Biology, The University of Akron (2016)
Austin M. Garner is a functional morphologist with a fundamental interest in how animals interface with their environment. Specifically, he studies how animals attach to surfaces in variable environments and employs an interdisciplinary research approach that combines expertise from both the life and physical sciences. Garner's research currently focuses on the attachment systems of lizards (geckos and anoles) and sea urchins.
Prior to joining Syracuse University, Garner was a postdoctoral teaching fellow at Villanova University from 2021-22 where he taught courses in animal behavior and open-source biological instrumentation and studied the functional morphology and biomechanics of sea urchin adhesion. Garner earned a Ph.D. in Integrated Bioscience in 2021 and a B.S. in Biology (magna cum laude) in 2016, both from the University of Akron.
Functional morphology and biomechanics of animal attachment; animal biomechanics; comparative anatomy; bio-inspired adhesion; bio-inspired design;
Functional morphology, biomechanics, anatomy, bio-inspired design
Garner, A.M., M.C. Wilson, C. Wright, A.P. Russell, P.H. Niewiarowski, A. Dhinojwala. 2022. Parameters of the adhesive setae and setal fields of the Jamaican radiation of anoles (Dactyloidae: Anolis): potential for ecomorphology at the microscopic scale. Biological Journal of the Linnean Society 137(1): 85-99.
Palecek, A.M., A.M. Garner, M.R. Klittich, A.Y. Stark, J.D. Scherger, C. Bernard, P.H. Niewiarowski, and A. Dhinojwala. 2022. An investigation of gecko attachment on wet and rough substrates leads to the application of surface roughness power spectral density analysis. Scientific Reports 12: 11556.
Garner AM, Wilson MC, Wright C, Russell AP, Niewiarowski PH, Dhinojwala A. The same but different: setal arrays of anoles and geckos indicate alternative approaches to achieving similar adhesive effectiveness. J Anat. 2021 May;238(5):1143-1155. doi: 10.1111/joa.13377. Epub 2020 Dec 14. PMID: 33319377; PMCID: PMC8053591.
Garner AM, Pamfilie AM, Dhinojwala A, Niewiarowski PH. Tokay geckos (Gekkonidae: Gekko gecko) preferentially use substrates that elicit maximal adhesive performance. J Exp Biol. 2021 Feb 25;224(Pt 4):jeb241240. doi: 10.1242/jeb.241240. PMID: 33504587.
Garner, A.M. and A.P. Russell. 2021. Revisiting the classification of squamate adhesive setae: historical, morphological, and functional perspectives. Royal Society Open Science 8: 202039.
Russell, A.P. and A.M. Garner. 2021. Setal field transects, evolutionary transitions and gecko-anole convergence provide insights into the fundamentals of form and function of the digital adhesive system of lizards. Frontiers in Mechanical Engineering 6:1-17.
Garner, A.M., C. Buo, J.M. Piechowski, A.M. Pamfilie, S.R. Stefanovic, A. Dhinojwala, and P.H. Niewiarowski. 2019. Digital hyperextension has no influence on the active self-drying of gecko adhesive subdigital pads. Journal of Experimental Zoology – Part A 333(2): 118-125.
Cohn, E., P. Cole, A. Haymaker, A.M. Garner, and R.L. Londraville. 2019. Response to Underwater Laser Pointer in the Orange-Finned Anemonefish Amphiprion chrysopterus and Three-spot Damselfish Dascyllus trimaculatus. Journal of Fish Biology 96: 274-277.
Gamel, K.M., A.M. Garner, and B.E. Flammang. Bioinspired remora adhesive disc offers insight into evolution. 2019. Bioinspiration & Biomimetics 14(5): 1-8.
Niewiarowski, P.H., A. Dhinojwala, and A.M. Garner. 2019. Adapting a thermal physical model approach to estimate gecko adhesion performance opportunity and constraint: How rough could it be? Integrative and Comparative Biology 59(1): 203-213.
McInerney, S.J., B. Khakipoor, A.M. Garner, T. Houette, C.K. Unsworth, A. Rupp, N. Weiner, J.F.V. Vincent, J.K.S. Nagel, and P.H. Niewiarowski. 2018. E2BMO: Facilitating User Interaction with a BioMimetic Ontology via Semantic Translation and Interface Design. Designs 2(4): 53.
Garner, A.M., S.M. Lopez, and P.H. Niewiarowski. 2017. Brown anole (Anolis sagrei) adhesive forces remain unaffected by partial claw clipping. Acta Herpetologica 12:133-137.
Garner, A.M., A.Y. Stark, S.A. Thomas, and P.H. Niewiarowski. 2017. Geckos go the Distance: Water's Effect on the Speed of Adhesive Locomotion in Geckos. Journal of Herpetology 51:240-244.
Recipient of Roger Conant Grant in Herpetology in 2020