Luvell Anderson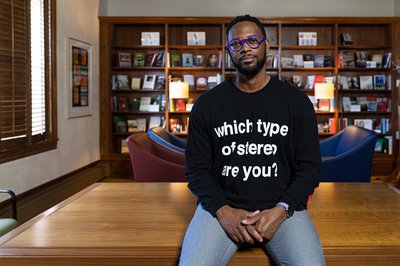 Luvell Anderson
Associate Professor

CONTACT
Philosophy
536 Hall of Languages
Email: lander04@syr.edu
Office:

A&S AFFILIATIONS
African American Studies
Women's and Gender Studies

PROGRAM AFFILIATIONS
Political Philosophy

Luvell Anderson works primarily in Philosophy of Language, Philosophy of Race, and Aesthetics. He is co-editor of the Routledge Companion to the Philosophy of Race (Routledge Press) and has published articles on the semantics of racial slurs and on racist humor.
The Routledge Companion to the Philosophy of Race (co-edited with Paul Taylor and Linda Martin Alcoff), (2017) Routledge.
Articles
"Hermeneutical Impasses" (2017), Philosophical Topics 45(2):1-19.
"Modeling Inclusive Pedagogy: Five Approaches" (with Verena Erlenbusch), (2017) Journal of Social Philosophy 48(1): 6-19.
"Racist Humor," Philosophy Compass (2015), Philosophy Compass 10(8):501-509.
"What Did You Call Me? Slurs as Prohibited Words" (with Ernie Lepore) (2013), Analytic Philosophy 54(3):350 – 363.
"Slurring Words"(with Ernie Lepore) (2013), Nous 47(1):25 – 48.
"Philosophical Investigations of the Taboo of Insult" (Forthcoming in The Oxford Handbook of Taboo Words and Language, ed. Keith Allan).
"Epistemic Injustice and the Philosophy of Race," (2017), in Kidd, I., Medina, J., and Pohlhaus, G. (eds.) Handbook on Epistemic Injustice. Routledge.
"Calling, Addressing, and Appropriation," (Forthcoming), in David Sosa (ed.) Bad Words. Oxford University Press.
"When Reporting Others Backfires," (2016), in Capone, A., Kiefer, F., and Piparo, F. Lo (eds.) Indirect Reports and Pragmatics. Springer.
"Notorious Thugs," (Forthcoming) in Black and Male: Critical Voices from Behind the Racial Veil, ed. George Yancy.
"A Brief Essay on Slurs" (with Ernie Lepore) (2013), in Alessandro Capone (ed.) Perspectives on Pragmatics and Philosophy. Springer.
"Language and Race" (with Sally Haslanger and Rae Langton) (2012), in Gillian Russell and Delia Graff Fara (eds.), The Routledge Companion to the Philosophy of Language. Routledge.
Book reviews
Review of Paul C. Taylor Black is Beautiful: A Philosophy of Black Aesthetics, in ThePhilosopher's Magazine (2018).
Review of Jennifer Saul Lying, Misleading, and What is Said: Explorations in the Philosophy of Language and in Ethics, in Notre Dame Philosophical Reviews (2013).
Miscellaneous
"On Slurs: A Response" (with Ernie Lepore), (New York Times, December 24, 2010).