Inspiration into Action: David Mwambari G'10 Reflects on A&S as a Springboard for his Scholarly Journey
Mwambari, an assistant professor at King's College London, recently won one of the European Research Council's most prestigious research grants for his project helping refugees to share their life histories.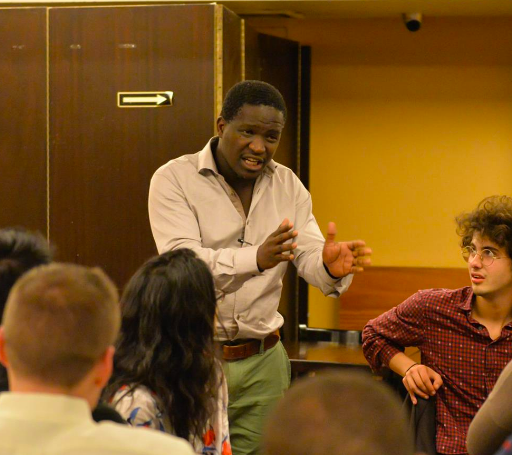 When David Mwambari, originally from Rwanda, first stepped onto the Syracuse University campus in 2008, it was only his third time ever being in the United States.
"I had been to the U.S. twice before that, first as an exchange student at Shorter University in Georgia and again for a conference at Harvard University," he says. "During each occasion I interacted with Syracuse University alumni who urged me to apply there as long as I was willing to endure the price paid by Africans coming to Central New York – the frigid winter!"
Cold weather aside, the 2010 alum of the College of Arts and Sciences' (A&S') Pan African studies master's program is grateful for his time in Syracuse because it was a springboard for a scholarly journey that took him from New York to Ohio, Australia, Belgium, Kenya and now London, where he is a tenured assistant professor of African security and leadership studies at the African Leadership Centre, King's College London. See the full timeline of David's career at the bottom of this article.
Mwambari was recently one of the winners of a prestigious grant from the European Research Council for work on his project, 'Traveling Memories, Silences and Secrets (TMSS): Life narratives of violence among refugees from Africa's Great Lakes Region (AGLR).' He says the TMSS project is inspired by outreach he took part in at Syracuse, first serving as an interpreter for refugees at a Central New York prison and then working with resettled refugee youth in Syracuse-area schools.
Mwambari's academic excursion began in Kenya, where he attended high school and college. He earned a bachelor's and master's degree in international relations from the United States International University-Africa (USIU-A), an institution which provides dual accreditation from the United States and Kenya. While in Kenya he also met Professor Anne Abaho, a graduate of Syracuse's Pan-African studies master's program who is now Dean of Social Sciences at Nkumba University in Uganda. Abaho recommended Mwambari consider Syracuse's Department of African American Studies (AAS) for its distinguished Pan-African studies program, compassionate and accomplished faculty and its decolonized curriculum, which challenges the colonial roots of education to institute a course of study that is more inclusive, accurate and interculturally responsive.
Mwambari took the advice of Abaho, whom he still visits and collaborates with today, and is thankful he did because he says attending Syracuse University may have been one of the most positively influential decisions of his life. We recently caught up with Mwambari to find out why and learn more about his unique journey and TMSS project.
Thinking back on your time as an aspiring college student in Kenya, how did your experience there shape your academic and career goals?
It was very difficult to gain admission into USIU-A because I had to take several exams which were very costly for someone like me who had been working since age 13 to educate myself. It was and still is common for millions of underprivileged youths in Africa to do all kinds of jobs to improve their lives. At the time of joining that university, I worked as a tour guide, sold second-hand cars and was also a part-time teacher of French and sports in some international schools in Kenya. My clients and parents of my students were mostly diplomats accredited to Kenya, missionaries and expatriates. As a foreigner who understood Kenya and had contacts, I was their go-to person. It was in these encounters my thirst for education increased.
What was one of the greatest challenges you faced coming to Syracuse?
Given that I grew up speaking French, Kinyarwanda and Swahili, and only having learned to speak and write English when I started at USIU-A, I was not proficient like a native speaker or writer of the English language when I came to Syracuse.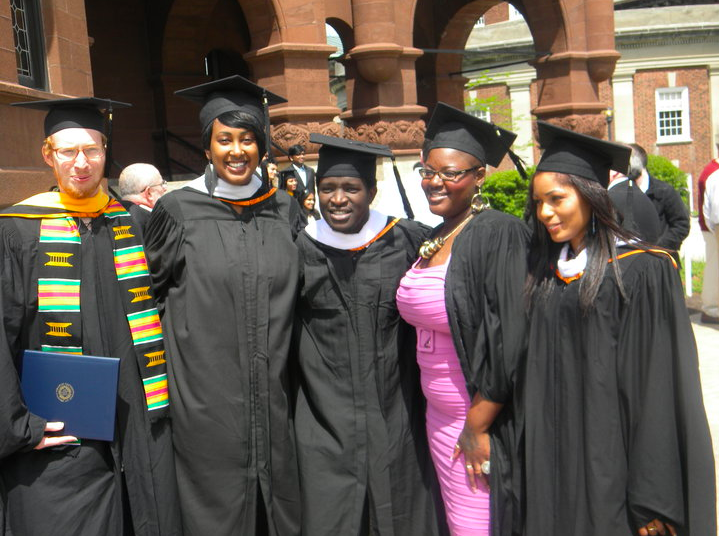 How did your professors at Syracuse help you overcome that challenge?
My African American studies professors created room for me to improve my academic writing skills as they gave me access to their office for one-on-one tutoring. The first person to do this was Professor Kwame Dixon, an amazing critical thinker and teacher. He really worked hard to catch me up on the academic language I was struggling with. He taught me how to read as a graduate student. He often asked me to come to his office and since he spoke several languages, he validated my ability to speak different languages rather than shaming me for not speaking or writing good academic English. He was the first to see potential in me and affirm me as a young man in my first year at Syracuse. The Writing Center was another vital resource on campus that helped me to improve my academic writing.
Can you describe the importance of support and mentorship during your time in AAS?
During the summer holidays, I received grants from AAS and Syracuse to do research in Europe and Africa for my thesis. Mentorship in the research process and writing process of my dissertation from my supervisor, Professor Joan Bryant, empowered me with skills that have influenced the rest of my career. It is because of this mentorship I have now published in international peer reviewed journals and media to share research findings with a global audience.
As a professor now yourself, how do you think your interactions with faculty at Syracuse prepared you for a future in teaching?
When I worked as a teaching assistant for Micere Mugo, professor emerita of African American studies, she intentionally trained me to think of students as human beings who are still growing and need my guidance and compassion. Professor Mugo frequently sat me down to teach me how to grade papers and gave me insights on class management from the beginning to the end of the semester.
Can you recall a particular interaction with Professor Mugo that influenced your teaching style now?
She created space for me to talk about my personal struggles, seeing as I was also dealing with traumatic issues from my experiences during the 1994 genocide in Rwanda and its aftermath. This has helped me deal with students from difficult backgrounds wherever I have worked, whether from Afghanistan, Syria, Somalia, Burundi, Nepal, Indigenous communities in Canada and Australia, or those from poor, predominantly white areas in the mid-west or southern part of the U.S. where I later worked.
She also taught me to empathize with those whose life trajectories are decorated with financial privilege but struggle with all kinds of issues and brokenness that we all face regardless of our backgrounds. Professor Mugo gave me the skills to be human and always remember that others are human, and therefore, to live and teach with a touch of grace. It was this touch of grace and compassion that inspired me to start a community project that healed my traumas.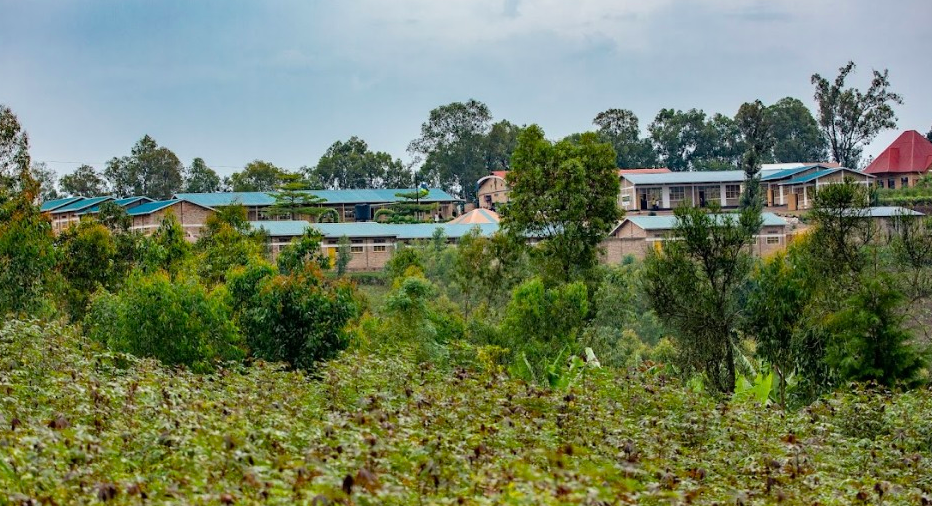 So how did you turn this inspiration into action?
While on the Syracuse campus in 2009, my friends and I started Sanejo over the holidays. I led a group of young people from the U.S., Australia, Kenyan and Rwandan diaspora and other countries back to Rwanda to rebuild a school that my grandfather and his community had started in 1950s. My grandfather was killed and buried near the school with my other relatives during the 1994 genocide. We trained teachers, worked with the students and raised money to rebuild the school. We completed the construction of the campus in 2015 with the help of Syracuse Professor Yutaka Sho and her students from the School of Architecture. The school is now amongst the best in rural Rwanda.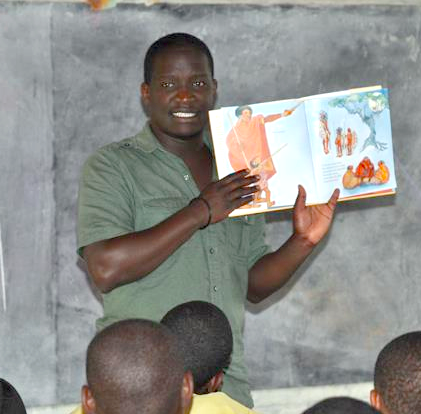 What is the mission of your current project, Traveling Memories, Silences and Secrets (TMSS): Life narratives of violence among refugees from Africa's Great Lakes Region?
The goal of this project is to study and write about the histories of refugees that are often suppressed by the hegemonic histories of the countries where they transit or settle. The idea is to co-create these histories and make some available to the public for various purposes, including influencing global curricula, policies and community relationships, but also organizing others for refugees' own private family archives for future generations.
What motivated this work?
Everything from the choice of themes to focus on methodology came from my classes at Syracuse, especially with my former supervisor Joan Bryant. The long version of this project was also influenced by Professor Mugo, who led a program teaching Swahili to prisoners, mostly minorities.
Can you talk about your own outreach work in Syracuse prisons and how that shaped your current project?
In my second year at Syracuse, I was approached by a professor in AAS, who asked me if I spoke or understood Kirundi or Swahili. I spoke and understood both, given that Kirundi and Kinyarwanda are very close, and that I had lived in Kenya and learned Swahili all along. A refugee from Burundi had recently arrived from Tanzania, (where Swahili is the national language), through a resettlement scheme by President Bush's administration. He had been arrested but could not communicate or understand his rights.
The professor in AAS who approached me got me permission to go and visit him. I visited him many times, and we created a friendship, and I also started to teach those police who were willing some words they could use to communicate with him. Through his life history, my eyes were opened to the violence he had endured that shaped his outlook on life the kinds of decisions he made, including what had resulted in his arrest. My small intervention over time allowed for the creation of understanding between the police and this man. He got medical care, and we also encouraged his community members to engage with the case, which was later resolved.
Did you have any other influential experiences working with refugees in Syracuse?
I was invited to a dinner to honor the visit of a famous former child soldier Ishmael Beah who was speaking at SU and I sat next to Professor Kristiina Montero, a faculty member in the School of Education. Our discussion touched on many issues, including a project she had recently started working on, focusing on the literacy of young refugee students in a local high school in Syracuse. She asked me if I could join her class, which included only Ph.D. students.
Professor Montero's class was like no other. It was co-designed with her Ph.D. students and they even asked for my input. It was also challenging as I was learning new theoretical concepts, themes and approaches. I was more comfortable with the practical side of going to high school to work with young refugees from Nepal, Somalia, Burundi and other countries. I was in my last semester and we did so much work, including an exhibition on the SU campus with the refugee students to make these young refugees' lives visible. With my ability to speak some languages students spoke I was able to get back to my job of being a translator and knowledge broker of cultures and languages. The skills I learned from doing translation, tour guiding and assisting researchers in East African countries before Syracuse were very useful in this instance.
What was your favorite aspect of the Syracuse University experience?
The fantastic faculty, including Professors Joan Bryant, the late Rene Simson, Linda Carty, Herbert Ruffin, Micere Mugo, Horace Campbell and friendly administrators across the department and the University who exposed me to fantastic literature and developed my analytical skills. I am able to do my work because of the training I received at AAS that prepared for the doctoral work I later did in Australia. My Syracuse education transformed my personal and professional life and for that, I will forever be grateful.
---
David Mwambari's Transnational Timeline:
1994 – He and his family flee Rwanda and settle in Kenya in the aftermath of the 1994 genocide.
2001 – His family returns to Rwanda. He remains in Kenya working as a tour guide, guiding small businesses and teaching French to save up money for college.
2004 – Starts college at the United States International University-Africa (USIU-A) in Nairobi, Kenya.
2007 and 2009 ­– Receives a B.A. and M.S., respectively, in international relations from USIU-A (Magna cum laude).
2008-10 – Attends Syracuse University, receiving an M.A. in Pan-African studies from the College of Arts and Sciences (Magna cum laude).
2010-11 – Visiting professor at Shawnee State University, Portsmouth, Ohio.
2011-15 – Attends La Trobe University in Melbourne, Australia, graduating with a Ph.D. His Ph.D. thesis was awarded the La Trobe University Nancy Millis Award and the Rhys Isaac Prize for theses of exceptional merit.
2015-17 – Returns to USIU-A in Kenya as an assistant professor of international relations.
2017-19 – Wins a highly competitive FWO Postdoctoral research fellowship and becomes a fellow at the Department of Conflict and Development Studies at Ghent University, Belgium. During this period, he was also a fellow at the CODESRIA African Scholars Diaspora program and Cambridge University's Churchill College.
2020-present – Lecturer in African Security and Leadership Studies at King's College London, UK and visiting researcher at the Institute for the Analysis of Change in Contemporary and Historical Societies, UCLouvain, Belgium.
2021 – Wins globally competitive ERC starting grant of over $1.5 million for TMSS project.
---