Fostering Community Engagement Across Central New York
A&S' Engaged Humanities Network awards mini-grants to faculty and students to support collaborations with the Syracuse community.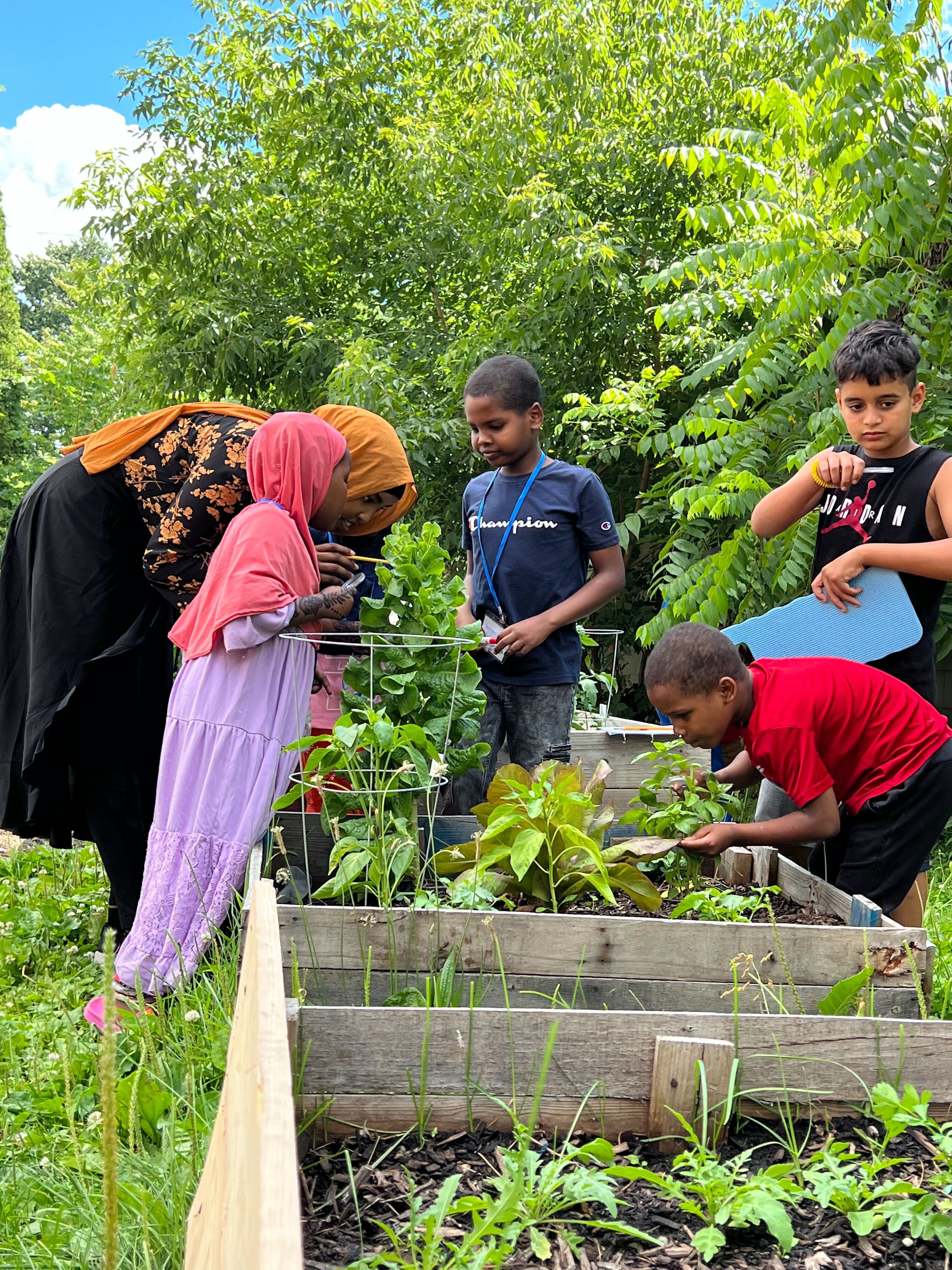 When Brice Nordquist founded the Engaged Humanities Network (EHN) in the College of Arts and Sciences (A&S) in 2020, one the main ideas guiding its mission was to build and foster relationships between members of Syracuse University and the surrounding communities. To help facilitate that objective, EHN offers Engaged Communities Mini-Grants to support faculty and students at Syracuse on their publicly engaged scholarship and creative work. Through initiatives tackling pressing issues like mass incarceration and climate change, grant awardees demonstrate how humanities knowledges and methods are used to answer urgent questions facing society.
This year six different teams received $5,000 in seed funding to develop and implement University projects designed in collaboration with community partners. Mini-grant awardees for the 2022-23 academic year will be eligible, along with awardees from 2021-22, to apply for a $10,000 Sustaining Engagement Grant in Spring 2023 for continued work on their project.
From engaging elementary school students in scientific exploration to curating an art exhibit to illuminate Indigenous culture, this year's winners exemplify the extensive range of scholarship across A&S. While each project is arts and humanities based, Nordquist says an important component of this initiative is promoting collaborations that take up a variety of subjects, topics and themes.
"Programs such as this year's Natural Sciences Explorer Program and last year's Antiracist Algebra Coalition have core humanist elements even though they aren't situated exclusively in a humanities field," says Nordquist. "A key to this effort is supporting projects that span disciplines, are codesigned with community-based partners and have teams that are diverse in their stages of education and expertise. We hope each grant helps these partnerships grow and extend reciprocal relationships between Syracuse University and our community-based collaborators."
To maximize impact, project teams will also meet with each other and members of the 2021-22 cohort throughout the year to problem solve, share resources, align efforts and collectively advocate.
2022-23 Engaged Communities Mini-Grants
Natural Sciences Explorer Program (NSEP)
Project Leads: Katie Becklin, assistant professor of biology, Christopher Junium, associate professor of earth and environmental sciences (EES), Eliza Hurst, EES graduate student, Claire Rubbelke, EES graduate student and Julia Zeh, biology graduate student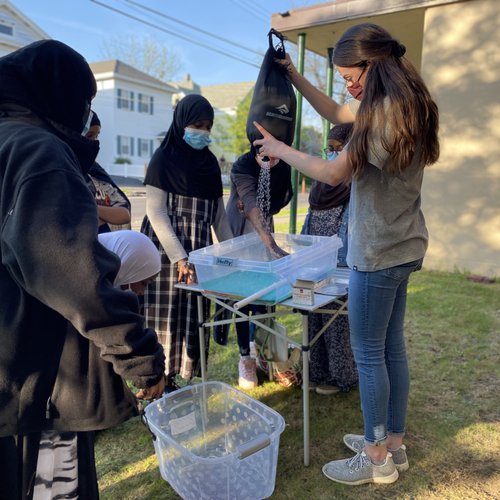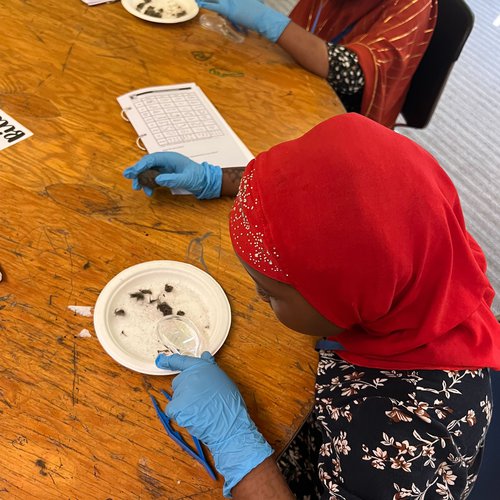 The NSEP works with elementary school children at the North Side Learning Center (NSLC) in Syracuse to explore biology and earth and environmental sciences through inquiry-based learning and culturally responsive teaching. The program aims to instill an interest in biology and geoscience for students in groups that are traditionally underrepresented in STEM. Using tangible projects that demonstrate how science plays a role in students' everyday lives, the NSEP hopes to inspire a curiosity that stays with them well beyond their participation in the program.
They recently held a seven-week summer program focused on the Earth system as a whole. Through hands-on research, students learned about Earth's four subsystems: the "lithosphere" (land), the "hydrosphere" (water), the "biosphere" (living things) and the "atmosphere" (air). Alongside project leaders, the young scholars explored how the different subsystems interact with one another. Students dissected owl pellets to construct a food web, which is a collection of food chains within a single ecosystem; learned about biomes, which are areas classified by species living in a particular location; and explored how temperature and moisture variations within their yards form microbiomes.
While this round of EHN funding supports their work only at NSLC now, project leaders hope to soon offer additional after-school programs at other community centers around Syracuse.
---
Philosophy Lab
Project Lead: Michael Rieppel, associate professor of philosophy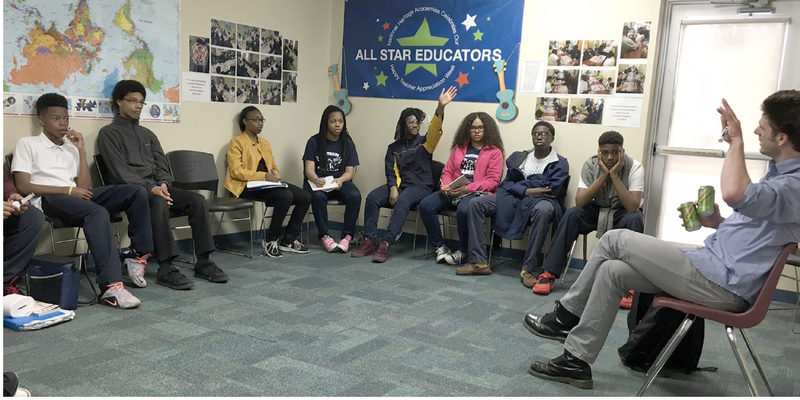 Michael Rieppel (right) leads a philosophy discussion at Southside Academy in Syracuse.
One of the most common questions children often ask is, why? That sense of wonder and feeling of puzzlement about the world, which often wanes as people reach adulthood, is what makes children perfect philosophers, says philosophy professor Michael Rieppel. But unfortunately, most elementary and middle school students rarely get to engage with philosophy, at least in the United States.
The Philosophy Lab, coordinated by Rieppel and philosophy graduate students, offers after-school programming for students in the city of Syracuse that emphasizes critical philosophical tools to help students understand the importance of reasoning. The program's primary goal is to help participants build principled answers to existential questions they may be struggling to find answers to.
Questions students explore in the Philosophy Lab include: What makes you who you are, and what kind of changes can you undergo and still be you? Are there facts about what's right and wrong, and where do these ethical standards come from? What is consciousness, and could a computer ever be conscious?
"Our goal in exposing them to philosophy is to show them that the questions they ask are worth taking seriously, and that they themselves have the skills necessary to dig more deeply into those questions and begin to formulate their own answers to them," says Rieppel.
The program, currently being offered at Ed Smith K-8 School in Syracuse, is helping students gain a sense of empowerment and confidence in their ability to engage with philosophical questions analytically and to arrive at reasoned answers to them. Rieppel says he hopes to build on the success at Ed Smith and expand to other Syracuse city schools and after school programs in the future.
---
Deaf New Americans - Developing Language and Sharing Stories
Project Leads: Corrine Occhino, assistant professor of languages, literatures and linguistics with a dual appointment in the School of Education, and Monu Chhetri and Tamla Htoo (co-founders of Deaf New Americans Advocacy Inc.)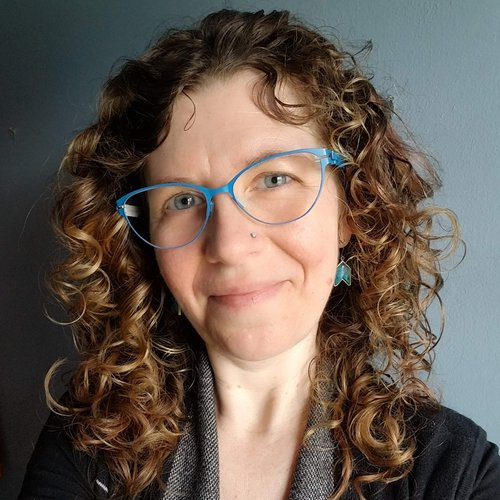 Occhino, Chhetri and Htoo's project will support Deaf resettled refugees in Central New York who are learning American Sign Language (ASL), an important step in creating self-sufficiency among the community of Deaf New Americans.
Their work aims to better understand and support the literacies of deaf refugees through the creation of English language and ASL instructional materials. In collaboration with Deaf New Americans Advocacy Inc., a Central New York-based non-profit that advocates for and provides services to the local Deaf community, Occhino will develop bilingual ASL materials for Deaf resettled refugees in Syracuse. The project will include a video storytelling component to document the challenges and lived experiences of Deaf New Americans across contexts to bring awareness of their existence and needs.
Through a separate collaboration with Nordquist, Occhino will also set up a remote tutoring program for the hearing children of Deaf refugees who are second language learners of English.
---
Peter Jones Exhibition and Programming
Project Leads: Sascha Scott, associate professor of art history, and Scott Manning Stevens, Citizen of the Akwesasne Mohawk Nation and associate professor of English and director of Native American and Indigenous Studies
Student Curatorial Team: Eiza Capton (Member of the Cayuga Nation; B.F.A. in Illustration), Charlotte Dupree (Citizen of the Akwesasne Mohawk Nation; B.A. in Art History), Anthony V. Ornelaz (M.F.A. in Creative Writing), Jaden N. Dagenais (M.A. in Art History; M.S. in Library and Information Studies) and AJ Borja Armas (Ph.D. in Cultural Foundations of Education)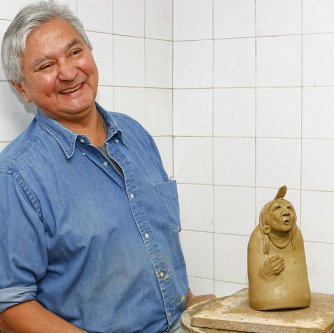 In collaboration with the Syracuse University Art Museum, Scott and Stevens are working with a student curatorial team to organize an exhibit highlighting the work of nationally and internationally recognized artist Peter Jones. A member of the Beaver Clan of the Onondaga Nation, Jones' works are held by prestigious museums including the Metropolitan Museum of Art and the National Museum of the American Indian. In addition to reviving traditional Haudenosaunee pottery making, Jones has innovated a form of figurative ceramic sculpture through which he highlights traditional Haudenosaunee culture and the challenges their communities face.
The exhibition, which will open at Syracuse University in August 2023, is being curated by undergraduate and graduate students under the direction of Stevens and Scott. The student research team has selected works of art for the exhibition, created the thematic design, and interviewed the artist. They are currently conducting research for the exhibition and are writing wall text and catalog essays.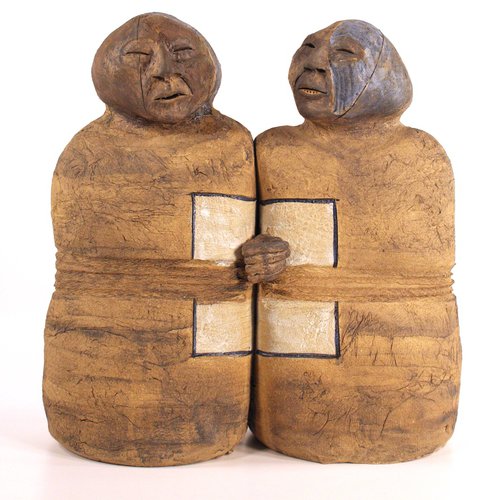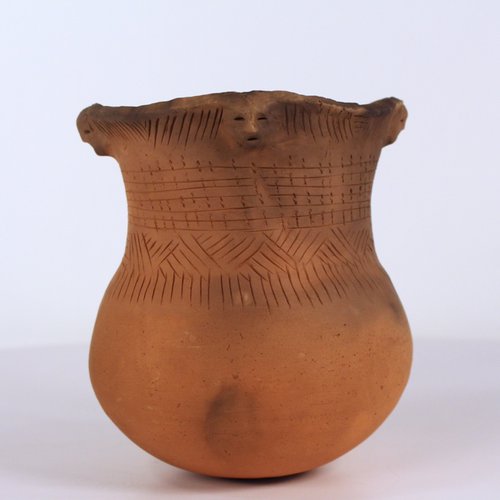 Project leaders note the curated exhibition is an opportunity for students, particularly Indigenous students, to create public scholarship and engage with new museum practices focused on collaboration, community engagement, equity and inclusion. With Syracuse University sitting on the ancestral lands of the Onondaga Nation, Scott and Stevens say it is critically important for the university to support platforms for educating students and the local community about Indigenous culture and history, with emphasis on Haudenosaunee peoples.
---
Writing Beyond Release: Mend and Rebuilding Futures
Project Lead: Patrick W. Berry, associate professor writing and rhetoric
With over 2 million people in prisons and jails, the United States has the highest rate of incarceration in the world. Even after being released from prison, formerly incarcerated people face numerous hurdles when reacclimating into society, which can often lead to a relapse into criminal behavior, says Patrick W. Berry, author of Doing Time, Writing Lives: Refiguring Literacy and Mass Incarceration.
"Formerly incarcerated people are frequently told what they cannot do, where they can't live, where they can't work, and where they can't go to school," he says. "This makes finding a way so incredibly difficult."
In collaboration with the Center for Community Alternatives, an organization promoting reintegrative justice and a reduced reliance on incarceration, Writing Beyond Release will initiate the launch of Mend. The national online and print publication will discuss the crisis of mass incarceration from the personal narratives of people who have been directly impacted. Mend will work to educate the nation about the shortcomings of the current incarceration system and help incarcerated people and their families develop new facets of their identities.
"The Mend initiative is about community building," says Berry. "It is about the process of making something together, learning practical skills in writing and publication, and contributing to new narratives."
While the program itself will be situated in Central New York and created and edited by formerly incarcerated people and their families from the region, the publication will be open to anyone whose life has been impacted by mass incarceration. Unlike other journals for the incarcerated, Berry explains that this project will not limit authors on subject matter.
"While prison narratives will be welcome, they will not be the publication's sole focus," he notes. "As writers explore different aspects of their lives and experiences, we do not to limit them. This approach is necessary because too often formerly incarcerated writers cannot leave behind the identity created by their being in prison."
---
Take Me to the Palace of Love
Project Leads: Romita Ray, associate professor of art and music histories, Vanja Malloy, director and chief curator of the Syracuse University Art Museum, and Ankush Arora, graduate student, art and music histories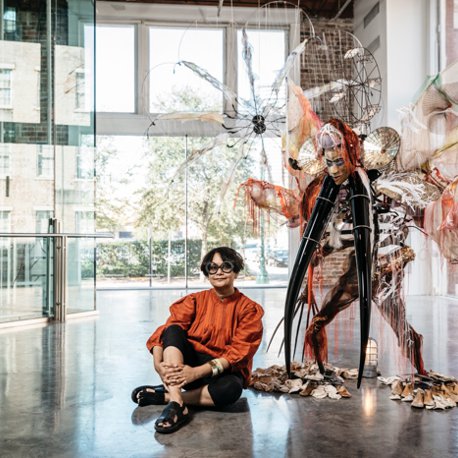 Can we rescue love? That is the question posed by acclaimed artist Rina Banerjee, whose exhibit Take Me to the Palace of Love, will be on view at SU Art Museum in Spring 2023. An immigrant artist who was born in India, Banerjee's art is shaped by her first-hand experience witnessing how love can go awry when ethnic and racial differences are leveraged to divide instead of to unite.
Her exhibition at Syracuse is inspired by Take Me…to the Palace of Love (2003), one of Banerjee's noted art installations about home and diaspora whose focal point, a pink saran-wrap Taj Mahal, will be exhibited at the Syracuse University Art Museum alongside Viola, from New Orleans (2017), a multi-media work that explores inter-racial marriage in America, and A World Lost (2013), another multi-media installation that critiques climate change. These artworks will be complemented by folk art from India, African masks, Indian sculpture, other items from the museum's collections, as well as artworks from additional museums in Central New York.
Rooted in cultural memory and storytelling, the exhibit collectively asks: What role does love play in identity-formation and place-making? And how does love shape or resist gendered and racialized identities?
With support from the EHN mini-grant, Take Me to the Palace of Love will be extended into the City of Syracuse, allowing the university community and new American and underrepresented communities to document their own stories about identity and place—individually and collectively—in dialogue with Banerjee who will be in residence as the University's Jeannette K. Watson Distinguished Visiting Professor in the Humanities in the spring.
The public will be invited to participate in the installation by producing short essays, poetry, fiction, podcasts, or short videos that will be curated in close consultation with Banerjee. Exhibition curators Romita Ray and Vanja Malloy, and community engagement coordinator Brice Nordquist will also contribute to the catalogue and solicit and select contributions from members of the University and Syracuse communities.
The catalogue will be housed on the SU Art museum's website, allowing it to become a dynamic site of knowledge-sharing and knowledge-building within and across different communities. There will also be a public display in the city of Syracuse at a site to be determined.
Find more information on the Engaged Communities Mini-Grants.