Fall into Reading with these A&S Books
Explore new ideas and perspectives with the following selection of works by A&S faculty and creative writing alumni.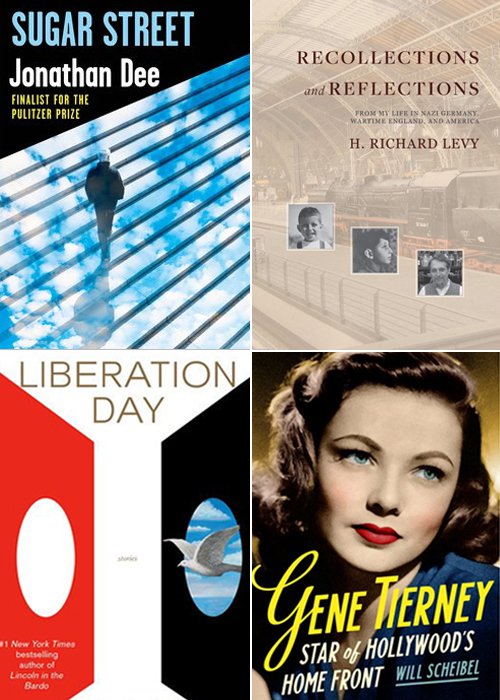 Sugar Street
by Jonathan Dee, associate professor and director of the creative writing program, Department of English
An unnamed narrator hits the road, avoiding security cameras and any possible identifiers. With his only possession $168,548 in cash under his car seat, he drives until he hits a city where his past is unlikely to track him down. He seems to have escaped his former self. But can he?
Recollections and Reflections From My Life in Nazi Germany, Wartime England, and America
by H. Richard Levy, professor emeritus of biochemistry
Levy's childhood in Germany culminated with the terror of Kristallnacht. His parents sent him to England for safety, not knowing whether they would see him again. Five weeks later his father died. His mother and sister escaped to England just days before the outbreak of World War Two. Despite these traumatic experiences, Levy eventually flourished in his new homeland and launched a successful career in biochemistry.
Liberation Day
by George Saunders G'88, professor, creative writing, Department of English
Booker Prize winner and bestselling author George Saunders returns with a masterful collection of short stories that explores ideas of power, ethics, and justice in his trademark wickedly funny, unsentimental, and exquisitely tuned prose. The stories grapple with the complexities of our increasingly troubled world and cut to the very heart of what it means to live in community with our fellow humans.
Gene Tierney: Star of Hollywood's Home Front
by Will Scheibel, associate professor and director of undergraduate studies, Department of English
Gene Tierney may be one of the most recognizable faces of studio-era Hollywood: she starred in numerous classics, including Leave Her to Heaven, The Ghost and Mrs. Muir, and Laura, her most iconic role. Scheibel examines her promotion, publicity, and reception as a star and also offers an alternative history of the United States wartime efforts through the arc of Tierney's career as a star working on the home front.
Books by Creative Writing Alumni
Raising Raffi
by Keith Gessen G'08
Keith Gessen was nearing forty and hadn't given much thought to being a father. Then, one Tuesday night in early June, the distant idea of fatherhood came careening into view: Raffi was born, a child as real and complex and demanding of his parents' energy as he was singularly magical.
Mount Chicago: A Novel
by Adam Levin G'04
A one-in-ten-billion natural disaster devastates Chicago. A Jewish comedian, his most devoted fan, and the city's mayor must struggle to move forward while the world—quite literally—caves beneath their feet. Levin has constructed a monument to laughter, love, art, and resilience in an age of spectacular loss.
Tracy Flick Can't Win
by Tom Perrotta G'88
Tracy Flick is a hardworking assistant principal at a public high school in suburban New Jersey. Still ambitious but feeling underappreciated, Tracy gets a jolt of good news when the longtime principal, Jack Weede, abruptly announces his retirement, creating a rare opportunity for Tracy to ascend to the top job. But nothing ever comes easily to Tracy Flick.
Self-Portrait with Nothing
by Aimee Pokwatka G'08
Abandoned as an infant, Pepper Rafferty never told anyone that her biological mother was Ula Frost, a reclusive painter famous for the outrageous claims that her portraits summon their subjects' doppelgängers from parallel universes. Researching the rumors, Pepper couldn't help but wonder: Is there a parallel universe in which Ula decided Pepper was worth keeping?
Asylum
by Nina Shope G'03
A work of innovative historical fiction, Asylum delves into the disturbing relationship between a young woman named Augustine and renowned nineteenth-century French neurologist J.M. Charcot. As Charcot risks his career to investigate the controversial disease of hysteria, Augustine struggles to make him acknowledge their interdependence and shared desires—until a new lover, M., drives them all to the brink of fracture.
Media Contact
A&S News Staff