Biology Professor Reflects on Six Decades at Syracuse University
After a 57-year career, biochemist Thomas Fondy looks back with appreciation on his time as a professor in the Department of Biology.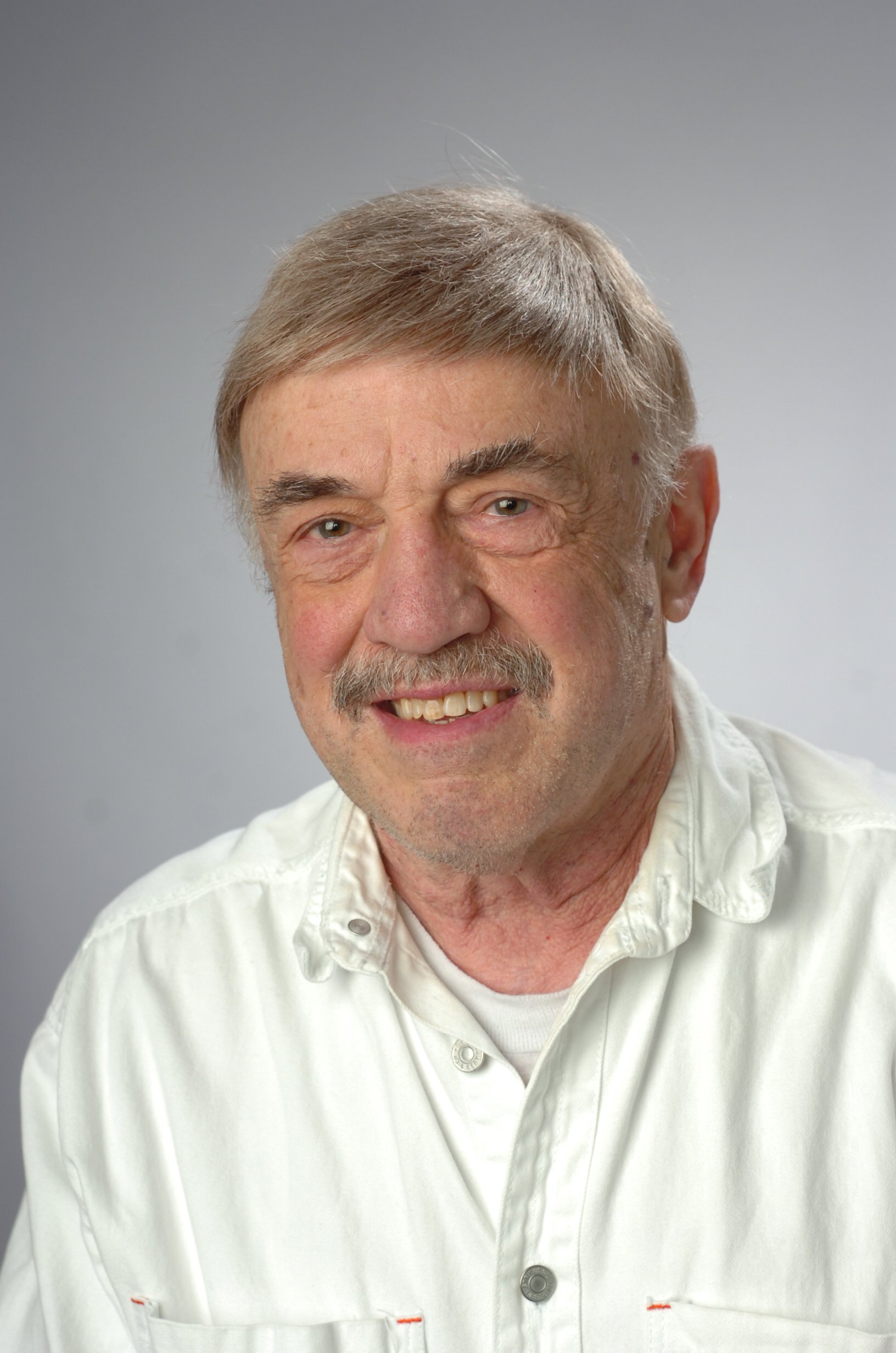 Pursue your passion, and success and fulfillment will follow. This is a common aspiration for people when searching out a career, but also one that most would say is very difficult to attain. For Syracuse University biology Professor Thomas Fondy, he knew cancer research was his calling from an early age and always remained committed to finding a cure.
From hearing stories from his parents about his grandmother who passed away from stomach cancer nine days before he was born, to witnessing his best friend lose both of her parents to cancer, to serving as a stem-cell donor to his brother who was diagnosed with lymphoma, Fondy felt a responsibility to help fight the disease, which is the second leading cause of death in the United States.
"I saw firsthand what cancer could do," Fondy wrote in a 2007 memoir for a biology department newsletter. "We could be robbed of life, of dignity, of hopes, of even caring; waiting to die and wasting to a raisin of our former selves while nature took its (devastating) course."
Through those early life experiences, Fondy devoted his career to cancer chemotherapy research. After 57 years as a professor in the College of Arts and Sciences, Fondy retired this December, marking a nearly six-decades-long career of research and teaching excellence in which he played a critical role in shaping the biology department.
---
Then and Now, a cultural snapshot from 1965 to today.
---
A Young Researcher Lands in Syracuse
While he may be retiring from the Department of Biology, Fondy got his start as a chemist. "In college I actually studied organic chemistry," says Fondy, who received a B.S. and Ph.D. in chemistry from Duquesne University. "In the early 1960s there wasn't a whole lot known about biochemistry. It was just beginning to be understood what a protein was – that it was a sequence of amino acids and that it folded in three dimensions. Then little by little people started to understand biology in chemical terms."
As Fondy wrapped up a post-doctoral position at Brandeis University outside of Boston in 1964, he was planning the next step in his career, hopeful to land at a top research university where he could pursue his interest in biochemistry. His mentor at Brandeis, Professor Nathan Kaplan, had just returned home from a seminar at Syracuse University and urged him to consider applying for a position there.
"Fondy, you gotta get a job," he recalls Kaplan saying. "Syracuse is the place for you. They have this young guy, Dick Levy. It's going to be a first-rate place in biochemistry." Levy, who taught at Syracuse from 1963 to 2000 and also served as department chair, was the first biochemist hired in Syracuse University's College of Liberal Arts (now the College of Arts and Sciences).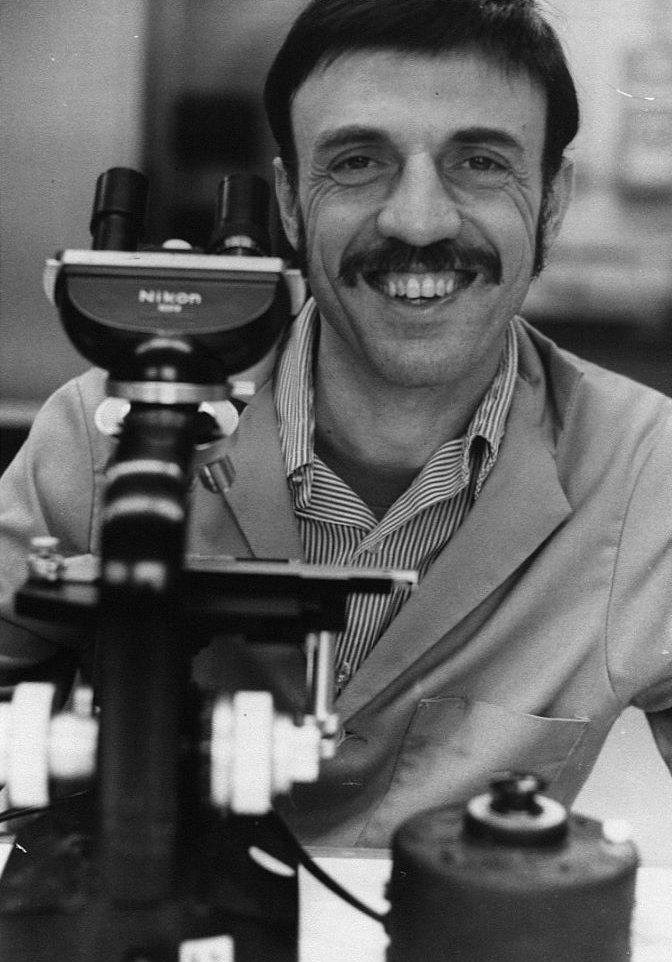 Fondy accepted a position in the Department of Zoology (now the Department of Biology) in 1965. He arrived just as a major change would shake up a few scientific departments. A committee was forming to discuss the merger of the Department of Zoology and the Department of Bacteriology and Botany. Fondy took up a role on the committee, which sought to unite departments with similar academic subjects with a goal of attracting greater federal funding with a single department of substantial size and scope.
"Unifying these sciences in some coherent fashion was very new at the time," Fondy recalls. "Don Lundgren was the first chairman of biology in 1970, and that brought together some really quite separate strands of endeavor."
He looks back on that venture as one of the most significant things to happen during his nearly six-decade-long career at Syracuse. The merging of those departments created an environment of collaboration and forged partnerships that had never been considered.
"People talked to one another that never would have before," Fondy says. "We now have around 40 faculty in the biology department. Before the unification, we would have eight in one department, nine in another and then six in another, and they didn't really interact. This changed all that. For example, people that are molecularly oriented were now aware of what was going on in environmental biology. There's communication among the whole spectrum of biology people, and that was a really good thing."
Cancer Research
Fondy would receive tenure in 1970, the same year as the new Department of Biology was officially formed, and he was promoted to full professor in 1975. He would go on to devote much of his career at Syracuse University to cancer therapeutic drug development.
During a visiting professorship at Yale in 1975-76, he worked with Professor Alan C. Sartorelli and graduate student Asterios S. Tsiftsogluo, testing the ability of a substance called Cytochalasin B to slow and potentially cure cancer.
Fondy and his collaborators used Cytochalasin B to disrupt actin microfilaments, which are abundant proteins that play a pivotal role in cellular proliferation of cancer cells. While the treatment was not curative, it showed great potential to slow certain types of cancer.
In his later research, Fondy found that it was possible to disrupt leukemia cells using cytochalasin molecules. When treated with cytochalasin, leukemia cells were unable to pinch off into two daughter cells, and the network of proteins that give cells shape called the cytoskeleton became grossly enlarged because they continued DNA and nuclear synthesis. This gave Fondy a clue toward a potential treatment.
"Cytochalasins change the shape of the cell and make it larger and multinucleated," says Fondy. "They make it much more vulnerable to damage by different methods such as ultrasound."
Like popping a fragile water balloon, Fondy hypothesized that the grossly enlarged cells would be much more susceptible to damage by sheer force. Collaborating with mechanical engineer Brett Spurrier G'06 on an ultrasonic approach which used sound waves to burst the inflated cancer cells, their research showed the potential for microfilament-directed agents to enhance the effectiveness of agents currently used in clinical oncology and introduced microfilament-directed agents themselves as a class of antineoplastic (chemotherapy drug) agents.
A Mentor to Many
During his career at Syracuse, Fondy taught and mentored thousands of undergraduate and graduate students. Among the classes he instructed were Immunology, Biology of Cancer and Research in Biology. He says working with students and seeing them succeed was one of the most rewarding parts of being a professor.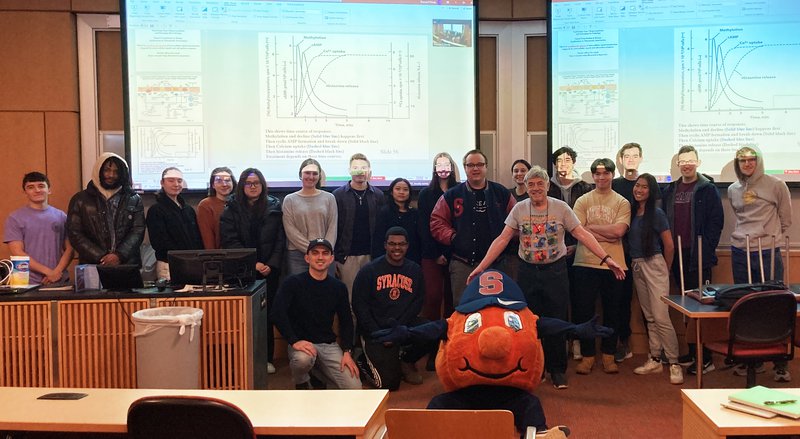 Syracuse University mascot "Otto" visited Fondy and his students during his last class.
"I always cherished being able to see first-hand my students develop as researchers," says Fondy. "Getting to know them and helping them get to the next stage of their career was particularly satisfying."
Kamileh Rivera, a senior majoring in neuroscience and biology and minoring in public health, says that Fondy inspired her passion for cancer research and was a guiding mentor on her thesis project, where she explored how sound energy from different ultrasound frequencies affect human and mice leukocytes (blood cells that play an important role in disease and immune defense).
"Professor Fondy is a dedicated and passionate mentor," says Rivera. "He wants his students to achieve and keep on growing in their research field. I have gained a lot of valuable knowledge from him, and he even inspired me to pursue a Master of Science in cancer epidemiology and cancer prevention, and I eventually plan to go to medical school."
Hugh Medvecky, a senior on the pre-med track majoring in biology and minoring in psychology and business, is thankful to have worked with Fondy. Medvecky conducted research alongside Fondy to investigate how cytochalasins and chemotherapy treatments could be combined with alternative high-intensity focused ultrasound leukemia therapy. Their work aimed to improve the ability of ultrasonic therapy to treat leukemia cell lines while limiting the effect on normal cells in vitro.
"He was extremely thorough and pushed every student surrounding him further," notes Medvecky. "Whether that was to investigate deeper, to give concrete reasoning behind their assertions and hypotheses, or to ensure every minute detail was not just spot on, but perfect. In that manner, I consider Professor Fondy one of my most influential mentors on the journey towards medical school and am exceedingly grateful for the guidance he has provided."
Life Beyond the Lab
As Fondy looks back on his career at Syracuse University, he is thankful to have had the opportunity to work alongside many talented students, faculty and staff during his 57 years as a professor. While he was first attracted to the University for its reputation as a premier research institution, he grew to appreciate its geographic location.
"I've always loved it here because you're sort of off the beaten path but not that much," he says. "It's on its way to places but it isn't overcrowded like Boston or New York, and Syracuse University carries with it a name recognition around the world that brings in very high caliber students from many different countries."
In his retirement he plans to relax, spend time outdoors and devote more energy to his interest in writing. He specifically enjoys journaling about the long-term meaning of life and our shared time on Earth.
"One thing that I find fascinating is the dimensions of time and space," says Fondy. "Our universe was born 13.8 billion years ago and we're here together occupying the same 50 years or so. Thirteen and then a whole bunch of zeros and then there's our 50 that we share. And that's just time. Then there's another whole dimension of place. We are one place of trillions upon trillion upon trillions of possibilities, and here we are. It's quite remarkable."
In a poem written by Fondy titled The Endless Mirrors, he considers the impact we as humans have during our brief time on the planet.
What will remain when our days are done?
What will matter when we are gone?
That we stalked the crumbled halls of power?
Were known by men long lost to time?
Famed in some forgotten hour?
Or that we wrote a song still sung?
Penned a verse that touches souls?
Shaped a cure to solace fears
To offer hope, to tarry death
For childhood's child in endless years?
Birthed a thought that sired ten more?
Conceived a dream and passed it on?
Forged a link from gone to be,
And shined our candle in the endless mirrors
That reflect forever down the halls of time.
From helping to unify the biology department to advancing cancer chemotherapy research and mentoring countless students who are now making momentous discoveries, Fondy can leave Syracuse University knowing he made a lasting impact that will benefit generations to come.
---
Trends have changed a lot during Fondy's career at Syracuse. Below is a snapshot of 1965 compared to today.
Top Song
1965: "(I Can't Get No) Satisfaction" by The Rolling Stones
2022: "As It Was" by Harry Styles
Top Grossing Movie:
1965: The Sound of Music
2022: Top Gun: Maverick
Price of a Movie Ticket:
1965: $1.01
2022: $9.17
Price of a gallon of gas:
1965: $.30
2022: $3.38
Top-Selling Car:
1965: Chevrolet Impala
2022: Ford F-Series