Be Not Afraid: Faith as the Cornerstone of Public Service
Michael Steele, former RNC chair, to deliver the 2022 Borgognoni Lecture.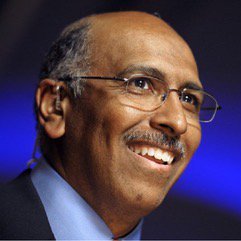 Can religious faith be compatible with public service? Should it be embraced, or feared?
To consider these questions, faculty, students and staff of Syracuse University, along with the Central New York community, are invited to this year's Borgognoni Lecture on April 4. The speaker, Michael Steele, will reflect on his life of faith and leadership. Both a former seminarian and former elected official, Steele is well positioned to explore this topic.
The event is sponsored by the Department of Religion in the College of Arts and Sciences, Hendricks Chapel and the State of Democracy Lecture Series of the Campbell Public Affairs Institute in the Maxwell School of Citizenship and Public Affairs. It is free and open to the public.
In 2002, Michael Steele became the first African American to hold statewide office in Maryland when he was elected lieutenant governor. In 2009, he became the first Black chair of the Republican National Committee. He is now a senior fellow at Brown University's Watson Institute for International and Public Affairs.
As lieutenant governor, Steele's priorities included fostering cooperation between government and faith-based organizations. As head of the RNC, Steele led the GOP to a pickup of 63 House seats in 2010. A self-described "Lincoln Republican," Steele was committed to grassroots organizing and party building at the state and local levels.
Currently, he is a political analyst for MSNBC and has appeared on shows ranging from Meet the Press to Real Time with Bill Maher to The Daily Show, as well as many others. He is an author and hosts the podcast, Man of Steele.
Born at Andrews Air Force Base in Prince George's County, Maryland, Steele was raised in Washington, D.C. Upon graduating from Johns Hopkins University in 1981, he entered the Order of St. Augustine where he studied for the priesthood. He is a graduate of Georgetown Law Center (1991), an Aspen Institute Rodel Fellow in Public Leadership and a University of Chicago Institute of Politics Fellow.
"We are very excited to host Michael Steele," says Phil Arnold, associate professor and chair of the Department of Religion. "His voice has been one of the clearest coming from an African American GOP leader on the political challenges of our time. The Borgognoni lecture will allow us to appreciate how his views are connected with his Catholic faith."
Brian Konkol, Dean of Hendricks Chapel, says, "We are honored and delighted to welcome Michael Steele to Syracuse University for the 2022 Borgognoni Lecture in Catholic Theology and Religion in Society. Through his lived experience at the diverse and dynamic intersections of faith and public service, Steele will invite us to consider the emerging implications of our affirmations, which makes this a special opportunity in the midst of important times."
Margaret Thompson, professor in the Department of History, says, "Michael Steele is excited to have the opportunity to talk about the relationship between faith and public service in his own life, and how faith has shaped his values and his political vision. In these often tense and polarized times, we believe he is an ideal person to reflect openly and deeply on these matters, and to contribute to ongoing conversation within our own campus and the larger community."
Grant Reeher, professor of political science and director of the Campbell Public Affairs Institute, says, "Michael Steele has played a pivotal role in some of the nation's most pressing political conversations about the composition and direction of our two major parties and has demonstrated the courage of his convictions. I'm keen to hear his reflections and delighted that he is visiting us."
The event is April 4 from 7 to 9 p.m. at the National Veterans Resource Center, Tan Auditorium and is free and open to the public. Find more information on the Syracuse University events calendar.
About the Borgognoni Lecture
The annual Borgognoni Lecture in Catholic Theology & Religion in Society is supported by funds Monsignor Charles L. Borgognoni (a.k.a. Father Charles) established in 2007 in memory of his parents, Joseph and Amelia Borgognoni, to promote the study of Catholic theology and religion in society. During his 30 years on campus, he served as the Roman Catholic chaplain of St. Thomas More Chapel, raised $1 million for the construction of the John G. Alibrandi Catholic Center, and also served as the chaplain to the SU football and basketball programs. He was a visionary, teacher, mentor and friend to students and faculty alike. Augmented with a leadership gift from Judith Pistaki Zelisko '72 and many additional contributors, the Borgognoni Fund exemplifies the affinity Father Charles felt for Syracuse University.