A&S Students Account for Over One Third of Fall 2022 SOURCE and Honors Grants
The grants provide up to $7,500 in support for original undergraduate research projects.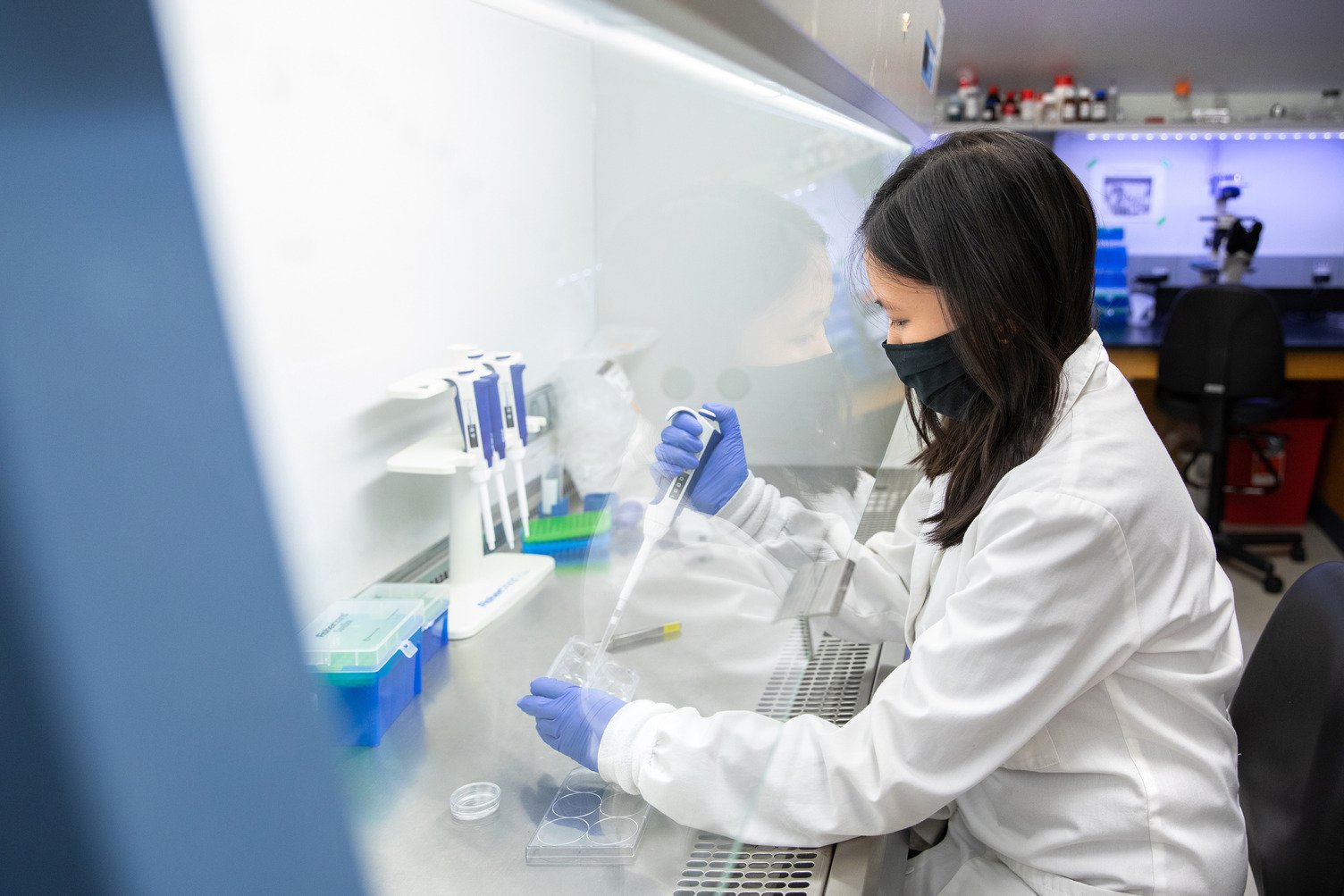 Twenty-seven College of Arts and Sciences (A&S) students have been awarded grants from the Syracuse Office of Undergraduate Research and Creative Engagement (SOURCE) and the Renée Crown University Honors Program. The awards support undergraduate students by helping them apply what they learn in class to their own original research under the guidance of a faculty mentor. In addition to further pursuing a topic of their interest, SOURCE and Honors grants improve students' critical thinking and problem-solving skills.
The 27 A&S students receiving funding represent over one third of the 78 student award winners from across all Syracuse University schools and colleges. There was a total of 143 applications, with winners chosen by a team of faculty reviewers. Students' majors spanned the humanities and sciences in A&S, including writing and rhetoric, physics, chemistry, English, Spanish, biology, neuroscience, psychology, mathematics, health humanities, communication sciences and disorders, and more.
Twelve A&S mentor-led projects have been awarded SOURCE Research Assistant grants, which will fund the hire of undergraduate students to take part in research.
The SOURCE and Honors Program funding supports timely and diverse undergraduate scholarly research. The grant programs strengthen the University's position as a preeminent and inclusive student-focused research institution and provide resources to support undergraduate student research participation. The next application cycle for summer 2023 and academic year 2023-24 grants will be due in February and March. Find out more on the SOURCE website.
A&S SOURCE Student Award Recipients
John Adams (majoring in writing and rhetoric)
Caleb Aguirre-Leon (majoring in physics in A&S and Computer Science in the College of Engineering and Computer Science [ECS]) *SOURCE/ Louis Stokes Alliance for Minority Participation (LSAMP) Fellow
Megan Cole (majoring in chemistry)
Chloe Crowley (majoring in communication sciences and disorders)
Brianna Estrada (majoring psychology and neuroscience) *SOURCE/LSAMP Fellow
Grace Haas (majoring in neuroscience in A&S and bioengineering in ECS)
Maxwell Handen (majoring in biology and neuroscience)
Nancy Linehan (majoring in psychology and neuroscience)
Donyell Logan (majoring in medicinal chemistry) *SOURCE/LSAMP Fellow
Zoe McCreary (majoring in art history in A&S and photography in the Newhouse School)
Nathalie Melo (majoring in health humanities in A&S and policy studies in the Maxwell School)
Kylee Miralla (majoring in biology and neuroscience) *SOURCE/LSAMP Fellow
Lucas Morse (majoring in German language, literature and culture in A&S and film in the College of Visual and Performing Arts [VPA])
Athena Myers (majoring in advertising in the Newhouse School, minoring in creative writing in A&S and sociology in Maxwell)
Sonja Nusser (majoring in chemistry and mathematics)
Akuoma Ogbu (majoring in psychology, neuroscience and disability studies)
Kerrin O'Grady (majoring in neuroscience in A&S and bioengineering in ECS)
Michael Perry (majoring in mathematics in A&S and computer science in ECS)
Serena Peters (majoring in chemistry in A&S and science education in the School of Education)
Veronica Poole (majoring in forensic science and biology) *funded by the Honors Program
Alyeska Reimer (majoring in Spanish language, literature and culture in A&S and drama [theatre management] in VPA)
Kate Ryan (majoring in medicinal chemistry)
Catherine Solis (majoring in biology and neuroscience) *SOURCE/LSAMP Fellow
Karim Wehbe (majoring in biology)
A&S Renée Crown University Honors Program Student Award Recipients
Megan Cooper (majoring in English and textual studies and Spanish language, literature and culture in A&S and international relations in the Maxwell School)
Diana Erenburg (majoring in biology and neuroscience)
Jacob Leisawitz (majoring in biochemistry and neuroscience)
A&S Faculty Research Assistant Grants
Patrick Berry, associate professor, Writing Studies, Rhetoric and Composition (Project: Mend and Rebuilding Futures)
Mark Brockway, Faculty Fellow in Political Science and Religion (Project: Religion and Partisan News Coverage of the Supreme Court)
Amanda Brown, associate professor, Languages, Literatures, and Linguistics (Project: Expression of Motion in First and Second Languages)
Jacob Gedetsis, writing center coordinator and lecturer, SUNY ESF; Bruce Smith, professor, English; and Lauren Cooper, graduate student, English (Project: Write Out)
Mike Goode, William P. Tolley Distinguished Teaching Professor in the Humanities (Project: Ecology and Climate Finding Aid for the Syracuse University Art Museum)
Xiaoran Hu, assistant professor, Chemistry (Project: Development of Smart Organic Materials for Sensing and Nanomedicine Applications)
Stephanie McMillen, assistant professor, Communication Sciences and Disorders (Project: What's that sound? Supporting bilingual preschoolers' language development through sound awareness in English and Spanish)
Mirna Mihovilovic Skanata, assistant professor, Physics (Project: Multisensory information processing in a simple brain)
Corrine Occhino, assistant professor, Languages, Literatures and Linguistics (Project: Documenting Individual Variation in ASL – DIVA)
Ellyn Riley, associate professor, Communication Sciences and Disorders (Project: Aphasia-optimized fatigue measure development)
Jillian Scheer, Cobb-Jones Professor of Clinical Psychology, (Project: Testing a biopsychosocial model of violence exposure, minority stressors, and hazardous drinking among LGBTQ+ populations)
Sascha Scott, associate professor, Art History, and Scott Manning Stevens, associate professor of English and director of Native American and Indigenous Studies (Project: Exhibition of Peter Jones's [Onondaga Nation] art, Syracuse University Art Museum, fall 2023)