Transdisciplinary Syracuse University Team Awarded Grant to Address the Digital Divide in Central America
Professors from A&S, the iSchool and Falk work to bring Internet to remote areas in Costa Rica.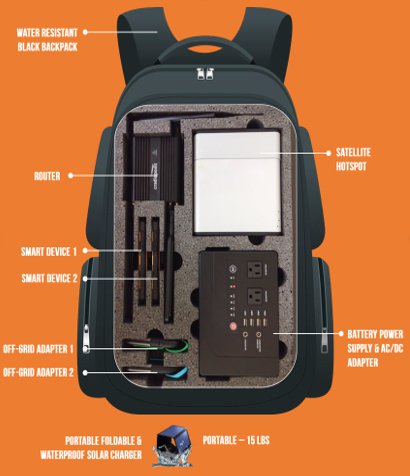 The rise of the digital age and widespread use of the Internet have turned web access into an essential utility ­– similar to water and electricity. In the past year and half, the COVID-19 pandemic has emphasized the importance of web connectivity, as it became the primary way people connected with family and friends, pursued an education, met with doctors, and remained apprised of information regarding the pandemic.
Although there are areas where broadband is not available, most areas in the U.S. have ways of connecting to the web, as over 90% of United States residents use the Internet. Most homes are hardwired into the web through high-speed cable connections or fiber-optic hookup. Homes located in more rural areas turn to technologies such as satellite Internet, although typically at a higher price. The same cannot be said for remote locations in Central American countries such as Costa Rica, says Danielle Taana Smith, professor of African American Studies in the College of Arts and Sciences and director of the Renée Crown University Honors Program.
While over 84% of Costa Ricans have Internet access, many poor, remote regions of the country do not. Smith has been awarded a $416,000 grant from the Internet Society Foundation to help establish Internet connectivity in underserved communities in Costa Rica through the use of an Internet Backpack. In 2019, with support from multi-stakeholder partnerships, the Internet Backpack was deployed in Isla Caballo, a remote island in Costa Rica, to provide Internet connectivity to the community. The success of this model for digital inclusion served as the foundation for design of this current research project. Smith and her colleagues will set up these backpacks in public community spaces, making Internet available to any community resident in the participating communities.
Over the next year, the team will deploy six Internet Backpacks in six remote areas of Costa Rica. The self-powered and self-contained Internet Backpacks are equipped with a high-powered lithium-ion battery, a 50-watt foldable solar panel that allows the battery to recharge when standard AC recharging is unavailable, power adapters, USB cables, international converters, two smart devices such as a cell phone or tablet, and a satellite terminal. The backpack utilizes a specialized router that supports cellular based broadband, satellite, Wi-Fi and GPS signals.
Smith states that their project will empower individuals in these communities and connect them with essential healthcare information and data, particularly regarding the spread of COVID-19 and highly infectious emerging variants. "Internet is a basic human need and is an important component of enhancing health equity," says Smith. "Because of the potential for further isolation, it is critical to increase connectivity to marginalized groups globally. By helping to establish a constant flow of health information, our project enables individuals to respond and act to take appropriate protective measures for themselves and their families."
Smith serves as principal investigator for the grant; she will oversee the project and make strategic decisions regarding project implementation. Project collaborators include Lee W. McKnight, associate professor in the iSchool, who conceptualized the Internet Backpack; David Larsen, associate professor of public health in the Falk College of Sport and Human Dynamics, the project's public health advisor; and Dr. Alvaro Salas Castro, Founder and President of the Board of Democracy Lab Foundation in San Jose, Costa Rica, and professor at INCAE Business School, a leading business school in Latin America. Salas Castro is responsible for monitoring project performance indicators, developing project evaluation tools and measuring the overall impact of project activities.
This team's grant is funded by the Internet Society Foundation, which provides funding for initiatives that develop the technical infrastructure of the Internet around the world, with primary goals of enhancing the lives of ordinary people and their communities. Their grant is one of four in this round of the foundation's Emergency Response Program, which awarded a total of $1.5 million for COVID-19 response.
Featured
Danielle Taana Smith Professor, African American Studies, Director, Renée Crown University Honors Program
Media Contact