Remote Tutoring Program Offers a Valuable Virtual Learning Experience for K-12 and Early College Students in CNY
The program has connected over 200 students with tutors and workshop leaders from around the country.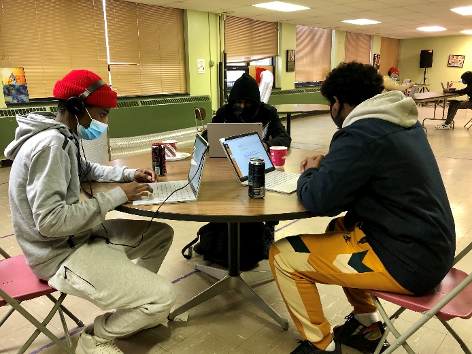 From fully virtual to part-time in-person and socially distanced, students have persevered through the challenges of learning during the COVID-19 pandemic. But for some, limited access to technology, unreliable internet connectivity, and a lack of quiet, designated spaces to work make it difficult to keep up with essential schoolwork. To help K-12 and early college students in Central New York facing these difficulties, Syracuse University has partnered with more than a dozen organizations to coordinate a regional remote tutoring program. The program was recently featured on NewsChannel 9's Bridge Street, CNY Central and Spectrum News.
Organized by Brice Nordquist, Dean's Professor of Community Engagement in the College of Arts and Sciences; Emily Winiecki, Community Engagement Coordinator in the Office of Community Engagement; and Aley O'Mara, A&S Engaged Humanities research assistant, the program virtually connects local K-12 and early college students with tutors to work one-on-on or in small groups on schoolwork. The program also facilitates a number of "enrichment" workshops—from creative writing to college application coaching. Most students meet with tutors in a virtual drop-in setting hosted by one of the partnering organizations. Over 200 students have connected to tutors and workshop leaders through the program and over 300 tutors have volunteered to provide support, including a mix of professionals, retired teachers, college students, staff and professors, and experts nationwide.
To support students and families in their communities, local organizations are facilitating connections with virtual tutors, providing students with educational-technology support, such as videoconferencing workstations, where tutors are available to offer help in various subjects. Partnering organizations include: La Casita Cultural Center; Catholic Charities of Onondaga County; the Center for Community Alternatives; Dunbar Association, Inc.; Good Life Foundation; Hopeprint; Mercy Works at the Clarence Jordan Vision Center; the North Side Learning Center; RISE; Salvation Army; Syracuse City School District ENL Department; Syracuse Housing Authority; and YWCA Syracuse.
If you are interested in becoming a remote tutor, fill out the volunteer form. For those interested in receiving help, or becoming a community partner, fill out the individual request form or contact Brice Nordquist at banordqu@syr.edu.
Featured
Brice Nordquist Associate Professor and Dean's Professor of Community Engagement
Media Contact