Dr. Jillian Scheer Named Inaugural Cobb-Jones Professor of Clinical Psychology
The professorship was made possible by a gift of $2 million in honor of psychology alumna Dr. Faith "Chris" Maltby Cobb.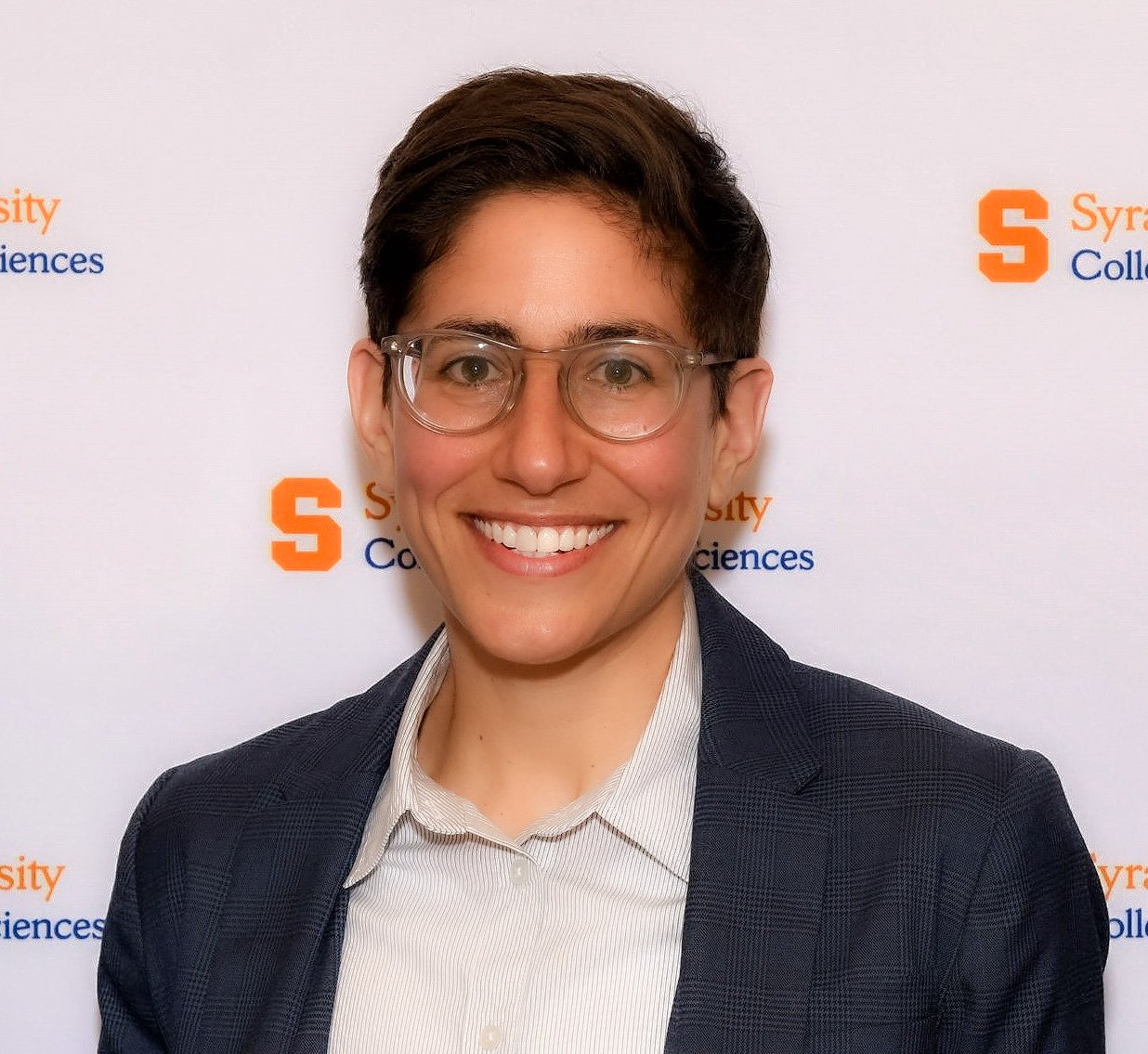 When Janet Gretchen Jones' wife Dr. Faith ("Chris") Maltby Cobb '51, G'66, Ph.D. '74 passed away in 2018, Jones considered different ways to honor her partner's legacy. Out of all the different institutions and organizations her wife was involved with throughout her life, Jones kept coming back to Cobb's endearing fondness for her alma mater, Syracuse University.
"Chris fell in love with the University," Jones said in a 2020 interview with Syracuse University News. "She really found herself there. And when it came time to choose a place to pursue her Ph.D. in clinical psychology, Syracuse was the only choice for her."
Cobb and Jones met in the early 2000s and were married in April 2010, as soon as it was legal to do so in their home of Washington, D.C. Those close to them say the pair shared some of the happiest times of their lives together in their later years. Soon after Cobb passed away, Jones' health also began to decline due to an illness, but she remained committed to seeing through a tribute to her late wife. She and Cobb's children decided an endowment to the psychology department was the proper way to honor Chris's legacy. Syracuse University and the College of Arts and Sciences' (A&S') Department of Psychology held a special place in Cobb's heart, as it was there that she molded her passion for clinical psychology, which would blossom into a successful career operating her own private practice and working as a school psychologist at the Fayetteville-Manlius School District, located in the eastern suburbs of Central New York.
Through a gift of $2 million to the Forever Orange campaign, the Cobb-Jones Clinical Psychology Endowed Professorship was established in the fall of 2020. The College of Arts and Sciences has now named Dr. Jillian Scheer as the inaugural Cobb-Jones Professor of Clinical Psychology. Scheer, who received a Ph.D. in counseling psychology from Boston College and completed a postdoctoral research fellowship through the Yale University School of Public Health, has been a faculty member in the A&S psychology department since August 2020. Though Jones sadly passed away in fall 2021 prior to Scheer's official installment, the professorship will stand as a celebration of the life, careers and loving bond between Cobb and Jones.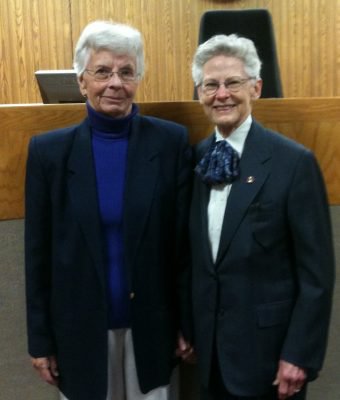 Upon accepting the honor, Scheer says she is both grateful and humbled to be named the inaugural Cobb-Jones Professor of Clinical Psychology.
"I first want to express my sincere condolences about the recent passing of Janet G. Jones and the passing of Dr. Faith "Chris" Maltby Cobb in 2018," says Scheer. "Janet Jones and Dr. Cobb were incredibly successful in advancing their respective fields of chemistry and clinical psychology. This endowed professorship position represents their dedication and perseverance to improving the lives of marginalized groups across local, state, and national levels. I aim to embody these same qualities in my work as a licensed psychologist who studies minority health and health disparities."
Throughout her career, Cobb used clinically based research to improve the human condition. She advocated for children with disabilities, and even helped craft the first legislation in the United States to protect the rights of individuals with disabilities. Cobb and Jones together would go on to establish the Comis Foundation, which seeks to enhance the lives of children and youth with the belief that all individuals have a right to full participation in society.
Scheer's work personifies Cobb's mission to improve the mental health of those who are vulnerable. As director of the Minority Stress and Trauma Lab, Scheer's research is focused on bettering the mental and behavioral health of racially and ethnically diverse sexual minorities (individuals who identify as gay, lesbian, or bisexual, or who are attracted to or have sexual contact with people of the same gender) and gender minorities (individuals whose gender identity or expression is different from their sex assigned at birth).
Her group's research seeks to identify underlying stress pathways that compromise sexual and gender minority (SGM) people's mental health. These pathways include shame, avoidance, social isolation, and difficulties with regulating emotions. By determining whether these stress pathways represent modifiable treatment targets in cognitive-behavioral therapy (CBT) interventions, their research could inform the development of tailored prevention and treatment efforts in this population.
Scheer's group also aims to understand the gap between the perceived need for help and help-seeking behavior among SGM populations, particularly among sexual minority women who engage in hazardous drinking (i.e., drinking that increases the risk of harmful consequences). She was recently awarded a prestigious K01 grant from the National Institute on Alcohol Abuse and Alcoholism (NIAAA) for her project, "Testing a biopsychosocial model of violence exposure, minority stressors and hazardous drinking among sexual minority women."
Scheer says the project will advance knowledge of the mechanisms and processes across biological, behavioral and cognitive levels that increase hazardous drinking risk among vulnerable subgroups of sexual minority women, such as those with PTSD. Findings from this project will help screen at-risk sexual minority women for services and differentiate treatment needs.
According to Scheer, the endowed professorship will enhance her group's work by providing her with the time and resources to advance her research program and continue pursing community-based work. She is currently partnering with Vera House to identify and promote survivor-centered and evidence-based strategies to meet the needs of violence-exposed SGM people, particularly those who identify as people of color and who may have difficulty accessing formal services. The professorship will also support opportunities for underrepresented students interested in working with the Minority Stress and Trauma Lab to conduct rigorous, community-based, and innovative health disparities research.
A&S Dean Karin Ruhlandt says Scheer's work to address inequities and improve mental health outcomes for minority populations embodies Chris' and Janet's passion and vigor to improve the human experience while enhancing learning opportunities for students. "We thank Janet for her generous donation in honor of Chris, who was a lifelong advocate of the clinical psychology program in A&S," says Ruhlandt. "Not only will the Cobb-Jones professorship be a boon to student and faculty research—and help prepare students to make a difference for so many individuals' mental health--but it will also be a way to forever honor the lives and legacies of Chris and Janet."
About Forever Orange
Orange isn't just our color. It's our promise to leave the world better than we found it. Forever Orange: The Campaign for Syracuse University is poised to do just that. Fueled by 150 years of fearless firsts, together we can enhance academic excellence, transform the student experience and expand unique opportunities for learning and growth. Forever Orange endeavors to raise $1.5 billion in philanthropic support, inspire 125,000 individual donors to participate in the campaign, and actively engage one in five alumni in the life of the University. Now is the time to show the world what Orange can do. Visit syracuse.edu/foreverorange to learn more.
Featured
Jillian Scheer Assistant Professor, Cobb-Jones Professor of Clinical Psychology
Media Contact