Dr. Gezzer Ortega '03 to Deliver Remarks at 2021 A&S | Maxwell Undergraduate Convocation
Ortega's speech will highlight how a liberal arts education has been foundational to his work as a physician.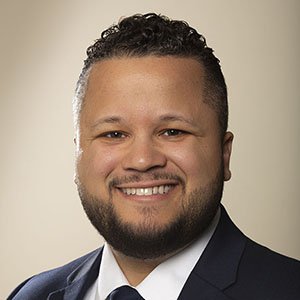 Dr. Gezzer Ortega '03 will offer the keynote address for this year's College of Arts and Sciences' | Maxwell School of Citizenship and Public Affairs' virtual undergraduate convocation. Ortega is lead faculty for research and innovation for equitable surgical care at the Center for Surgery and Public Health, Brigham and Women's Hospital, Harvard Medical School. His remarks will include reflections on exceeding one's own expectations and using the power of the liberal arts to achieve those goals.
Giving back and going beyond what was thought possible are the cornerstones of Ortega's research discipline. He works to address surgical and healthcare inequities in order to provide affordable, accessible and high quality care for historically underrepresented people, including communities of color and those with low socioeconomic status.
Ortega, who grew up in a disadvantaged neighborhood in Brooklyn, witnessed first-hand the harsh effects of healthcare inequality. "As someone who comes from that neighborhood, I feel almost a sense of obligation to make sure that I do my very best to help those who are like me," Ortega says.
That includes working to improve the healthcare experience for patients with limited English proficiency (LEP). Patients with LEP may have poor health outcomes because of poor communication that leads to medical errors, misdiagnoses and a decrease in the quality and satisfaction of care. As an instructor in surgery at Harvard Medical School, Ortega is training the next generation of doctors to overcome these barriers and provide optimal surgical care to all patients.
Tied to his work in improving patient outcomes, Ortega's goal is to diversify the academic physician workforce. In his remarks, he will provide a recent example of how this saved the life of a little girl, who almost was never a patient. Ortega cofounded the Latino Surgical Society which cultivates, nurtures and supports the advancement of Latino surgeons.
"Having providers and physicians that look the same, come from the same neighborhood and have similar backgrounds would be ideal because if someone understands you from that perspective, then they can treat you more holistically and then hopefully have better outcomes," Ortega says. "We are working to involve more students from under-represented groups to create a pathway and make the decisions for the future of our profession."
Through this outreach, Ortega is working to change the landscape of the medical profession. As he explains in his remarks, his liberal arts education established much of the foundation for his current efforts.
"Having a diversity of courses was critical," says Ortega. "Not just the sciences, but the humanities classes that I took in the College of Arts and Sciences provided different perspectives that are just as important for my life as a physician."
Offering the convocation address is an honor Ortega says he never could have imagined during his time as student and one that will probably make his siblings jealous, as both his sister Rosslyn '06 and brother Oswaldo '05 are also alumni of the University.
"I am honored to speak to the students for Convocation and help prepare them for the next phase of their lives and careers," says Ortega.
Dr. Ortega's remarks and the entire ceremony will be made available to students, family, alumni and friends for streaming later this month. More information will be made available in the coming days. Be sure to visit the A&S | Maxwell Convocation and Commencement page for updates.
Other Speakers at A&S | Maxwell Undergraduate Convocation
In addition to Dr. Ortega, other remarks will be offered by College of Arts and Sciences Dean Karin Ruhlandt; Maxwell School of Citizenship and Public Affairs Dean Van Slyke; and senior speaker Alaba Anna Tan Danagogo.