Carole Leland '56 Honored with Prestigious ATHENA Leadership Award
Leland joins past Global ATHENA award winners Billie Jean King and Ruth Bader Ginsburg.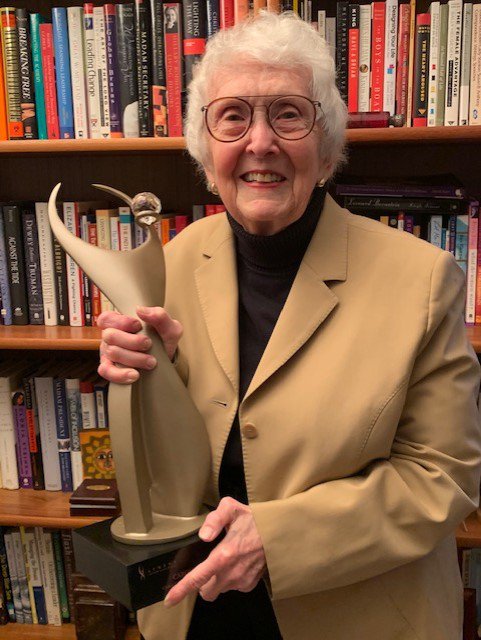 Carole Leland '56 is a recipient of the 2021 Global ATHENA award, which recognizes individuals who have lived up to the organization's vision of encouraging more women to take on leadership roles. ATHENA International's mission is to support female leaders through a model that was developed based upon research by Leland and ATHENA International founder Martha Mayhood Mertz. They surveyed 400 ATHENA award recipients and identified eight principles that define the ATHENA Leadership Model. Past recipients of the Global ATHENA award include recently deceased supreme court justice Ruth Bader Ginsburg, tennis player Billie Jean King and former secretary of state Condoleezza Rice.
Leland received a bachelor's degree in English from Syracuse University's College of Arts and Sciences (A&S) and was honored with the College's Distinguished Alumni Award in 2006. She served as a member of A&S' Board of Visitors (now Dean's Advisory Board) from 2006 to 2019, and was chair of the board from 2014 to 2017. She currently serves the Dean's Advisory Board as an emerita member. Leland also received a master's degree in education at Harvard University and a doctorate in higher education and sociology at Stanford University where she was a Carnegie Fellow.
Leland spent much of her career in the field of leadership development as a researcher, teacher, executive coach and consultant. With the Center for Creative Leadership's (CCL's) San Diego branch, she served as a program manager and senior faculty member and was named a senior fellow in leadership diversity. She later became a teacher and consultant in leadership for several foundations and the U.S. Government in countries across the globe. She is now a principal at Leadership Enterprises, a management consulting firm providing executive coaching and team development for individuals and organizations. Leland is also co-author of Women of Influence, Women of Vision: A Cross-Generational Study of Leaders of Social Change (Jossey-Bass, 1991), which highlights female leaders of the past and explores their paths to success.