A&S | Maxwell Students and A&S Faculty Well Represented Among 2021-22 Fall SOURCE and Honors Program Grant Recipients
A&S | Maxwell students account for nearly one third of all undergraduate research grant recipients from across Syracuse University in the fall funding cycle.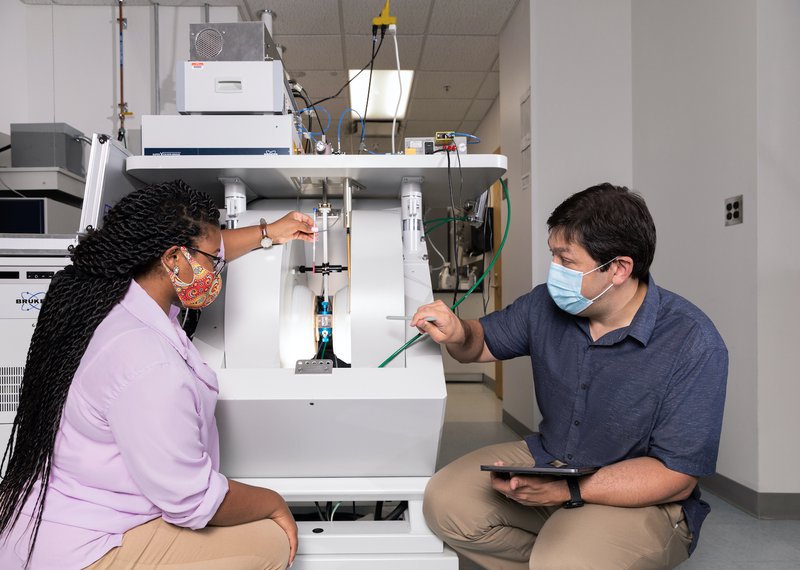 Twenty-two College of Arts and Sciences (A&S) | Maxwell School students have been awarded grants from the Syracuse Office of Undergraduate Research and Creative Engagement (SOURCE) and the Renée Crown University Honors Program. The awards support undergraduate students engaged in original research projects.
The 22 A&S | Maxwell students receiving funding represent nearly one third of the 63 student award winners from across all Syracuse University schools and colleges. In addition, nine A&S faculty mentors have been awarded SOURCE Research Assistant grants, which will fund the hire of 12 undergraduate students in total to take part in faculty-led research projects.
The SOURCE and Honors Program funding supports timely and diverse undergraduate scholarly research. The grant programs strengthen the University's position as a preeminent and inclusive student-focused research institution and provide resources to support undergraduate student research participation. The next application cycle for summer 2022 and academic year 22-23 grants will be due in February and March. Find out more on the SOURCE website.
A&S | Maxwell SOURCE Student Award Recipients
Thomas Cammerino (majoring in biotechnology)
Maya Chen (majoring in biology and forensic science)
Matthew Cufari (majoring in physics in A&S and computer science in the School of Engineering and Computer Science)
Brita Evans (majoring in Italian language, literature, and culture; biology; and philosophy)
Nicholas Harvey (majoring in medicinal chemistry)
Morgan Hrinkevich (majoring in biology)
Viktoria Jakubikova (majoring in biochemistry and forensic science)
Meris Rosenberg (majoring in biology and forensic science)
Madeline Tadeux (majoring in biochemistry and forensic science)
Ashley Tubens (majoring in psychology)
Karim Wehbe (majoring in biology)
Nicole Zwergel (majoring in biology)
A&S | Maxwell Renée Crown University Honors Program Student Award Recipients
Simone Bellot (majoring in communication sciences and disorders and neuroscience)
Ava Breitbeck (majoring in physics and political science)
Lia Figurelli (majoring in psychology and sociology)
Hong Beom Lee (majoring in physics and mathematics)
Donyell Logan (majoring in medicinal chemistry)
Denise Magny (majoring in biology)
Horit Sophia Perida (majoring in history and English and textual studies)
Rohan Popenoe (majoring in international relations and economics)
Jazmine Richardson (majoring in African American studies and biotechnology)
Louis Smith (majoring in biology and citizenship and civic engagement)
A&S Faculty Research Assistant Grants
Mona Eikel-Pohen, assistant teaching professor, Languages, Literatures and Linguistics (Project: "Fluchtpunkt Magdeburg": Reappraisal/revision of a German youth theater project 2015 to 2019 in Magdeburg, Germany)
Amanda Eubanks Winkler, professor and department chair, Art & Music Histories (Project: Bach was our Favourite Composer: The Beatles, 60s pop, and the Early Music Movement)
Nicole Fonger, assistant professor, Mathematics (Project: Antiracist Algebra Coalition Community Commitment Groups)
Christopher Green, assistant professor, Languages, Literatures and Linguistics (Project: Aspects of Maay Maay phonology and morphology)
Rania Habib, associate professor, Languages, Literatures and Linguistics (Project: The language of aggression, conflict, agreement, disagreement, and denial in Syrian Arabic)
Christopher Hanson, associate professor, English (Project: The Pioneering Influence of Game Designer Roberta Williams)
Stephanie McMillen, assistant professor, Communication Sciences & Disorders (Project: Just Write! Writing Development in Bilingual Children)
Jonathan Preston, associate professor, Communication Sciences & Disorders (Project: Clinical research in childhood speech sound disorders)
Ellyn Riley, associate professor, Communication Sciences & Disorders (Project: Development of stimuli for aphasia/apraxia treatment study)