Trio of Literary Honors for Creative Writing Alumni and Faculty
Alum Nana Kwame Adjei-Brenyah is a finalist for a National Book Award and two poets receive New York Foundation for the Arts fellowships.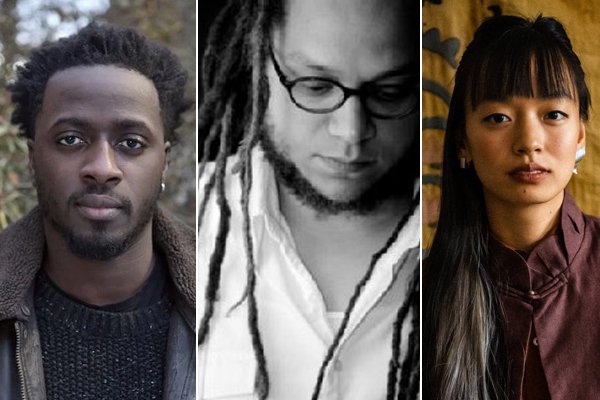 Editor's Note: The following article was updated on October 3 to reflect Nana Kwame Adjei-Brenyah being named a finalist for the National Book Award in Fiction.
From faculty to alumni, the esteemed Creative Writing program in the Department of English features some of the top literary talent in the world. Their acclaimed works regularly appear on bestselling lists and garner national attention with prestigious awards. Two alumni and one visiting professor have been recognized for their recent accomplishments and ongoing work.
National Book Award
M.F.A. graduate Nana Kwame Adjei-Brenyah G'16 is a finalist for the National Book Award in Fiction, one of the most prestigious honors in American literature alongside the Pulitzer Prize. His nomination stems from his debut novel, Chain-Gang All-Stars (Penguin Random House, 2023), which portrays two gladiators fighting for their freedom within a private prison system. The novel addresses such issues as the exploitation of Black women, systemic racism, capitalism and mass incarceration.
Winners will be announced November 15 at the 74th National Book Awards Ceremony and Benefit Dinner which will feature special guest Oprah Winfrey, at Cipriani Wall Street in New York City. The ceremony will be broadcast on YouTube, Facebook, and the Foundation's website at nationalbook.org/awards.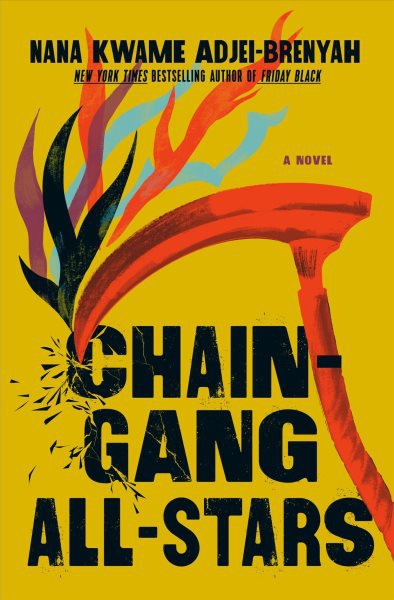 In addition to being named a finalist for the National Book Award, Chain-Gang All-Stars was longlisted for the New American Voices Awards, shortlisted for the Waterstones Debut Fiction Prize and longlisted for the Center for Fiction First Novel Prize. It was also a New York Times Book Review Editors' Choice and was named a most anticipated book by The New York Times, Washington Post, Entertainment Weekly, USA Today, Goodreads, Elle, Oprah Daily, and many more.
Adjei-Brenyah is also author of the bestselling short story collection, Friday Black. Among his other honors, he was selected as one of the National Book Foundation's "5 Under 35", is the winner of the PEN/Jean Stein Book Award and was named a finalist for the National Book Critics Circle's John Leonard Award for Best First Book and the Aspen Words Literary Prize.
In being a finalist for the National Book Award, Adjei-Brenyah joins bestselling author and professor George Saunders G'88, whose acclaimed book Tenth of December was a National Book Award in Fiction finalist in 2013; professor Dana Spiotta, whose book Eat the Document was a finalist in that same category in 2006; professor Bruce Smith, whose book Devotions was a finalist in the poetry category in 2011; former faculty member Junot Diaz, whose book This is How You Lose Her was a finalist in the fiction category in 2012; and alum M.T. Anderson G'98, who was a finalist in the Young People's Literature category four times, winning in 2006 for his novel The Astonishing Life of Octavian Nothing, Traitor to the Nation, Vol. 1: The Pox Party.
Prestigious Fellowships
Creative writing alum Iain Haley Pollock G'07 and visiting assistant professor Emily Lee Luan are recipients of New York State Council on the Arts/New York Foundation for the Arts fellowships. They are among 88 New York State artists to receive the award in support of contemporary artistic expression. Their fellowships fall within the poetry category, with other disciplines including craft/sculpture, digital/electronic arts, nonfiction literature and printmaking/drawing/book arts.
They were chosen among a highly competitive field of more than 4,000 applicants. Since launching in 1985, the program has awarded $35 million to 5,425 artists. Pollock and Luan join creative writing professor Dana Spiotta as authors with ties to Syracuse to receive the fellowship.
Iain Haley Pollock is author of Ghost, Like a Place (Alice James Books, 2018) and Spit Back a Boy (2011). Among his literary honors, he is a nominee for the NAACP Image Award and is winner of the Cave Canem Poetry Prize. His poems have appeared in African American Review, American Academy of Poets Poem-a-Day, American Poetry Review, The New York Times Magazine, PoetrySociety.org and The Progressive.
Emily Lee Luan is the author of 回 / Return (April 2023), winner of a 2021 Nightboat Poetry Prize, and I Watch the Boughs, selected for a Poetry Society of America Chapbook Fellowship. Her work has appeared in The Best American Poetry 2021, Best New Poets 2019, American Poetry Review, FENCE, and others.
Luan holds an M.F.A. from Rutgers University–Newark and is spending the 2023-24 academic year at Syracuse as a visiting assistant professor. This fall, she is teaching a graduate seminar called "Literary Mapping," and in the spring will teach a graduate Open Poetry Workshop for students in the M.F.A. program.