Through Hands-On Experiences, the Forensic Science Institute is Nurturing the Next Generation of Investigators
The Forensic and National Security Sciences Institute offers three unique courses that prepare students to make an immediate impact in the field of firearms analysis.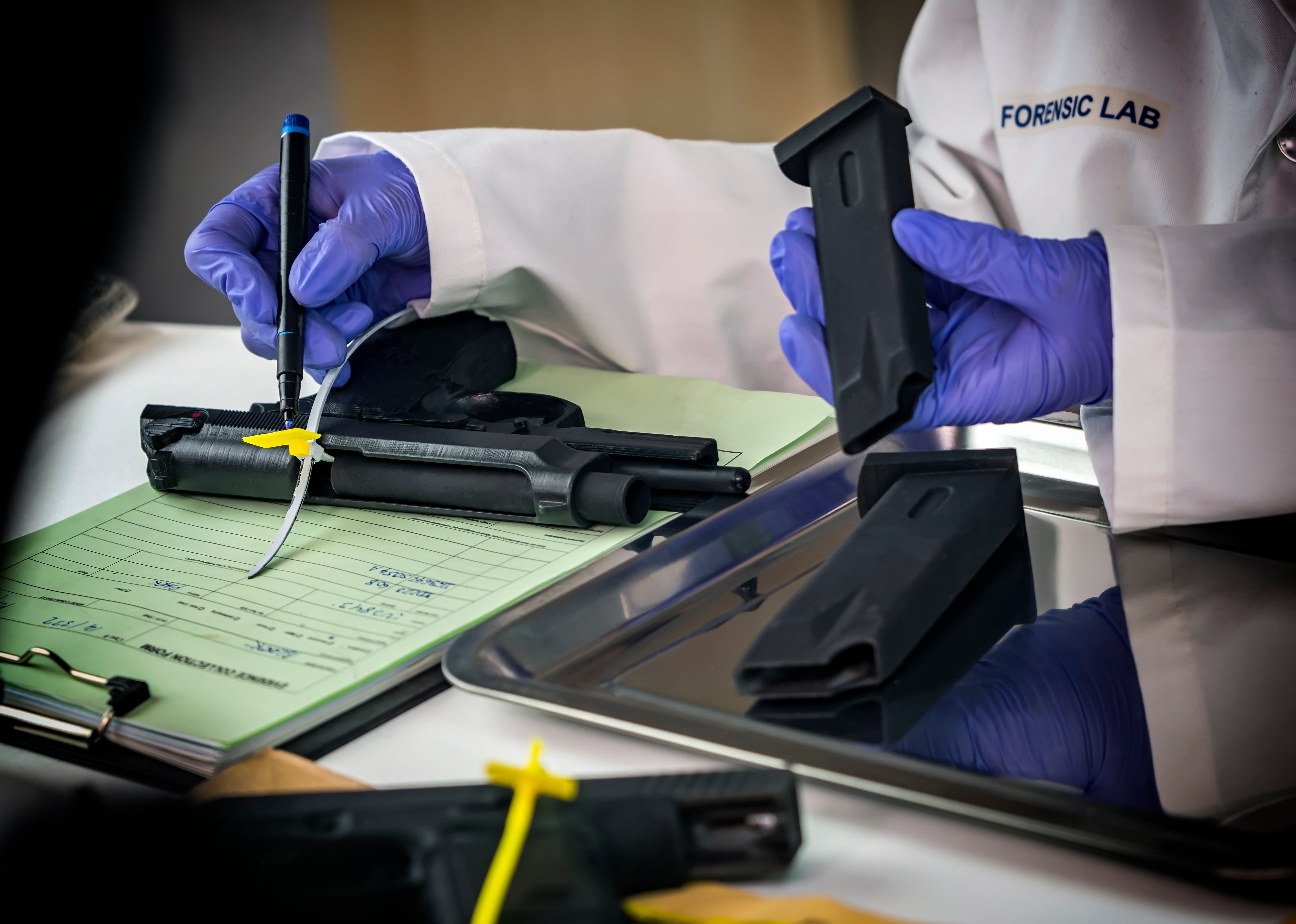 Preparing the next generation of forensic scientists to be "career ready" is a benchmark of success in the College of Arts and Sciences' (A&S') Forensic and National Security Sciences Institute. Thanks to a team of faculty that are experts across the field of forensics, students learn the latest job transferable techniques in the classroom and in the lab ranging from bioforensics and DNA analysis to combustible materials to fingerprinting.
One popular emerging program within the Forensic Science Institute is a sequence of courses offered in firearm and tool mark analysis. Forensic scientists in this field specialize in the study of firearms, ammunition and tool marks (scratches or abrasions after contact between a tool and an object) left at crime scenes. Organizations such as the Federal Bureau of Investigation and the Bureau of Alcohol, Tobacco, Firearms and Explosives rely on firearm and tool mark examiners to analyze evidence like bullets, cartridge cases and guns, including those which are sometimes unserialized and untraceable, to help investigators solve criminal cases.
The Forensic Science Institute currently offers three courses on this subject, taught by part-time instructor Matt Kurimsky, who has worked as a firearms examiner at the Onondaga County Crime Lab in Central New York for the past 20 years, and teaching assistant Sarah Crill, who is an alumna of the program. Students who complete the trio of classes, along with certain others, earn a Certificate of Advanced Study in Firearm and Tool Mark Examination – a powerful proof of career readiness.
A testament to the program's ability to prepare students for employment in the field, several participants have recently received awards, scholarships and jobs in this sector. Among them are Alec Wyers '23, who is now working at the Rhode Island State crime lab as a firearms examiner, Catherine Hadlock G'23, who is currently working at the Virginia Department of Forensic Services Laboratory as a firearms examiner, and graduate students Taylor Harvey, who recently won a scholarship award from the Association of Firearm and Tool Mark Examiners (AFTE) and Kelly Krowne, who recently completed internships with the Onondaga County Sheriff's and Medical Examiner's Offices.
A&S Communications recently sat down with Kurimsky, Harvey and Krowne to learn more about what sets this unique program apart from others and how it equips students with the knowledge necessary to succeed in the job market.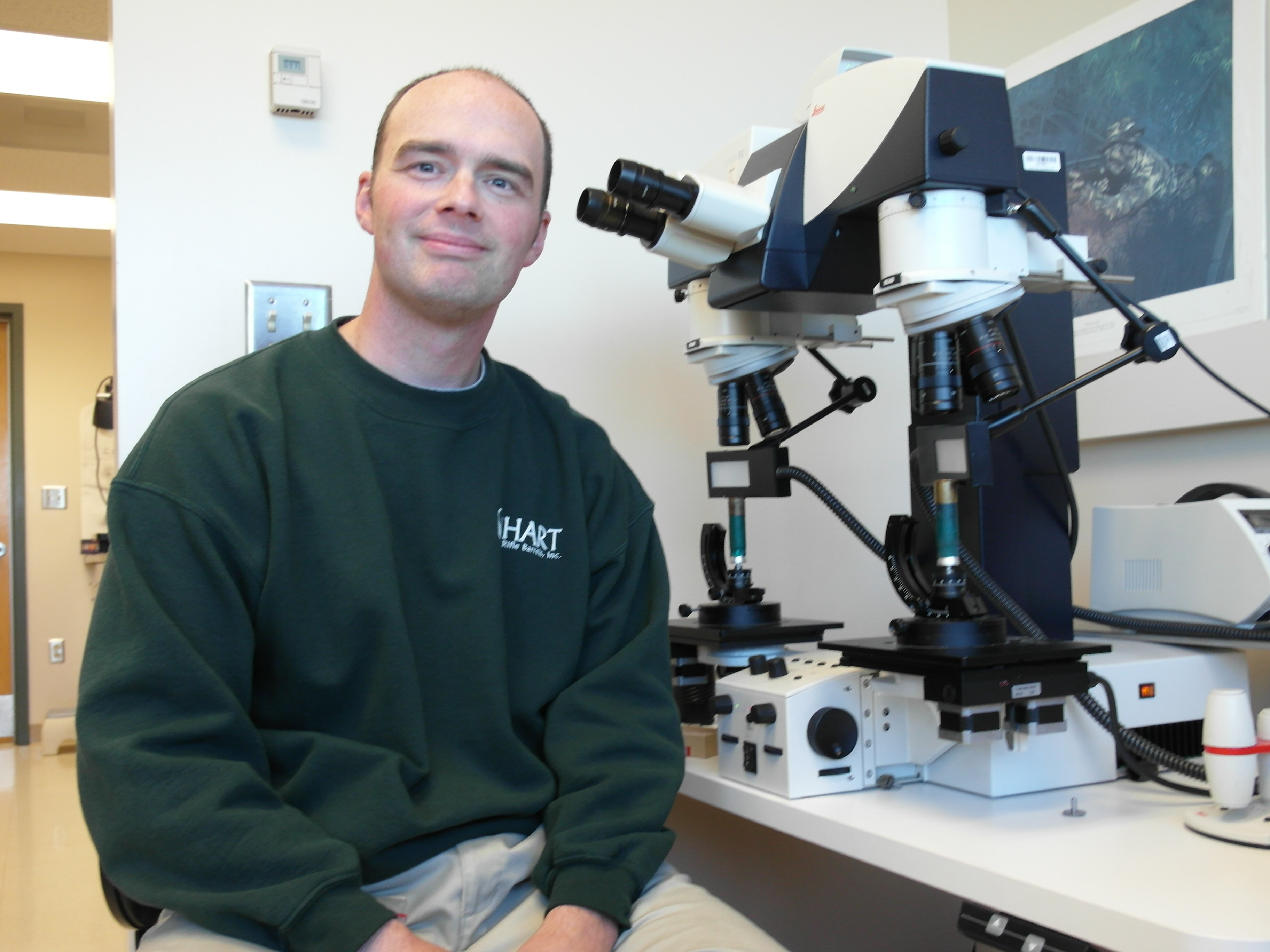 Can you give a brief description of the three firearms courses you offer?
Matt Kurimsky (MK): Firearms and Impression Evidence I is designed to give students the background in critical elements of our field, the first and foremost being proper and safe handling of firearms. From there, they get a general understanding of firearms, including things like firearms and ammunition technology and terminology, and then we cover the forensic element of firearms.
Firearms and Impression Evidence II is an advanced firearms course, meaning it is much more hands on. Students learn how to perform forensic identification work; identify fired cartridge cases and bullets back to the firearms that fired them; and see how firearms are manufactured and how the manufacturing process influences the types of unique marks that ultimately result in our ability to identify them.
Mechanics of Modern Firearms teaches forensic armorer skills. Students learn how to assemble, disassemble, troubleshoot, and repair a wide variety of firearms and identify critical parts that are significant from a forensic standpoint.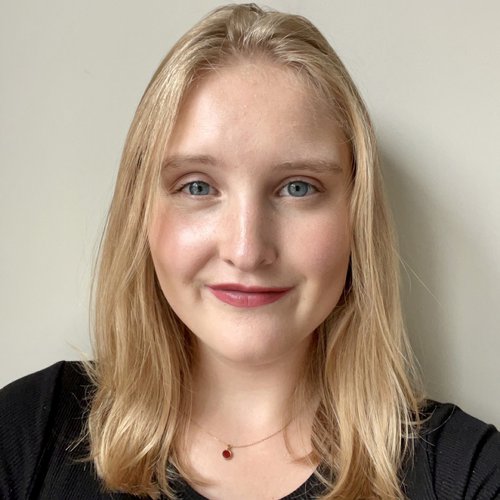 Taylor, what drew you to the firearm and tool mark examiner program?
TH: What interested me the most was the uniqueness. I did my research before applying to Syracuse University and this was the only accredited graduate program that offered firearms analysis as a specific concentration. Now, that interested me enough to sign up for Firearms I, but it was the content of Firearms II and III that interested me after that.
How about you, Kelly?
KLK: I took the first of three firearms courses because it was an area I was unfamiliar with and was curious to learn more about. I thought learning the basics would help me in my future career. I was very surprised to find that springs, pins and gunpowder were more interesting than I ever expected. Professor Kurimsky is an inspiring teacher as well, and I couldn't help but want to learn as much as possible from him.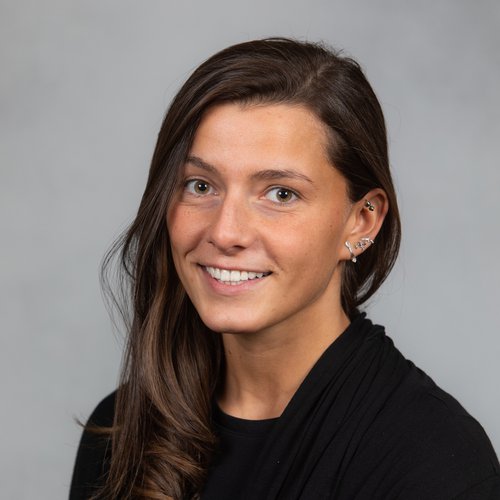 Kelly, what is your favorite aspect of the firearms examiner courses you've taken at Syracuse?
KLK: The hands-on learning experience. The Firearms II course requires students to become familiar with handling a variety of firearms. This class also allows students to analyze ballistic evidence items on a comparison microscope. This helps the students learn how to identify fired cartridge cases or bullets that came from the same source, which is an important skill for a firearms examiner to have.
Matt, can you elaborate on how students train with comparison microscopes and the importance of working with that type of equipment?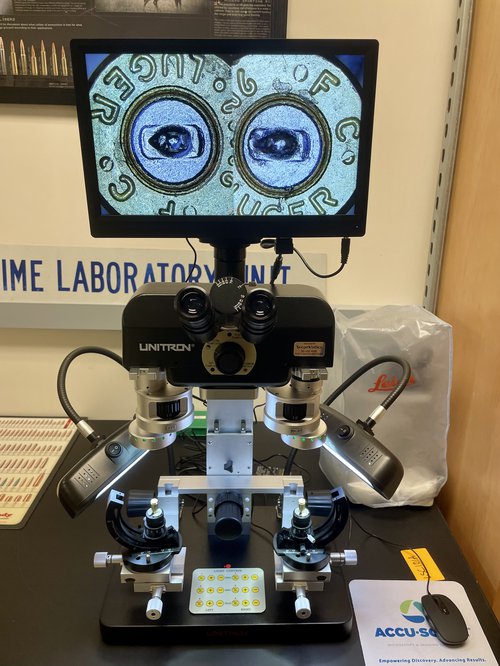 MK: Comparison microscopes, such as our latest model donated to the program by Brian Taub, CEO of Accu-scope, are used in forensic science for viewing samples such as fired bullets, cartridge cases and hairs to compare "knowns" to "unknowns." It consists of two compound microscopes with side-by-side stages that have a split screen bridge that connects the viewing heads from each scope. In this way, we can compare two samples side by side to look for similarities or differences in specific markings that are left on bullets or cartridge cases after being fired (or two hairs).
Can you provide an example of how this equipment would be utilized in a professional setting?
MK: We might have a fired bullet from a crime scene on the left scope and then a test-fired bullet from a handgun found on the suspect on the right scope. When we look through the viewer, we see one object on the left and one on the right with a line between them. We can use the scope to see the striations left on the fired bullet from the lands (raised portions) and grooves (recessed portions) of the barrel of the firearm to determine if the two bullets were fired from the same gun.
A side-by-side comparison of two fired cartridge cases viewed through a comparison microscope. The microscope magnifies evidence allowing examiners to inspect marks left on their surfaces during the firing process.
Taylor, what's something from the program that you particularly enjoyed learning about?
TH: I took Mechanics of Modern Firearms last semester, which is full disassembly and reassembly of a whole list of firearms. I enjoyed the mechanical aspect of it; learning how things went together, and why and how it operated as a whole. That is where my interest lies.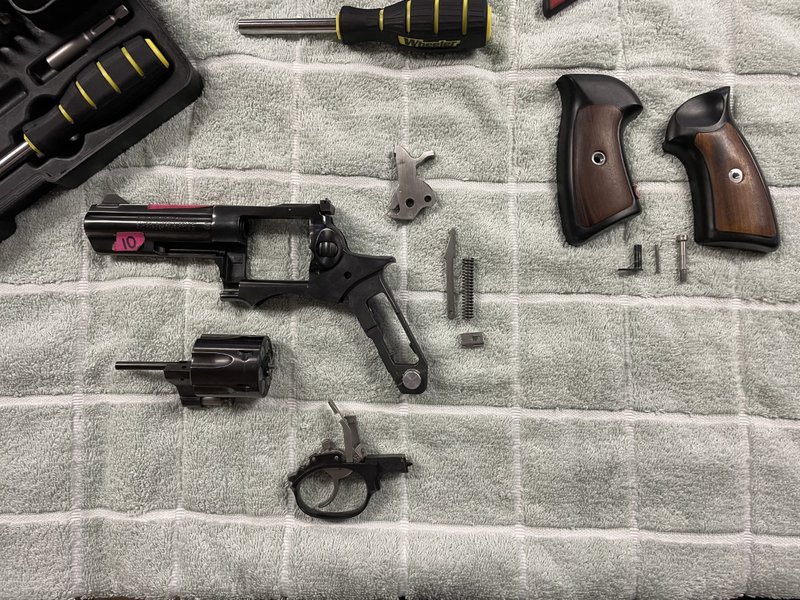 Firearms analysis involves disassembling and reassembling weapons. Pictured is a Ruger gp100, 357 magnum, fully disassembled by Harvey for a class exercise.
Matt, what would you say sets this training program at Syracuse apart from others?
MK: Our faculty's connections with the industry allows students to take firearms tours at different firearm manufacturers. In addition, students are doing research that they normally wouldn't do until they come close to completing their training as a firearms examiner in a major laboratory. I honestly don't know of another place in the country that offers the hands-on opportunities students get in our program.
Speaking of hands-on opportunities and connections, Kelly, can you elaborate on your recent internships?
KLK: This past summer I participated in two internships. At the Medical Examiner's Office, I observed how forensic investigators receive death notification calls, document scenes, perform body examinations and view autopsies. This internship was extremely beneficial because I was able to apply what I learned in class to real case work, enhance my critical thinking abilities and assist the forensic investigators. All of which helped to narrow down my career goals.
At the Sheriff's Office, I was placed in the Criminal Investigations Division. I was able to gain insight into a different side of the criminal justice system by observing law enforcement officers conduct investigative interviews, package and preserve evidence, and execute arrest warrants. Although law enforcement is not my anticipated career goal, the internship was a unique and special opportunity to see how the Sheriff's Office operates day to day and how their job intersects with forensic science.
What's next after Syracuse?
KLK: I hope to find a job in the forensic science field either as a firearm and tool mark examiner, forensic investigator, or latent print examiner. Fingers crossed. After gaining experience and expertise in the field, I would like to teach forensic science to college level students.
How about you, Taylor?
TH: I plan to move back to Minneapolis, Minnesota and gain employment using either of my concentrations: Firearm and Impression Evidence or Biological Weapons Defense.