Sascha T. Scott Receives NFAH Fellowship for Her Work on Modern Pueblo Painting
Associate professor of art history Sascha Scott has been named an inaugural non-residential fellow of the New Foundation for Art History 2023-24 and will use the grant to complete her new book.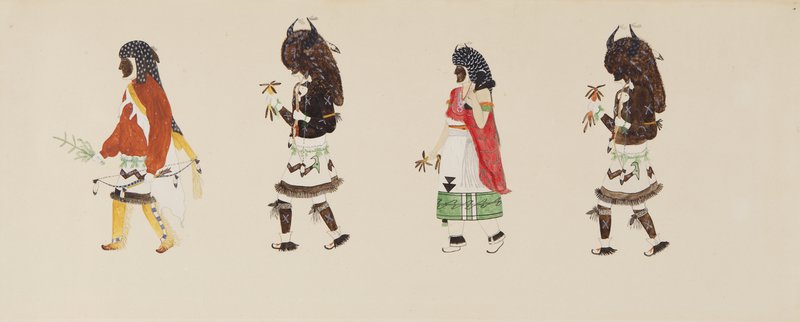 Sascha Scott's new book will focus on how Pueblo painters in New Mexico, such as Awa Tsireh, fought to resist colonialism through their artwork. (Image credit: Awa Tsireh, Buffalo Dancers, 1917-1918, IAF.P10, Indian Arts Research Center, Santa Fe, New Mexico)
Historically, studies of early twentieth-century Pueblo painting focused on the role non-Native anthropologists, artists, and patrons played in fostering and marketing Pueblo art. In the last two decades, there has been a shift in approach spearheaded by scholars in the field of Native American and Indigenous studies. This field has called for efforts to decolonize histories and research practices by shifting away from settler colonial histories and assumptions, consulting with Indigenous communities throughout the research and writing process, and centering narratives on Native individuals and their voices.
Modern Pueblo Painting: Colonization, Aesthetic Agency, and Indigenous Visual Sovereignty is associate professor Sascha T. Scott's second book, which aims to contribute to decolonizing efforts. Her first book, A Strange Mixture: The Art and Politics of Painting Pueblo Indians (University of Oklahoma Press, 2015), is a study of an early 20th-century political movement that addresses cultural and political issues facing Native peoples. Pueblo and non-Pueblo activists joined forces to protest the U.S. government's policy of assimilation. Many of the Anglo activists involved were artists; "paradoxically, their art and political activism both helped to facilitate national awareness of these issues and got in the way of Pueblo peoples' fight for land rights and sovereignty by presuming to speak for Pueblo peoples and claiming the authority to define what constitutes 'authentic' Native culture," says Scott.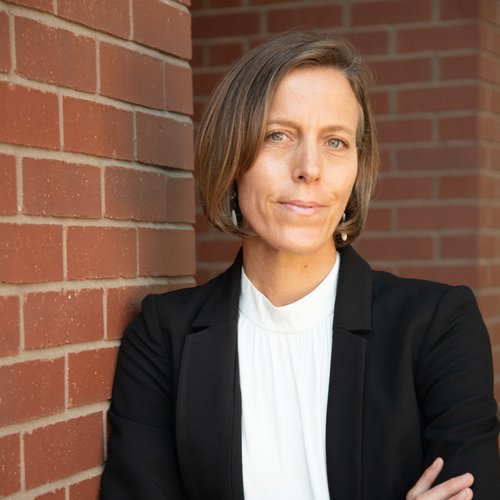 Jumping off from a chapter of her first book that focuses on Pueblo artists, Scott's new work is devoted entirely to Pueblo painters working in New Mexico. These Indigenous artists, she explains, built on a long tradition within their communities of advocating for themselves and fighting colonialism, which was happening long before Anglo activists caught up.
She chronicles acts of resistance in the form of art that celebrated Pueblo culture and ceremonial traditions even as the government was trying to erase them. She also looks at how Pueblo artists also resisted colonial forces by protecting their communities from the exploitive gaze of outsiders. "In these paintings, the artists were very careful about what they share, protecting certain information from outsiders," Scott says.
Her work takes a holistic look at individual artists—not only interpreting their paintings, which articulate themes of resistance and resilience, but also examining their more practical dealings with colonialism, the market, fair pay and labor conditions.
The last major monograph that took a broad look at early twentieth-century modern Pueblo painting was published nearly 30 years ago, in 1997; since that time, "the field of art history has shifted as scholars attend to methodological and ethical frameworks proposed by the field of Indigenous studies," Scott notes. "When writing about Native artists, it should always be done in collaboration and conversation with Indigenous communities. I respect their sovereignty and I take seriously the communities' and families' voices and stories." Most Pueblo communities shut their borders for over two years because of the Covid-19 pandemic, which hit Indigenous communities particularly hard. This summer, Scott was able to visit New Mexico and resume discussions with Pueblo tribal liaisons, curators and family members. She's on track to complete the project in 2024.
The New Foundation of Art History (NFAH) was founded in 2019 to provide funding for early and mid-career scholars and work that has been underserved or overlooked by established granting institutions. Per their stated mission, "the NFAH wants to lead by example towards a more equitable future of the discipline, and one where excellence is promoted and rewarded in the broadest ways possible."