Rewriting Kenyan History
A&S grad student Joy Nyokabi Karinge advocates for access to unsanitized history of Kenya and beyond.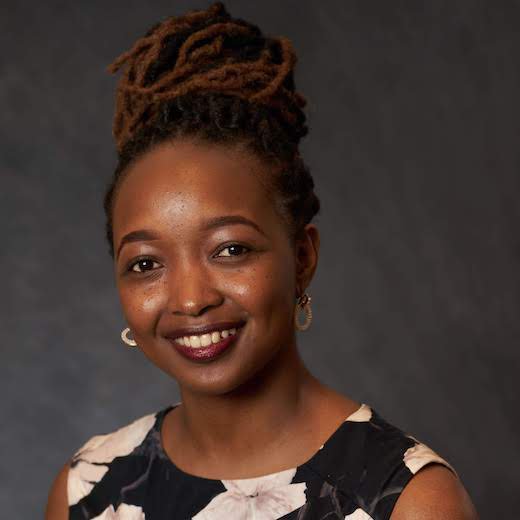 Joy Nyokabi Karinge was home in Kenya when she discovered that her grandfather had been tortured, detained, and disenfranchised by the British for his part in the Mau Mau war in Kenya, a Kenyan revolt against British colonial rule in the 1950s, which led to 11,000 deaths by some counts.
She was sitting just a half mile away from the detention center that imprisoned him, when she decided that she wanted to get a master's degree in Pan African studies – and focus her research on reparations for colonialism. Karinge was introduced to the College of Arts and Sciences' Pan African studies program as an undergraduate student at the United States International University - Africa in Nairobi, Kenya, when she took a pair of classes taught by alumni of the program. She was immediately drawn to their perspectives, passion and determination to make a difference – and they introduced her to works authored by other renowned scholars from the program that influenced her academic path.
"When it came time to apply for graduate school, there was absolutely no question about where I wanted to go because I'd been exposed to so many revolutionary ideas from Syracuse alumni and faculty," she says. "The Pan African studies program was exactly what I was looking for."
Karinge is now in her second year at Syracuse and just published a paper on the same uprising that her grandfather was involved in. In her research, she examines whether the court-ordered reparations from this case were sufficient and whether the British government has overstepped its rights to conceal key documents from the case.
"Elderly Kenyans from the Mau Mau group filed a case against the British government in 2009 and the judge ruled in favor of the claimants," says Karinge. "But, my research questions whether this settlement was sufficient from a reparative justice lens – and looks at the politics of access to documents and information about this case."
When Karinge began to conduct her research for this project, she discovered that the British government had gone through great lengths since the 1960s to remove and destroy documents that confirmed the widespread abuse and torture that had taken place in detention camps during the Mau Mau war, including the one where Karinge's grandfather was detained.
"They were having bonfires to burn documents and flying over the ocean to dump crates of files," Karinge explains.
The presiding judge over the High Court in London ordered the remaining documents to be released, or the British government would be held in contempt of court. They eventually released them – and the documents confirmed the many accounts of violence. This led to the settlement order, which forced the British government to release a statement of regret, offer a settlement of $31 million, and install a statue in Nairobi in honor of the fallen Mau Mau soldiers. But, the documents went back on lockdown.
"The outcome of this case was only a partial win as it did not fulfill the tenets of reparative justice," says Karinge, who explains that the British government did not sufficiently accept liability for their actions, nor address the deep-seated injustices of colonialism, that continue to harm Kenyans across the country.
"More sobering was the fact that the British government continued to maintain that the migrated documents belonged to them and the released files, now heavily redacted, were transferred to The National Archives in Kew, London."
Karinge traveled to London in the summer of 2022, to review the files for this research project, and she learned for herself just how difficult it is to access these strictly controlled documents. Her trip was supported by the Mark and Pearle Clements Internship award, the Maxwell African Scholars Union award, an African American studies departmental award and Hendricks Chapel.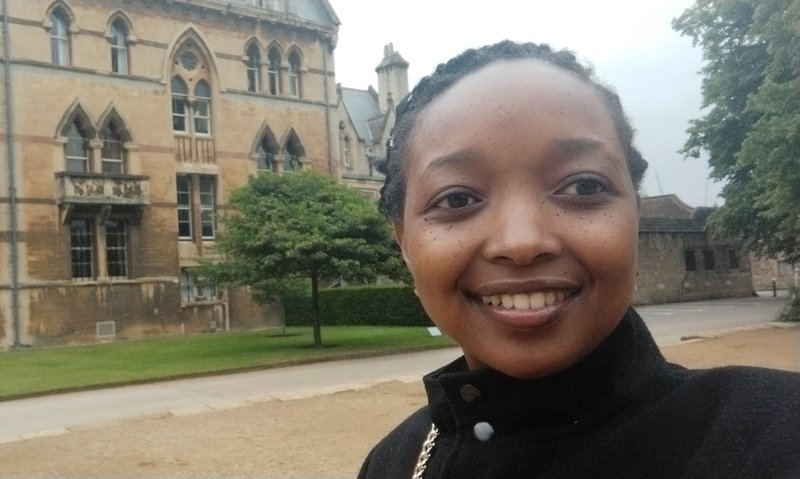 Karinge at Christ Church in Oxford during her research trip in 2022.
Despite making all of the proper arrangements with the Archives' authorities to view the files, Karinge was denied access when she arrived in London.
After she was shut down by the British government, she began meeting with many other scholars, experts, reparations groups, Kenyan officials, historians, advocates and others, who had confronted similar challenges with accessing these records and wanted to see the archives opened and returned to Kenya.
"To keep these archives locked down is stealing history and sanitizing it – and trying to control the narrative of British colonialism in Kenya," she says. "And this raises questions about the broader conversation around reparations."
Karinge published her paper, "Silencing Kenyan History: Operation Legacy and the 'Migrated Archives,'" in Democracy in Africa, which outlines her findings about the lengths that the British government has gone through to keep these documents locked down and why this is unjust for Kenyans.
"It is evident that silence has been systemized and weaponized to conceal and deny colonial history," she says. "When I was in high school, just ten years ago, we were being taught the benefits of colonialism. We need to rewrite all of that and share the true stories of Kenya."
She hopes her paper adds to the voices calling for change – and contributes to the bigger conversation about adequate reparations.
Karinge stresses that this conversation is not just about the victims of one uprising – or even about all of Kenya. She points to the many Africans who don't have access to land, have been separated from family, and have been cut off from opportunity and wealth.
"This is the story of a continent," she said, referring to restricting access to the records. "We know African countries are stuck where they are because of the damage that was done during colonialism. So, how do we begin to rethink and change the systems and institutions that continue to oppress African people?" Karinge's research contributes an informed perspective and new ideas to the conversation about adequate reparations in Kenya – and beyond.