New Members Join A&S Dean's Advisory Board in 2023
Three new Board members will help further the strategic objectives of the College.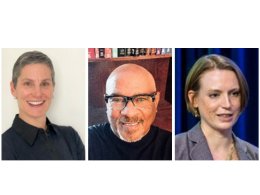 Dean Behzad Mortazavi has welcomed three new members to the Dean's Advisory Board (DAB) of the College of Arts and Sciences (A&S): Susan Church Andersson '84, Ronald W. Gill '81 and Megan Stull '00. The DAB is a group of more than 30 dedicated alumni, parents and friends of A&S who serve as stewards and advocates for the College. The Board advises the Dean and helps develop resources to advance A&S' strategic objectives.
"We wholeheartedly embrace the vision and dedication these alumni bring to the College. The addition of these new Board members brings a wealth of career expertise and diverse perspectives," says Mortazavi. "Their valuable insights and viewpoints will enrich the educational opportunities available to our students. Each of them has forged a distinctive journey to success, underscoring the strength and adaptability of a liberal arts education."
New advisory board members include:
Susan Church Andersson '84 is a 1984 graduate of the Whitman School of Management. She grew up very much part of the Syracuse University family as her father, Philip Throop Church, joined the mathematics faculty in 1958. During his 43 years at SU, he served on many committees, was named the Francis H. Root Professor of Mathematics and was the 1989 Scholar/Teacher of the Year, among many contributions to the research and study of mathematics. Andersson and her brothers created the Philip Throop Church Undergraduate Math Endowed Scholarship fund, through the Forever Orange campaign, providing financial assistance to one undergraduate mathematics student each year. Andersson received an MBA from the Wharton School at the University of Pennsylvania and worked in the financial services industry for several years. At SU she competed on the Women's Rowing team. Her engagement continues with Syracuse's Women's Rowing with recent support for the program in the form of a new boat. A lifelong athlete, Andersson competes in USA Cycling events, including US master's national championships. She lives with her husband Curt in Skaneateles, New York, and they have two adult daughters, Caroline and Elisabeth.
Ronald W. Gill '81 received a B.S. from A&S in English and Cultural Studies. He received a J.D. from the University of San Francisco School of Law in 1985, where he was the recipient of the 1982 Kottler Scholarship for legal writing. In 1996, he began his career as a litigator with the Stark and Paino, LLP firm. A few years later, he joined the defense litigation firm of Joseph Conklin, LLP, where he honed his skills to become a highly successful litigator, having tried over 30 cases. Gill became trial counsel to several leading insurance carriers and many large corporations. He served as Trial Counsel to the attorneys' Bar, representing clients in catastrophic injury cases and obtaining several million-dollar verdicts and settlements. Gill has also served as Assistant Attorney General for Washington, D.C., where he defended the district against constitutional law claims. Gill is the current trial counsel to Fortunato and Fortunato, PLLC. He is licensed to practice law in New York, Massachusetts and the District of Columbia. He is a member of the New York State Trial Lawyers Association and the District of Columbia and Massachusetts Bar Associations. He serves on the Board of The Academy of Trial Lawyers, New York. Gill's daughter Alyssa Gill '09 is also an A&S alum.
Megan Stull '00 graduated with a dual degree from A&S and the S.I. Newhouse School of Public Communications. She is a senior manager for regulatory policy and government affairs at Apple and lives in the Washington, D.C. area. She is currently the President of the Federal Communications Bar Association (FCBA). She previously worked at Google for 13 years, offering counsel on legal issues including consumer electronics and accessibility. Prior to that, she worked as an associate in the Communications and Media Practice at the law firm, Willkie Farr & Gallagher LLP. She received the 2022 Law & Technology Institute Alumni Associations (LTIAA) Pay It Forward Award from the Columbus School of Law for her support of fellow alumni and law students. Stull holds a J.D., magna cum laude, and a certificate from the Institute for Communications Law Studies from the Columbus School of Law at The Catholic University of America. She is a member of Syracuse University's D.C. Regional Council and of the Board of Visitors of Catholic University's Columbus School of Law.