Debra Adams Simmons '86 Named A&S | Maxwell Convocation Speaker
National Geographic executive will reflect on her journey from CNY reporter to industry leader.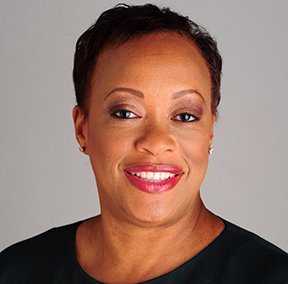 Debra Adams Simmons '86, a national leader in journalism and a champion of diverse media organizations, inclusive editorial coverage, increased accountability journalism and a strengthened local news ecosystem, will deliver the alumni keynote address at the 2023 College of Arts and Sciences (A&S) | Maxwell undergraduate convocation on Saturday, May 13. The celebration will be held at 8:30 a.m. in the JMA Wireless Dome.
A dual English and broadcast journalism graduate with three decades of extensive journalism experience as a reporter, editor and senior editorial executive, Simmons was named vice president for diversity, equity and inclusion (DEI) at National Geographic Media in 2022.
In that role, she helps lead diversity initiatives across the company's parent organization, The Walt Disney Company, including efforts to amplify underrepresented voices through authentic storytelling. This guiding principle was honed in part by her English classes and liberal arts professors at A&S | Maxwell. "As a journalist you think, 'What are the stories that can move the needle here, that can make a difference?'" says Simmons.
Before that, Simmons had worked since 2017 as executive editor of history and culture for National Geographic, the 135-year-old magazine known for its striking photojournalism and focus on the history and lived experiences of people and places around the world.
In her convocation remarks, Simmons will address one of the critical issues facing American society today: the imperative to build a stronger local news and information ecosystem as the number of community news outlets continues to shrink and the industry battles for survival. "If local news vanishes, can local democracy, civic engagement and accountability survive?" Simmons asks.
She also will discuss the importance of mentors, whether professors, alumni in a formal program like A&S' alumni match program, or professionals in the workplace, in helping emerging journalists and other young professionals launch and successfully navigate their careers.
Following the path of her interdisciplinary student experience, Simmons has maintained deep alumni relationships with Syracuse University. She is vice-chair of the College of Arts and Sciences' dean's advisory board, which she recently hosted at National Geographic's office in Washington, D.C. She has funded an endowed Our Time Has Come Scholarship to support Arts and Sciences students and is helping the Syracuse University chapter of Delta Sigma Theta Sorority Inc. reach an ambitious $1 million scholarship goal. She also was among Newhouse's 50 Forward, recognized as part of the school's 50th anniversary celebration in 2015. She will serve as a facilitator and keynote speaker for the Summer 2023 Newhouse DEIA Campus Immersion experience.
Lois Agnew, interim dean of the College of Arts and Sciences, says, "I am thrilled that our graduating students will have the opportunity to hear Debra Adams Simmons speak at Convocation. Debra has built a high-profile, noteworthy career by combining an incredible talent for writing with a real passion for making positive change in the media industry. At A&S | Maxwell, our students go on to help make the world healthier, more hopeful and more humane. Debra is an outstanding example of the liberal arts' power to do just that."
About Simmons' Career
In her first reporting job at the Syracuse Herald-Journal, which she began one week after graduating from Syracuse University, she wrote an award-winning story on abuses in the Syracuse-area foster care system. She continued writing about underrepresented communities when she later covered public city schools for the Detroit Free Press and the Hartford (Connecticut) Courant.
Simmons moved into management in 1995 as education editor at The Virginian-Pilot where she later served as metro editor and as the deputy managing editor for local news. She was the managing editor and editor of the Akron Beacon Journal before serving in the same roles at The (Cleveland) Plain Dealer. In 2014, she was named vice president of news development for Advance Local, the Newhouse family-owned company that includes The Plain Dealer as well as The (Syracuse) Post-Standard and syracuse.com.
Along with her commitment to DEI, Simmons has prioritized accountability journalism—holding people and institutions responsible for their words and actions—and has worked to cultivate a new generation of news leaders. She spent a year as a fellow of the Nieman Foundation for Journalism at Harvard University in 2016 examining how best to create inclusively led, digitally focused media organizations.
A record of robust media leadership includes serving on the boards of the News Leaders Association (formerly the American Society of News Editors) and the International Women's Media Foundation and serving as president of the Associated Press Media Editors Association and the Maynard Institute for Journalism Education. She also has been an adjunct faculty member of Kent State University's Journalism and Mass Communications program teaching Media Ethics and Media Marketplace classes. Simmons currently serves on the board of Signal Ohio, a statewide nonprofit news organization launched by the American Journalism Project, a group focused on addressing the news and information needs of citizens across the country. Her broader work includes helping organizations implement journalism projects to help address news voids that exist in many communities. Simmons has participated seven times as a Pulitzer Prize juror (including in 2023) and spent five years as the Midwest judge for the Livingston Award for Young Journalists, a program of the University of Michigan Knight Wallace Fellowship. She also is a longtime judge of the Newhouse School's Mirror Awards.
"Every moment in my career has been a DEI moment because in the 1980s and '90s there weren't that many women senior leaders," Simmons says. "When I became the editor of The Plain Dealer [in 2010], I think there were two Black women executive editors in the country."
Today's newsrooms in such cities as Dallas, Houston, Charlotte and Miami are led by women, many of whom Simmons has mentored and supported.
Simmons advises students to seek and nurture mentors and, when more experienced, to guide and support the next generation. "I'm hoping to smooth the path for future generations of leaders," she says.