42 A&S Students Receive 2023 Spring SOURCE and Honors Grants
Undergraduates are awarded up to $7,500 in support for research projects.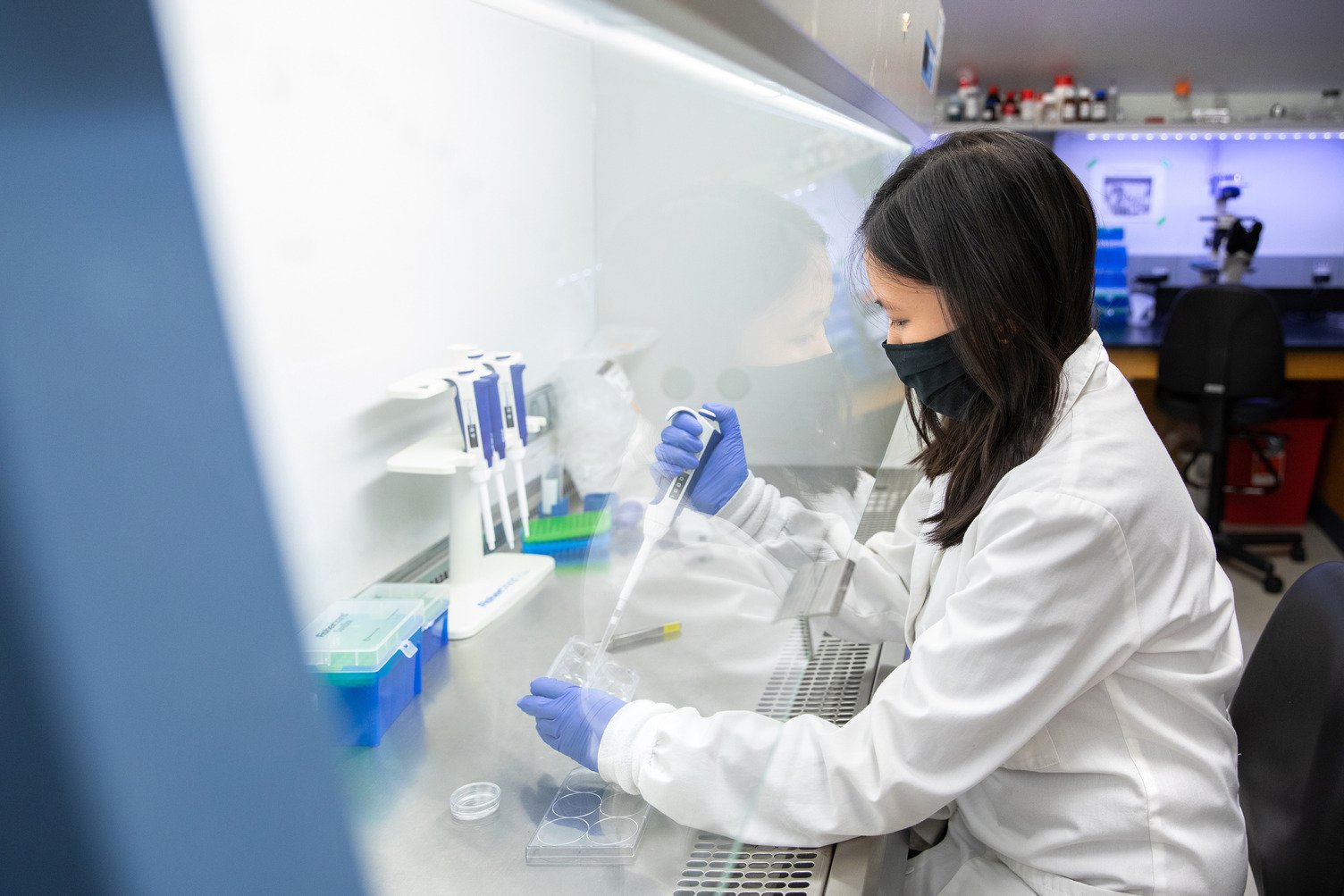 Forty-two College of Arts and Sciences (A&S) students have been awarded grants from the Syracuse Office of Undergraduate Research and Creative Engagement (SOURCE), the Renée Crown University Honors Program, and the Louis Stokes Alliance for Minority Participation (LSAMP). The awards help undergraduates dive deeper into topics they are interested in while improving their critical thinking and problem-solving skills. SOURCE, Honors, and LSAMP grants give undergraduates valuable experiential learning opportunities, helping them apply classroom learning to original research under the mentorship of faculty.
In the SOURCE/Honors application cycle, there were 88 proposals and 73 award recipients from across Syracuse University schools and colleges. Including LSAMP awards, there were 41 total recipients from A&S. A team of faculty reviewed and rated the applications. The majors of students whose applications were selected encompassed both the humanities and sciences, including biology, biotechnology, chemistry, communication sciences and disorders, environment, sustainability and policy, Earth and environmental sciences, ethics, forensic science, geography, history, linguistics, modern foreign language, neuroscience, physics, political science, psychology, Spanish language and culture and women's and gender studies.
In addition, 23 A&S projects have been awarded SOURCE Research Assistant Grants, which will fund the hiring of undergraduate students to take part in the faculty's ongoing research. These grants support students' sustained research within their discipline while working toward their Edge certification. This A&S | Maxwell program provides students with two or more experiential learning components, bolstering their readiness for a career or graduate school.
SOURCE awards aim to foster and support diverse undergraduate engagement in faculty-guided scholarly research and creative inquiry. Students get experience and training in designing and revising original and timely research and creative projects. The program bolsters the University's standing as a leading and inclusive research institution that prioritizes student engagement, while also offering resources to facilitate the active involvement of undergraduate students in research. The next application cycle for academic year 2023-24 will run in September and October. Find out more on the SOURCE website.
A&S SOURCE Student Fellowship Recipients and Majors
Sevara Abduvalieva, Biotechnology
Daving Archange, Biology
Nicholas Bouton, Biology
Evan Coles, Chemistry
Elizabeth Fox, Communication Sciences and Disorders
Leah Fried, Biology
Jadon Garofalo, Physics and Neuroscience
Nadia Gaytan, Biology and Neuroscience
Deandre Gutierrez, Environmental Sciences
Ngoc Huynh, Biology
Mitchell Mazza, Neuroscience and Psychology
Maggie Middleton, Communication Sciences and Disorders
Chidera Olalere, Biochemistry
Lucy Olcott, Chemistry
Kristen Rodecker, Biology
Jordan Ruddell, CSD, Neuroscience
Mokhinur Sobirova, Biology
Taylor Stubitsch, Biochemistry
Caine Taft, Biochemistry
A&S Renée Crown University Honors Program Student Crown Award Recipients and Majors
Faith Akoachere, Biochemistry
Christian Bevilacqua, Geography
Anna Cally, Biochemistry
Sophie Clinton, Political Science, Women's and Gender Studies, Spanish Language and Culture
Ashley Issak, Biology and Neuroscience
Yvonne Kuo, Psychology and Forensic Science
Katherine Miles, Linguistics and Modern Foreign Languages
Madeline Pietrowski, Biology and Psychology
Katarina Sako, Neuroscience and Biology
Eden Stratton, Political Science
Matthew Snyder, Psychology and Neuroscience
Madison Wallace, Biochemistry and Neuroscience
Noor Zamamiri, Biology and Neuroscience
Dabar Zarzuela, Biology
A&S SOURCE/Louis Stokes Alliance for Minority Participation (LSAMP) Fellowship Recipients and Majors
Alana Fleming, Biotechnology and Neuroscience
Ariana Martin, Physics
Vanessa Noi, Biochemistry
Zikora L. Nnam, Neuroscience
Kadin Person, Biology
Catherine Solis, Biology and Neuroscience
Elijah Springer, Biotechnology
Ryann Washington, Biology and Forensic Science
A&S Patricia A. Wood, M.D., Ph.D., Spinoza Award
Olivia Wang, Biology and Ethics