Alumni 'Pay it Forward' with 1,000 Student Mentorship Meetings...and Counting
The Alumni Connections Program facilitates meetings between A&S | Maxwell students and alumni.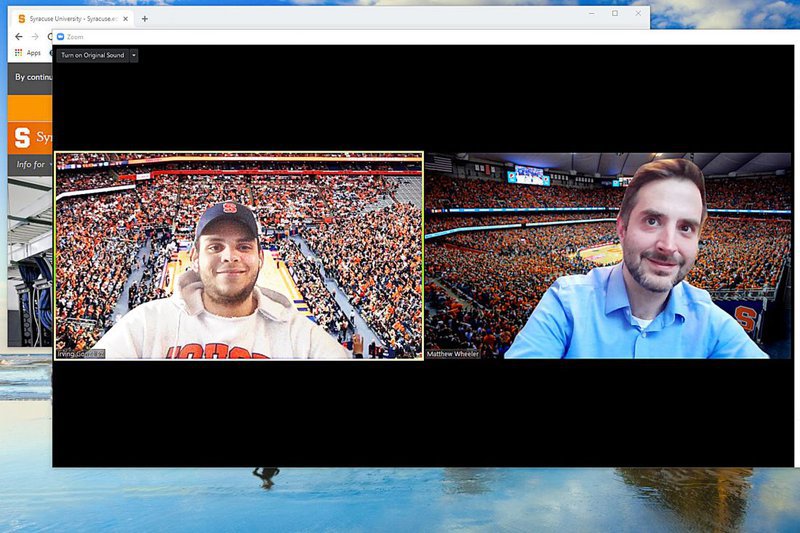 Can you recall a person who provided encouragement or advice at a pivotal time in your life, perhaps in college? The A&S | Maxwell Office of Academic and Career Advising has built a thriving program that pairs curious undergraduate students looking to network with dedicated alumni mentors who have walked in their shoes.
Milestone achievement: It began in April of 2020 and despite the irony of launching during the height of the pandemic shutdown, the program, meant to bring students and alumni together, has proven to be a resounding success. Managed by Matt Wheeler, associate director for alumni relations in the Office of Undergraduate Academic and Career Advising, the program has recently reached a significant milestone of 1,000 meetings between students and alumni mentors.
Win-win proposition: Students are encouraged to network with alumni, but they often lack the experience, guidance and mechanism to do so. Fortunately, Syracuse's alumni community is renowned for going above and beyond to support students - but how do they cross paths with students? Enter The Alumni Connection Program - a mentorship program that demystifies the intimidating transition for students and sparks alumni engagement.
For students, it's a golden opportunity to glean real-world insights from accomplished graduates. Simultaneously, alumni mentors find great satisfaction from giving back to their alma mater, actively shaping the next generation of professionals and providing invaluable guidance for success at SU, in their respective industries and in life.
Students can be any year and any major in A&S or Maxwell. Even those who are undecided or unsure what career path they are aiming for are welcome. In fact, many have found that a conversation with an alum either helped them solidify their career interests or made them more comfortable during a transition time that can feel stressful:
"Since I met with my alumni match, my view of my career/life path has changed. I am more comfortable not knowing 100% what I want to do. My alumni match shared how he dabbled in many different subject areas before finding the path that led to his current job. I have many different interests, so this experience has helped me to find new confidence in where I am on my academic path." – Student feedback
What's required? To begin, Wheeler asks that both parties approach the experience professionally and commit to a single, one-hour conversation, virtual, by phone, or in person. After that, each case is different. Students have the opportunity and control to develop the relationship if they choose. They also can go back to the program list and seek out new alumni matches.
Wheeler emphasizes that students come "prepared, curious and grateful", which is his prescribed recipe for a successful mentorship conversation.
"We started this program to give students easy access to alumni working in careers that interest them and it's been well received on both sides," says Matt Wheeler. "However, when students embrace the 'prepared, curious and grateful' approach, they are much more likely to feel confident and have a successful conversation with their match. It's a good practice that isn't exactly taught in most classes and the approach will benefit them in the future."
Wheeler also encourages students to watch a TED Talk called "How to Have a Good Conversation".
How it works for alumni: After completing a simple online registration form, alumni are added to the list for students to choose from based on their interests. Wheeler facilitates the meeting when a student expresses interest. Alumni are asked to listen to their student and provide constructive feedback, reminding them that each student is different.
"One student and I have connected all year and I'm looking forward to assisting her in her senior year. We worked on her LinkedIn, resume and networking in the human resources field. I am proud as an SU alum to have participated in this program and will continue to do so!" – Alumni feedback
Alumni, join now! Learn more about becoming a mentor.
How it works for students: In an online registration, students choose from a list of alumni who have registered for the program and rank them based on interest. Names of people or organizations are not shared at this point, but rather, informative descriptions like, "A 2017 writing and rhetoric alumna working as a copywriter in Studio City, California," or "A 1993 international relations alumna working as a foreign service officer for a federal department in D.C." Next, Wheeler explains in a training video what to expect and how to maximize the experience. Understanding that this may be the first time students have "networked", he provides direct advice on how to interact in a professional manner – including good questions to bring to the conversation, preparing an elevator pitch and expressing gratitude. Wheeler then facilitates the introduction.
"Having example for the initial reach out email to the alum was helpful because I was so nervous to mess up or say something wrong or unprofessional!" - Student feedback
Students - find your alumni match! Learn more about getting a mentor.
This year Wheeler says they are looking to expand the program's reach and engage more students, specifically freshmen and first-generation students, as well as adding alumni mentors working in more industries. With the positive feedback from student mentees, some faculty are getting involved by encouraging their classes to try the program or even requiring it.
Alumni volunteers, hailing from diverse backgrounds and professions, have eagerly stepped forward to mentor. "The alumni have been extremely generous with their time and knowledge and many also support us with alumni panels and employment opportunities," says Wheeler. Though not guaranteed, the connection may even lead to the discovery of exceptional talent with potential recruitment opportunities.
"Enrique was very personable and enthusiastic about discussing transitioning from Econ to working in Finance in NYC. He exemplifies the liberal arts model with a background in Econ and performing arts, which will make him an excellent communicator going forward. Asked great questions and had a wonderful conversation. Thank you for connecting us and happy to help him through his journey transitioning to the working world." - Alumni feedback
Connections matter more than ever. With 1,000 meetings and counting, the Alumni Connections Program is demonstrating the power a single meeting can have for young people contemplating careers.  It's a true win-win. Students can tap into the rich reservoir of alumni experience – and those alumni reignite their A&S pride and a sense of Orange purpose by sharing their wisdom on how to excel at SU, navigate an entry into their industry and thrive along the way.