Diverse Careers, Broad Perspectives: New Members Join A&S Board in 2019
Dean Karin Ruhlandt recently welcomed eight new members to the Dean's Advisory Board of the College of Arts and Sciences (A&S).
Dean Karin Ruhlandt recently welcomed eight new members to the Dean's Advisory Board of the College of Arts and Sciences (A&S): Don Andres '68, Ken Dixon '91, P'23, John Duffy G'87, Alexander Kadish '01, Barbara Kurman G'79, P'07, P'11, Michael Kurman '73, P'07, P'11, Andrew Rasanen '73 and Hilary Rosen P'21.
Ruhlandt notes that the new members represent a broad range of talents and careers, but each shares a common commitment to a liberal arts education.
"The Dean's Advisory Board is the embodiment of the College's educational mission," she says. "The board members' combined experience and expertise speak to the power of the liberal arts—its ability to inform, enrich and transform lives. That is why they are such trusted stewards and advocates of and for the College."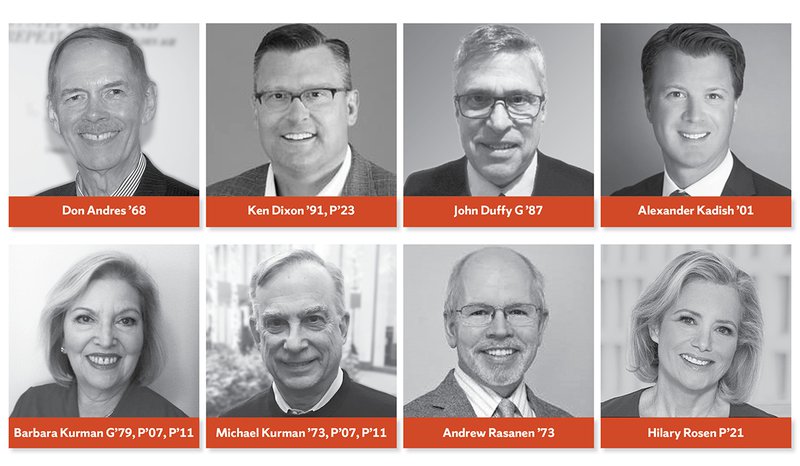 Don Andres '68
Don Andres is a Los Angeles-based business consultant, specializing in strategic and management planning, process development and campaign and business development. During his 35-year aerospace defense career, he held leadership positions with TRW, acquired by Northrop Grumman in 2003. Now retired, Andres is president of the Friends of Runyon Canyon Foundation. He is also an officer of the Hillside Federation, an organization dedicated to environmental quality in the Santa Monica Mountains. He continues to be actively involved with Syracuse's L.A. Regional Council, the alumni group for Southern California.
Ken Dixon '91, P'23
Ken Dixon is senior vice president and group president of Verizon's consumer markets line of business and is a member of the company's leadership team. He previously led Verizon Wireless in various markets, most recently as senior vice president and chief marketing officer and then president of its Northeast market. His deep knowledge of the wireless industry began in 1992, when he joined Nynex mobile as an account executive and rose through the management ranks. He and his wife, Melissa, live in Far Hills, New Jersey, with their three children.
John Duffy G'87, P'20
John Duffy retired from a 25-year career at NVR, one of the largest homebuilders in the United States. Dividing time between Baltimore and Washington, D.C., he occupied leadership positions in planning, finance, and land acquisition and development. Previously, Duffy was a commercial lending officer at Marine Midland Bank in Syracuse. The Maryland native now manages and invests in residential and commercial real estate properties throughout the mid-Atlantic region.
Alexander Kadish '01
Alex Kadish is an Executive Director at Morgan Stanley. Before joining Morgan Stanley in 2016, Kadish held positions at J.P. Morgan Securities, Jefferies & Company and Citigroup Smith Barney. A member of the finance committee for the Los Angeles-based nonprofit United Friends of the Children, Kadish and his wife, Alexa, live in Manhattan Beach, California, with their two sons. The Alexandra C. and Alexander H. '01 Kadish Endowed Scholarship in A&S supports first-year students.
Barbara Kurman G'79, P'07, P'11
Barbara Kurman is vice president of e3 Northeastern Technologies, an audiology equipment distributor serving the New York metropolitan area. In 1991, she co-founded Northeastern Technologies, which Demant, a Denmark-based hearing health care company, acquired in 2011. A nationally respected expert in audiology sales and training, Kurman serves on the advisory board of Syracuse's Department of Communication Sciences and Disorders. She is also president of the Hillel Board of Governors. She and her husband, Michael, have created the Kurman Travel Scholarship in support of graduate student travel to professional conferences.
Michael Kurman '73, P'07, P'11
Founder and president of a New Jersey-based health care consultancy, and previously a practicing oncologist, Michael Kurman helps design and manage clinical trials for potential cancer treatments. He has more than 30 years' experience in the pharmaceutical, biotech and health care industries, including at IQVIA (formerly Quintiles), MedImmune (formerly U.S. Bioscience), Cytogen Corporation and Janssen Pharmaceuticals. Kurman has served on Syracuse's Biology Advisory Board and Hillel Board of Governors. He and Barbara have two children who also are Syracuse alumni.
Andrew Rasanen '73
Andrew Rasanen is a 20-year veteran of Mitsubishi UFJ Financial Group, where he directs corporate communications for the Americas. Specializing in employee engagement, branding and corporate social responsibility, Rasanen previously held communications positions at Harvard Divinity School, Bank of America and Union Bank. He majored in English and textual studies in the College of Arts and Sciences. He also studied abroad in Syracuse's Florence program, where what he has described as a life-changing experience inspired him to pursue graduate studies in art and archeology at Harvard and the Rhode Island School of Design.
Hilary Rosen P'21
Hilary Rosen, parent of a student in the College of Arts and Sciences, works at the nexus of communications, media and politics. Based in Washington, D.C., she is an on-air political analyst for CNN; a partner at SKDKnickerbocker, a public affairs and political consulting firm; and founding co-chair of the Time's Up Legal Defense Fund, addressing sexual assault, harassment and inequality in the workplace. In addition to forming both Rock the Vote and Business Forward, Rosen previously served as chair and CEO of the Recording Industry Association of America and as political director and editor-at-large of the D.C. bureau of HuffPost.
About the Dean's Advisory Board
The Dean's Advisory Board advises the Dean of the College of Arts and Sciences on matters of teaching, research, service and enterprise. The 40-member group also develops financial resources supporting the College's strategic goals and objectives. More information can be found at the Dean's Advisory Board page.
Media Contact
asgiving@syr.edu