Tropic of Squalor
New book by Peck Professor Mary Karr highlights irreverent brand of poetic faith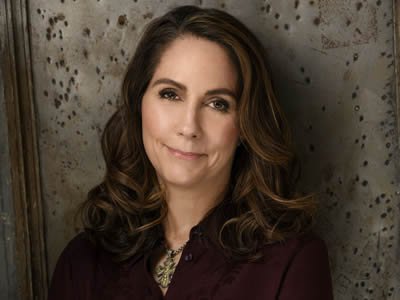 "Before I believed in God, I believed in poetry," confesses Mary Karr, speaking by phone from the Upper East Side, where she is dress shopping for the funeral of her friend and fellow writer Philip Roth. "Even when I was young, I always connected to other poets. They were like gods or saints to me."

No doubt that Roth, who died following the release of Karr's fifth book of poetry, "Tropic of Squalor" (Harper, 2018), was in such exalted company. His fingerprints are all over her latest volume, whose nearly 40 entries search for meaning in a landscape of "broken beloveds and the looming specter of death."

Between dress fittings and the occasional Bluetooth glitch, Karr riffs on how Roth and others inspired her clean, precise style—a key flourish in her role as one of today's great storytellers. She recalls him loaning her a copy of Marguerite Dumas' semi-autobiographical novel, "The Lover." "It had a tremendous impact on me," says Karr, the Jesse Truesdell Peck Professor of Literature in the College of Arts and Sciences. "It was so coldly rendered. It reminded me that nothing should be oblique or in code. No one should not understand a Mary Karr poem."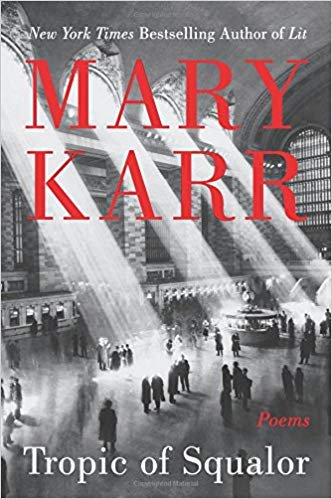 Long before jumpstarting the memoir revival in 1995 with "The Liar's Club," Karr was a prize-winning poet. Writing verse helped her compete for her mother's attention, while growing up in rough-and-tumble East Texas. "I always had her in mind as my audience," says Karr, who now splits time between Syracuse and New York City. "I don't think I ever put a pencil to the page without hoping she would read it or turn her chilly gaze on me. Poetry later connected me to the wider world."

Indeed, poetry has been good to Karr, and she, in turn, has been one of its great evangelists. New York Times best-selling author George Saunders G'88 marvels at how Karr makes verse understandable and accessible, without sacrificing depth. "Mary uses poetry to investigate critical moral questions, such as 'How can we be better people, without sugarcoating our difficulties?' She is a beautifully frank and funny poet, and her work always is situated on something simple, essential and universal," says Saunders, an English professor who works with Karr in the top-ranked M.F.A. program in Creative Writing. "She is someone I read for sustenance."

For all of her fame as a memoirist, essayist and teacher-scholar, Karr obsesses tirelessly over her writing, going through 50-60 drafts of a poem before showing it to anyone. ("I probably throw away more poems than I publish," she speculates.) Such diligence has translated into numerous honors, including poetry fellowships from the Guggenheim Foundation, the National Endowment for the Arts and Harvard's Radcliffe Institute.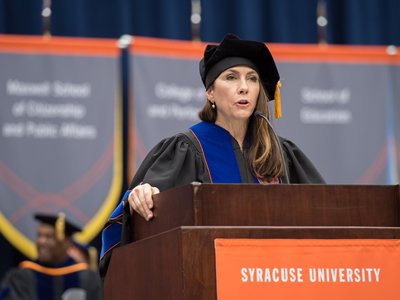 "Tropic of Squalor" picks up where its predecessor, "Sinners Welcome" (HarperCollins, 2006), leaves off, with its irreverent brand of poetic faith. The first half of the book features poems originally from The New Yorker, Poetry, Parnassus and other literary fare. Covering a range of secular religiosity, they include poignant elegies to her father and fellow writers David Foster Wallace and Czeslaw Milosz. "These poems call us into our hard-won awareness of the divine, hiding in small moments that make us human," says Karr, a former weekly poetry editor for The Washington Post.

The second half, "The Less Holy Bible," carries 20 sequential poems that take the reader on an emotional journey through New York City. Written specifically for the book, each work is hilarious and heartfelt, inspired by Karr's interest in a flavor of Catholicism called Ignatian Spirituality.

"I felt like there was a story that needed to be told about my escape from Texas, which was like hell, to my current situation in New York City, where I see Christ all the time in the faces of bike messengers and doorway sleepers," says Karr, for whom writing is a spiritual exercise. "There is such grace in the street life of the city. My goal is to capture a moment, so that it lasts forever."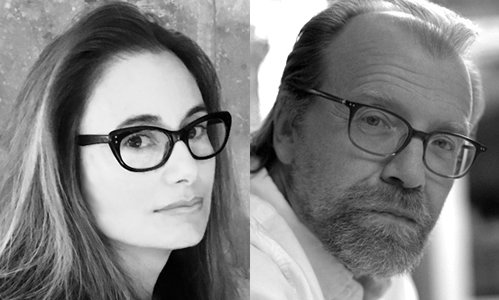 Associate Professor Dana Spiotta, who also teaches in the M.F.A. program, calls "Tropic of Squalor" a brave, moving book. "As a colleague and writer, Mary is special because she is emotionally passionate and intensely intelligent. She brings a wonderful, fierce energy to everything she does," says the award-winning novelist.

Lena Dunham, creator of the critically acclaimed HBO series "Girls," agrees with Spiotta. In the foreword to the 20th anniversary of "The Liar's Club," Dunham references Karr's poetic ease—"slapping words where they oughtn't traditionally be and creating brand spanking new uses for them." The acclaimed actor, writer, producer and director also considers Karr a natural comedian, with the "timing of a stand-up and the vigor of a vaudeville queen."

When pressed for a more recent statement, Dunham is comically evasive. "This is a moment I have been anticipating for some years now," she writes via Twitter. "You see, in 2011, I lent Mary one of my most prized possessions, which she has yet to return. The item in question was my special edition 'Air Bud' DVD, with director's commentary and bonus movie soundtrack CD. … I will consider contributing a quote, with the proviso she returns the movie to its rightful owner. My deadline is exactly 48 hours from receipt of this message."

Two days later, when this writer returns empty-handed, she warns, "Tell Mary this is not the end of 'Air Bud'-gate."

Such banter exemplifies the truck Karr has with young poets and authors. No sooner had Karr met Dunham at a New Yorker Festival than she got behind the latter's controversial 2014 memoir, "Not That Kind of Girl: A Young Woman Tells You What She's 'Learned.'"

Part of Karr's allure, Saunders says, is her principled tenacity. "She's a completely dear person and a tigress, if needed—a true fighter for her students and for art," he says, praising her behind-the-scenes advocacy for women's equality and alcohol recovery. "She is a great force for good in this world, and I am proud to know her."

Beginning with an epigraph by Carl Jung ("Summoned or not summoned, the god will be there"), "Tropic of Squalor" is vintage Mary Karr—raw, visceral, unapologetic. She has a knack for getting a rise out of the reader, converting him or her into a willing participant. In this respect, Karr references the English writer Philip Larkin, who famously compared literature to a slot machine, into which the reader inserted a "penny of attention," pulled the handle and got a feeling.

"Poetry used to be such an ego exercise for me, creating a self that I could present to the world," says Karr, who is working on her fourth memoir, "Just You Wait," due out in 2020. "Even though my poetry is mostly autobiographical, I like to think I care more about the reader than myself. I don't always come off looking so good, but that's okay. If the reader gets something out of it, I've done my job."

Saunders puts it this way: "Her poetry does what we expect it to do: Light up the world with meaning and import."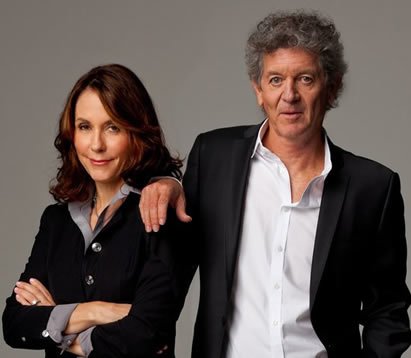 As if writing a memoir and promoting a new book are not enough, Karr finds other ways to flex her literary muscle. Currently, she is working with Grammy Award-winning singer-songwriter Rodney Crowell on three different albums: "Acoustic Classics," due out in July; a collection of original holiday songs, slated for November; and an album of new material, scheduled for next spring.

Speaking by phone from Nashville, Crowell estimates that he and Karr have written more than 20 songs in the past decade. An early collaboration was "Anything but Tame," which originally appeared on "KIN: Songs by Mary Karr & Rodney Crowell" (2012), and has been re-purposed for "Acoustic Classics." "She is a sister from another mother," jokes the native Texan, who grew up a "few years and a hundred miles apart [from Karr] in the same swampy stretch of land known as the 'East Texas Ringworm Belt.'" In fact, two songs on Crowell's holiday album—"Christmas in Vidor" and "Let's Skip Christmas"—draw on his and Karr's respective experiences growing on the North Texas coast. "I love and adore Mary, and am amazed at how she is able to switch canvases. I think our sense of humor is well matched."

Crowell, who has authored his share of heartbreaking ballads and honky-tonk rockers, applauds Karr's writing chops. "Mary is a top-down craftsman—a poignant and inspired artist," says Crowell, who credits the success of his 2012 memoir, "Chinaberry Sidewalks," to her editorial prowess. "It's fun to sit in her apartment and plunk away, while she spits out these sometimes stupid but always incredible lines. Mary brings a poetic sensibility to whatever she does."  

Surely, Philip Roth—also a chronicler of the human condition, known for blurring the boundaries of form and genre—would approve of such fecundity. Does it bother Karr, who converted to Catholicism in 1996, that he disdained organized religion?

Adjusting her headset one last time, she quips: "Guess that makes me an old church lady."

Featured
Mary Karr Trustee Professor and Jesse Truesdell Peck Professor of Literature
Media Contact