Chemist Named DAAD Research Ambassador
Ivan Korendovych has been named a DAAD Research Ambassador for 2017-18.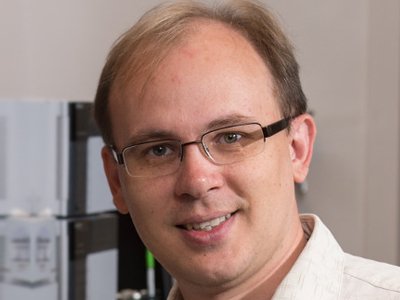 A chemist in the College of Arts and Sciences has been selected to serve as a science ambassador for a prestigious international exchange organization. Ivan Korendovych, associate professor of chemistry, was named a DAAD Research Ambassador for 2017-18.
DAAD, Deutscher Akademischer Austauschdienst, or German Academic Exchange Service, promotes international cooperation in science and research through the international exchange of students and researchers, outreach and scholarship support. It represents German institutions of higher education and works with universities and students across the world.
The honor follows Korendovych's time as a Humboldt Research Fellow at two German universities in 2014. Korendovych, who is also an adjunct professor of biology in the college and an adjunct professor of radiology at Upstate Medical University, received a research fellowship from the Alexander von Humboldt Foundation, which fosters academic collaboration among scientists and scholars from Germany and around the world.
Korendovych, who studies protein engineering, spent several months working alongside Uwe T. Bornscheuer, professor of biotechnology and enzyme catalysis at the University of Greifswald, and Manfred T. Reetz, the Hans-Meerwein Research Professor Emeritus at the University of Marburg.
01: How were you selected to serve as a DAAD Research Ambassador?
DAAD selects a small number of ambassadors from a pool of distinguished researchers who have received prestigious fellowships from German institutions and spent time in Germany. I'm the only DAAD Ambassador in Central New York.
02: What does it mean to serve as a research ambassador?
DAAD Research Ambassadors' primary role is to inform students and researchers in the USA about Germany as a research destination and to foster collaborations with German colleagues. Research ambassadors provide mentorship, host information events, participate in panel discussions, etc.
03: What are you most looking forward to as you serve your term?
I'm very much looking forward to telling students and faculty in the Central New York institutions about the research opportunities in Germany. There are incredible opportunities in international collaborations, and I hope our region will greatly benefit from them.
04: What does this honor mean to you?
This honor recognizes not only my personal research contributions but also a growing scientific output of Syracuse University as a whole.
05: What are you looking at in your current research?
Research in my lab is highly interdisciplinary; our major projects aim to develop new therapeutics to prevent HIV infection, treat influenza and hepatitis C. We are also developing new probes for cancer imaging and working on advancing basic understanding of protein function.