Share your Orange—Alumni Volunteers Needed
A&S grads can provide valuable career experience over spring break for current students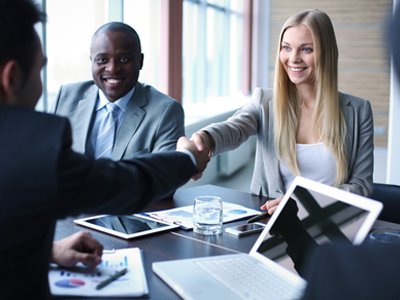 The College of Arts & Sciences is looking for alumni volunteers across the country who are willing to open their worksites to current Syracuse students during Spring Break (March 12-19) for the purpose of job shadows, informational interviews or 1-hour coffee chats. 
What began as a hugely successful pilot program in 2016 has become a much-sought-after opportunity for hundreds of A&S students looking to make meaningful connections and gain valuable insights over academic breaks. Job shadows are especially desired, whether it's for one day or several days throughout the week.
Sue Casson, director of career development and services for the college, says that the opportunity for students to spend even a few hours with a Syracuse alum in the workplace can play a crucial role in their future career development.
"When alumni graciously open the door and volunteer their time by speaking with our students, they are truly making a difference in how the students start to shape their post graduation plans," says Casson. "By sharing their own experiences and advice, they are building a stronger, more prepared orange workforce."
In addition, New York City area alumni are being sought as advisors the evening of Tuesday, March 14th, in 2 hour increments from 7:00 pm to midnight, for the 12th annual Winston Fisher Seminar and business plan competition. Sixteen students from the College will travel to New York City, spend the week networking, engaging with some of the world's biggest companies and learning how a liberal arts degree can be a tremendous asset in the business world. Alumni volunteers are instrumental during the week, working as mentors and advisors for the students as they put the finishing touches on their business plans, which are presented to Winston Fisher and a panel of judges as the culmination of this intensive week.  
If you are interested in volunteering as a business plan mentor or would like to welcome a student to visit your place of business during this year's break, please contact Sue Casson at smcasson@syr.edu or 315.443.3150.
Watch the video below to hear students reflect on their job shadow experiences from Spring Break 2016.