Power and Places Inform Student's Poetry
Farrell Greenwald Brenner '17 celebrates publication of debut collection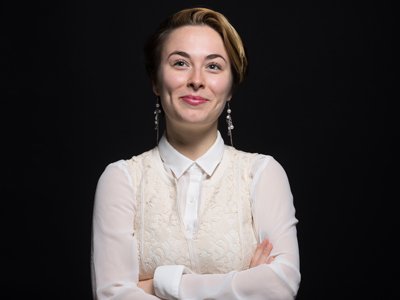 Farrell Greenwald Brenner '17 has written for years, but only began to view herself as a poet halfway through her time at Syracuse University. She started college as an international relations major, but switched to study women's and gender studies (WGS) in the College of Arts and Sciences and citizenship and civic engagement (CCE) in the Maxwell School. That shift in focus helped her find her writer's voice.
"It took having a lot of support from peers and faculty and being galvanized through feminist studies and moments of activism to really see that as a possibility and want to pursue it," she says. 
Brenner's writing career hit a milestone this month when her poetry collection, "Diatribe from the Library," was published by Headmistress Press. "It's a traditionally lesbian press," she says. "They're a small, independent press and I wanted to work with them." She entered her manuscript last summer in the press's chapbook competition. "I lost, but they still wanted to publish it," she explains.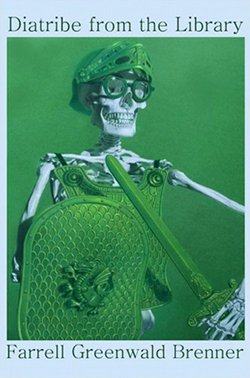 The oldest poems in the collection date to January and February 2015, and some she wrote last summer. "They're all unified by my interest in spaces of learning, libraries, classrooms, archives," Brenner says. "What I'm really interested in is power and how that pervades those places. I'm interested in how we get to know things and the different systems that manage and mediate our knowledge."
Brenner, a Coronat Scholar and a Remembrance Scholar, is editor in chief of The OutCrowd Magazine, the campus LGBTQ publication. She also sings in the Hendricks Chapel Choir. She credits WGS professors and classmates for helping her develop ideas and supporting her writing. She also points to travel opportunities supported by her Coronat scholarship. She spent six weeks in Strasbourg, France; two weeks in Amman, Jordan, and Beirut, Lebanon; and a semester based in Wroclaw, Poland.
"So many of the poems are informed by my travel," she says. "The title poem I wrote in France. That's where it all started snowballing. I've been able to mobilize that privilege of traveling into this book."
Brenner's book is "bursting with playful repetition" and "a storm of lyrical verse," says a review. The young poet "surprises us often with this smart and charming debut," it continues. Amid the uncertainty of the current U.S. political atmosphere, Farrell's book is "a kind of antidote," another reviewer notes, quoting Brenner's line: "I wish for you the megaphone into which you can spit that fire/and become a dragon of your own."
Two more of Brenner's poems will be published in the online publications Hematopoiesis Press and Klepto Magazine. She's also submitting more manuscripts to presses and poetry competitions.
Over break, Brenner read from her book at Milkweed, an arts space in Sugar Loaf, N.Y., her hometown. She will also attend the February Association of Writers and Writing Programs (AWP) conference, where she will do a book signing. The conference draws up to 12,000 writers and publishing professionals.
Brenner is researching graduate programs, fellowships and job opportunities. Although she's unsure what comes after graduation, she intends to keep writing about the concepts in her first poetry collection  
"I'm still exploring it," she says. "It's going to be a lifelong project."