Getting Physical
Department To Host Regional Physics Teachers Meeting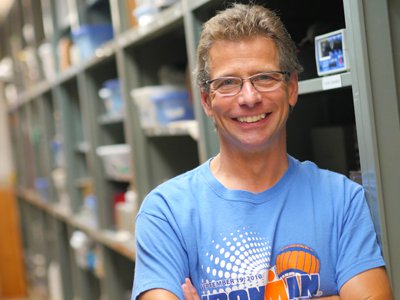 Physics educators from all over the northeast will gather at Syracuse University on Sept. 29 and 30 for the regional meeting of the American Association of Physics Teachers (AATP). Members of the community with interest in STEM education or physics are encouraged to register here for the meeting, which kicks off on Sept. 29 at 4 p.m.
Interactive physics demonstrations are open to the public on Sept. 29 from 8:45-9:45 p.m. in the Stolkin Auditorium of the Physics Building. AAPT regional organizer and physics instructional manager Samuel Sampere invites the Syracuse community to lay down on a bed of nails, touch a 100,000 volt ball to make your hair stand on end and see air so cold that it becomes a solid.
Over 200 educators from New York, New Jersey and New England are expected to participate in the weekend conference. The majority of attendees are high school, college and university educators, joined be a handful of K-8 physics educators, Sampere says.
"I hope they leave here energized and filled with new ideas to bring back to their classrooms," Sampere says, referring to Saturday's talks and workshops focusing on engaging students with interactive activities and exploring the latest developments in physics research.
Sampere, AAPT member since 1994 and organizer of the 2006 AAPT National Summer Meeting at Syracuse, focused conference programming to provide instructors with activities to be used in their home classrooms. During the meeting, attendees will take the new activities for a "test run" to get comfortable with the new material before introducing it to their students.
In addition to providing great educational material to visitors, Sampere is looking forward to showing off the University itself, "our campus has so much to offer. It's beautiful and centrally located, and we have excellent facilities."
More information about the conference, including speakers and workshop topics, can be found on AAPT's New York Section website here or by contacting Sampere at smsamper@syr.edu.
"These conferences have a huge impact on physics students across the region—they are the future of this country," Sampere says.