Standing up for Scientists
Biology Professor Elected to Professional Society Council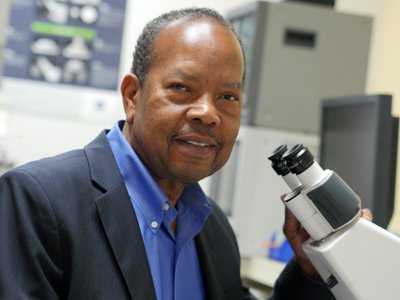 George Langford, professor of biology, distinguished professor of neuroscience and dean emeritus of the College of Arts & Sciences, was recently elected to the council of the American Society of Cell Biology (ASCB). The election, announced in June, followed his nomination by colleagues in the professional society. In this position, Langford intends to encourage his long-held commitment to diversity and high-quality research.
Langford is the first Syracuse faculty member elected to serve on the ASCB council, one of the largest professional societies supporting biomedical research. Representation on the council advances Chancellor Kent Syverud's mission "to ensure this University's future as a distinctive global research institution."
"I consider ASCB to be one of the most important professional societies in science today. Its leadership in convening meetings of the highest quality in cell and molecular biology is unsurpassed," Langford says of the society.
Founded in 1960, ASCB supports research related to the cell, "the fundamental unit of life." Additionally, it champions improving education and increasing diversity in research. The society holds an annual research conference and publishes two journals: one presenting cellular research and the other reporting on life science education.
"ASCB serves many important roles in society, such as advocating for federal support of science through funding of the NIH and NSF budgets by congress," Langford says.
As one of four new council members, Langford will serve a three-year term beginning Jan. 1, 2018. Council members are ASCB's primary governing body, and guide the society's development by advising ASCB officers and overseeing the bylaws and the budget. Additionally, they are involved in planning the society's annual meeting by selecting the program committee chair and approving the meeting site.
During his time as council member, Langford will focus on supporting diversity in biology and protecting international scientific collaborations.
"I will ensure that ASCB creates a culture of inclusiveness, where all people feel welcomed and able to participate fully in the activities of the society," Langford says, noting the timeliness of his goals in light of current immigration and travel policies.
Langford's history of leadership and service in the field of cell biology make him well-suited for this new role. He has served on over 20 scientific committees and planning panels. In addition to ASCB, he currently belongs to the Marine Biological Laboratory Society, the Society of Sigma Xi and the American Association for the Advancement of Science, where he was elected as a fellow in 2013.
Langford's election comes after a long relationship with the organization, beginning in 1972 when he was a postdoctoral researcher. Since then he has served as secretary, an executive committee member and as the inaugural chair of the ASCB Minorities Affairs Committee. He was also the first recipient of the ASCB Ernest Everett Just Award in 1994, which honors minority scientists who have demonstrated outstanding scientific achievement.
"The ASCB was a very young professional society when I joined, comprised of a few hundred cell biologists who all knew each other very well," Langford says. "It was an extraordinary time to be in the emerging field of cell biology—and to be a member of ASCB."
Many in the Syracuse family are proud of Langford's election, including Thoru Pederson, '63, G '68, professor of biochemistry and molecular pharmacology at the University of Massachusetts Medical School and member of the Biology Advisory Board:
"George has served ASCB in so many ways over the years and this latest elective recognition of his talents and wisdom is most uplifting. I send my sincere congratulations and warmest wishes," Pederson says.