Professor Sheds Light on Origins of Jewish Fiction
New book by Ken Frieden examines link between Hebrew revival, Jewish travel literature
The origins of modern Jewish literature are the focus of a new book by a professor in the College of Arts and Sciences.

Ken Frieden, the B.G. Rudolph Professor of Jewish Studies, is the author of "Travels in Translation: Sea Tales at the Source of Jewish Fiction" (Syracuse University Press, 2016).

Using a novel approach to literary and cultural studies, the book traces modern Hebrew literature back to 1780, when German Jews began moving beyond the confines of their Torah- and Zion-centered worldview. The shift spawned a steady stream of original and translated travel literature, which stood in sharp contrast to traditional Hebrew pilgrimage narratives.

"Many authors diverged from these pilgrimage traditions and appropriated travel narratives to North and South America, Europe and Africa," says Frieden, a scholar of Hebrew, Yiddish and comparative literature. "In particular, their efforts to translate sea stories from European languages—with their nautical terms, wide horizons and exotic occurrences—made unusual demands on Hebrew. Instead of relying on Biblical phrases at every turn, the authors forged a radically new descriptive language."

Chief proponents of this aesthetic included Isaac Euchel, Menachem Lefin and Joseph Perl, all leaders of the Haskalah movement who sought to rejuvenate Jewish culture by appropriating European Enlightenment writings. Working primarily in Hebrew and German, they devised remarkable literary innovations that were all but forgotten by the time of the Holocaust and the creation of Israel, where Hebrew flourished as a secular, national language.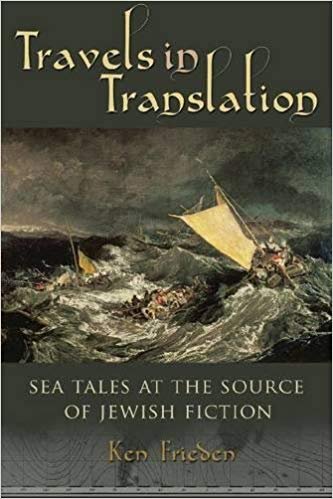 Frieden compares medieval and early modern Hebrew to a ship in a bottle, moored to ancient scripture. While it changed design, the "Hebrew vessel," as he calls it, did not voyage into the world until the early 1800s. 

"Early modern speakers of Yiddish and German gave Hebrew the breath of life, when they translated dialogues, descriptions and thought processes from their vernaculars into Hebrew," says Frieden, who teaches literature courses in the departments of English, Religion and Languages, Literatures, and Linguistics. "These newly imagined tales of pilgrimage and daring pulled the ship out of the bottle and thrust Hebrew into the modern world."

Other scholars have been quick to praise Frieden, whose deft linguistic analysis infuses new life into the study of Jewish literature and European Jewry.

Jeremy Dauber, professor of Germanic Languages and director of the Institute of Israel and Jewish Studies at Columbia University, considers the book "exemplary." He writes that it "explains how travel literature exemplifies … acts of cultural transfer that are so much at the heart of Jewish literary modernity."

"Frieden lays out, in admirably clear detail, the linguistic pieces of the puzzle," Dauber adds.

Robert Alter, professor of Hebrew and comparative literature at the University of California at Berkeley, calls "Travels in Translation" an "important revision" to Hebrew literary history, showing "how the beginnings of a viable prose style go back to the early 19th century, and translation played a crucial role." 

An accomplished scholar and teacher, Frieden earned a Ph.D. in comparative literature from Yale. He is the author or editor of several other scholarly books, including "Classic Yiddish Fiction" (SUNY Press, 1995). He also has translated Yiddish fiction, and has edited the anthology "Classic Yiddish Stories of S. Y. Abramovitsh, Sholem Aleichem and I. L. Peretz" (SU Press, 2004), which was a finalist for the National Jewish Book Award.

Frieden is co-editor (with Yale University's Harold Bloom) of SU Press' Judaic Traditions in Literature, Music and Art series, which has published more than 60 scholarly books since 1995. Frieden also has authored articles, book reviews, forewords, encyclopedia entries, translations and commentaries.

His many honors and awards include a prestigious Humboldt Research Fellowship, which enabled him to do advanced research in Berlin and Düsseldorf, Germany.

Fluent in Yiddish, Hebrew, French and German, Frieden travels the world as a visiting professor, guest lecturer, conference presenter and Klezmer clarinetist.

He is launching his book on Wednesday, June 29, at Tmol Shilshom, a historic bookstore-café in Jerusalem.
Featured
Ken Frieden B.G. Rudolph Professor of Judaic Studies
Media Contact