A Different View of Sound
Assistant professor Jonathan Preston discusses current research using ultrasound to treat speech disorders. (VIDEO)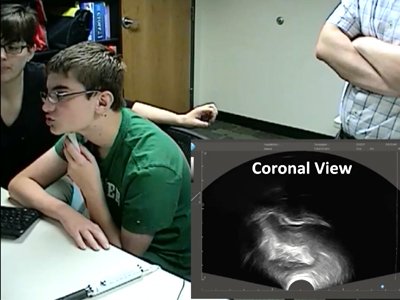 Researchers at the Gebbie Clinic at Syracuse University are hoping that an established technology may open new paths of treatment for children with speech and language disorders. 
Jonathan Preston, assistant professor of communication sciences and disorders, and clinical researcher at Syracuse University, says that the new modality of using ultrasound imaging may help better guide clinicians and patients during speech therapy sessions. 
The technology, commonly found in many medical offices, uses high-frequency sound waves to see organs and structures inside the body. In this case, they are used to produce a real-time visual of how the mouth and tongue move while the client is talking and forming words. The therapist can then give immediate feedback and help instruct the patient how to better shape word sounds. 
Recently, the clinic was asked to create a video showcasing the therapy for MasterClinicain.org, which will be used expose more speech pathology students and current clinitians to this type of treatment. 
Below, Preston explains more about the current research and the work of Syracuse University's Gebbie Clinic.