Chemistry department awarded over $700,000 to support graduate diversity
United States Department of Education grant will support at least four students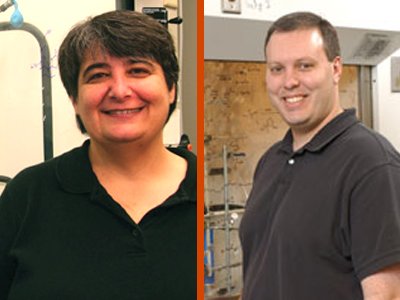 A Graduate Assistance in Areas of National Need (GAANN) award from the U.S. Department of Education to the chemistry department will support the program's quest to increase graduate student diversity. Through aggressive recruitment and programming to support retention of women and minorities in the field, co-principal investigators Nancy Totah and John Chisholm, both associate professors, aim to increase diversity in chemistry both at Syracuse University and in the field as a whole.
"Diversity enhances creativity and scientific productivity. If we want to compete effectively in the global market, then we need to take advantage of the benefits that diversity brings," Totah says.
GAANN program director Totah and teaching coordinator Chisholm were awarded the $738,195, three-year grant, which includes a 25 percent match from the College of Arts & Sciences to fund students tuition. This is the second GAANN award Totah has nabbed, with the first supporting momentum gained over the department's decade-long pursuit to increase diversity. During that time period the proportion of underrepresented minority chemistry graduate students has more than doubled to 14 percent. Totah hopes to see that number rise to 25 percent.
"We hope to use funding from this grant to further increase the number of women and underrepresented individuals who pursue a Ph.D.," Chisholm says. "We also hope that we can mentor more female and minority Ph.D. students to consider faculty positions, as these groups are still underrepresented in chemistry faculty."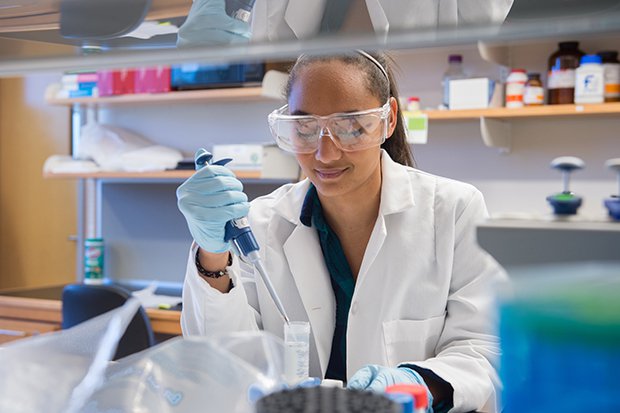 Nationwide, fewer than 10 percent of chemistry Ph.D.s are awarded to underrepresented minorities, who represent roughly 4 percent of tenured/tenure-track faculty. Alternately, women are relatively well represented at the Ph.D. level (38 percent in the U.S. in 2012), but make up only 18 percent of chemistry faculty.
When Totah began her career, she says she frequently heard prospective graduate students remark that she was the first female chemistry professor they had met. "Fortunately, I do not hear this much any more, but there remains a need to expand the number of women chemists in faculty positions," Totah says.
The GAANN program works to ameliorate underrepresentation through recruitment of future graduate students and mentorship of current grads. "A big part of recruiting is simply to let people know that the fellowships are available, and then to provide information about what makes our department special," Totah says.
She plans to recruit externally from Historically Black Colleges and Universities and Hispanic Serving Institutions, as well as draw on support from Syracuse chapters of the national organizations Louis Stokes Alliance for Minority Participation and McNair Scholars Program.
As teaching coordinator, Chisholm will offer support to GAANN students participating in the graduate school's Future Professoriate Program, which aims to prepare graduate students for a career in academia. Specifically, students will complete the requirements for a Certificate of University Teaching, which provides the students a valuable credential for their CV, while simultaneously assisting the preparation of materials needed to apply for faculty positions, such as statements of teaching philosophy.
"As our nation becomes increasingly diverse, the need to ensure that new scientific talent is nurtured, recognized and supported across all demographic groups also increases," Chisholm says. "Researchers from diverse backgrounds balance and broaden the perspective in setting research priorities. Achieving diversity in the field is about ensuring that the most creative minds have the opportunity to contribute to advances in chemistry."