A champion of science education and outreach
Biology professor inspires local high schoolers, supports science education leaders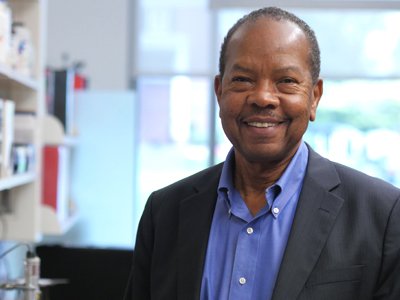 This fall George Langford, biology professor and former dean of the College of Arts and Sciences, stood before an audience of Syracuse high school students as part of the HistoryMaker program and encouraged them to commit to a life of excellence. Langford's championing of education and outreach also prompted him to a nominate friend and colleague, UC San Francisco professor Bruce Alberts, for an honorary degree in 2014. Alberts won a prestigious Lasker award this fall.
Inspired by his family's path from slavery to the segregated south to University leadership, Langford's commitment to education and outreach runs deep. Born into slavery in 1805, his great-great-grandfather taught himself to read and write, even though it was against the law. With his newly acquired literacy he earned enough money to buy his family's freedom.
"If my great-great-grandfather could find a way to jumpstart a life out of slavery for himself and his family, surely I could use that precious gift passed down over the generations to bring about change in my lifetime by becoming a scientist and participating in the scientific revolution that is our future," Langford says.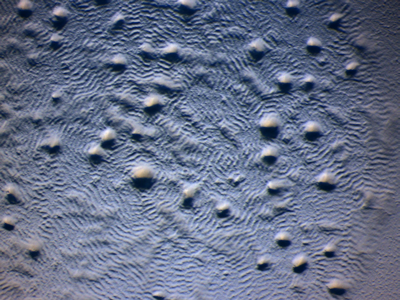 Langford shared this story of self-motivation and perseverance with the students of George Fowler High School when he visited as a HistoryMaker this September. HistoryMakers, the nation's largest African American oral history archive, brings exemplary African American leaders into classrooms across the nation to discuss obstacles they overcame on their paths to success.
Growing up in the segregated south, Langford described a childhood with few professional role models. While he was in college studying to become a teacher, the Civil Rights Bill was passed and the professors at his historically black school encouraged him to switch fields and pursue science at a desegregated, historically white university, leading to his career as a research scientist and passionate educator.
Now in a position of leadership himself, Langford champions education and outreach excellence in others. After following each other's cell biology research for over 30 years and jointly serving on the board of directors of the Burrough Wellcome Fund, where they work to improve math and science in K-12 schools in North Carolina, Langford nominated Alberts for an honorary doctor of science degree from Syracuse University in 2014.
"I nominated Bruce because of his outstanding contributions to science, as well as his persuasive advocacy for science education. He is an extraordinary leader in cell biology and his public outreach to Congress and the White House galvanized support for programs including the Common Core national standards movement," Langford says.
Alberts went on to win the 2016 Lasker-Koshland Award for Special Achievement in Medical Science in recognition of his groundbreaking work on DNA replication, as well as his advocacy for science education reform in the United States.
"I was elated to learn that Bruce had won the Lasker Prize. He is most deserving of this prestigious award, and it will further advance his efforts to transform science education in this country," Langford says.
Locally, Langford concluded his high school visit by reciting the HistoryMakers' commitment pledge, which encourages students to commit to their education in honor of HistoryMakers who paved the way—despite the challenges they may face. Much like the promise Langford made to himself, the pledge concludes: "Today, I commit my life to one of excellence."