Syracuse Professor to Receive SUNY Honorary Degree May 22
Samuel Gorovitz, philosophy professor and former dean, will be recognized for contributions to medical science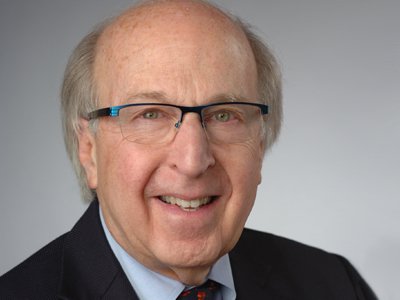 A professor in Syracuse University's College of Arts and Sciences is being recognized by the State University of New York (SUNY) for his contributions to medical science.

Samuel Gorovitz, professor of philosophy and former dean of A&S, will receive an honorary Doctor of Science degree from SUNY, and will address students at Upstate Medical University's 2016 Commencement on Sunday, May 22, at the Oncenter Complex in Syracuse.

Gorovitz joins Delos M. Cosgrove, president and CEO of the Cleveland Clinic, as SUNY's 2016 honorary degree recipients.

"Syracuse is extremely proud of Professor Gorovitz, who exhibits tremendous intellect, academic achievement, and proven leadership," says Karin Ruhlandt, dean of A&S and Distinguished Professor of Chemistry. "His fierce commitment to the mission and values of the University, combined with an abiding belief in the importance of a liberal arts education, inspires students and colleagues alike. This degree is an excellent way to venerate him, while bringing distinction to the College."

James Dwyer, associate professor of bioethics and humanities and of public health and preventive medicine at Upstate, echoes these sentiments, drawing comparisons between Gorovitz and the great philosophers of antiquity. "Like Socrates, he has taught anyone willing to listen: undergraduates, medical students, college teachers, researchers, government administrators, and the public at large," says Dwyer, former acting chair of the Center for Bioethics and Humanities (CBH). "Professor Gorovitz teaches with conversations that lead people deeper into the issues and deeper into their own beliefs. A conversation with him is both a delight and an educational experience."

Gorovitz's work resides primarily at the nexus of science and philosophy. He is highly regarded for his expertise in an array of areas: death and dying, medical fallibility, captive populations, equity and distribution of health care, the tension between business and the practice of medicine, surrogate motherhood, the procurement and allocation of organs in transplantation, artificial hearts, gene engineering and therapy, organ sales, informed consent, suicide, human subjects, and the limits of regulation.

Gorovitz is the author or editor of eight books, whose titles reflect his cross-cutting interests. They include Philosophical Analysis: An Introduction to Its Languages and Techniques (Random House); Freedom and Order in the University (Case Western Reserve University Press); Doctors' Dilemmas: Moral Conflict and Medical Care (Macmillan); and Drawing the Line: Life, Death, and Ethical Choices in an American Hospital (Oxford University Press). He also has published more than 130 scholarly articles, reviews, and chapters.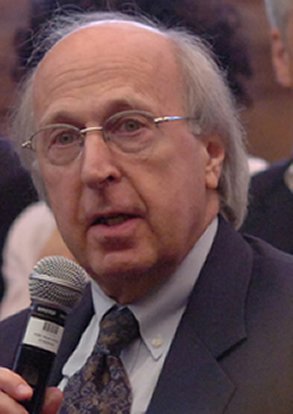 A dynamic and thoughtful speaker, Gorovitz has delivered more than 200 presentations on five continents, and has participated as a consultant or an advisor to dozens of organizations. They have ranged from colleges and universities (e.g., Georgetown University, the University of Florida, and the University of Pittsburgh), to government agencies (e.g., the National Science Foundation, the National Endowment for the Humanities, and the National Institutes of Health), to nonprofits (e.g., the World Health Organization, the Woodrow Wilson Foundation, and the Florida Justice Association).

He also has been invited to provide testimony to the U.S. Department of Health and Human Services; the Presidential Commission for the Study of Ethical Problems in Medicine and Biomedical and Behavioral Research; House Committee on Science and Technology; and the NIH's Human Fetal Tissue Transplantation Research Panel.

That Gorovitz is a long-time member of the New York State Task Force on Life and the Law and the Empire State Stem Cell Board is indicative of his devotion to professional service and his interest in biomedical ethics—a relatively new field drawing on elements of medicine, nursing, the health professions, and biomedical research.

One of the founders of bioethics is Ruth Macklin, a professor at Albert Einstein College of Medicine. A friend of Gorovitz's for more than 40 years, she rattles off a list of adjectives describing him: "Creative educational innovator; prolific scholar; efficient, effective, fair-minded administrator; inspiring teacher; supportive colleague; witty, urbane public speaker."

Like Gorovitz, Macklin is a seasoned teacher-scholar who works at the intersection of science and the humanities. "I have benefited in my own career from his stellar attributes," she says, "as have his many students, colleagues, and other recipients of his wisdom and beneficence." Macklin is a professor of epidemiology & population health, as well as the Dr. Shoshanah Trachtenberg Frackman Faculty Scholar in Biomedical Ethics.

Another giant in the field is Peggy Battin, who has devoted much of her career to defending the rights of terminally ill individuals. (One of them was her husband, Brooke Hopkins, who died four and a half years after being paralyzed in a bicycle accident.) She credits Gorovitz, along with a "few other iconic figures," for playing an important role in the birth of bioethics.

"It was Sam who organized the famous 'Camp Gorovitz,' with a savvy group of colleagues, that brought philosophers and others into this emerging field. His group had put together the first anthology in bioethics, long before there was any such field," says Battin, adding that the manuscript was rejected by dozens of publishers because nobody taught bioethics. The anthology in question, Moral Problems in Medicine, was eventually picked up in 1976 by Prentice Hall, which, coincidentally, was among the first publishers originally to pass on it. ("Sam knows when reasoning is standing on its head," she says.) Forty years and several editions later, the book is required reading for anyone interested in ethics or medical science.

"That text allowed the nascent field of bioethics to coalesce into something that could be offered as a course in colleges and universities, now among the most popular of philosophy courses in many institutions," says Battin, who is a Distinguished Professor of Philosophy at The University of Utah, where she also is an adjunct professor in the Division of Medical Ethics and Humanities. "The rest, of course, would have been history, except for the fact that Sam has since contributed so much to this field, with such grace and tact and elegance."

Gregory Eastwood, a SUNY University Professor, as well as a former and interim president of Upstate, considers Gorovitz a key contributor to medical ethics. "I admire his erudition, his intellect, his insight, and his wit," he says. "I've also learned a great deal from him about critical thinking, focusing on what is important, and how to be a good friend."

Probably no one at Syracuse appreciates Gorovitz's aptitude for critical thinking more so than A&S Dean Emerita Cathryn Newton. For the past decade, she has co-taught with him "Linked Lenses: Science, Philosophy, and the Pursuit of Knowledge" in The Renée Crown University Honors Program, of which he was founding director from 2004 to 2010.

"His sparkling attributes of mind that emerged visibly early in his career as he co-developed the field of bioethics—an intellectual rigor, an emphasis on associative thinking, an impassioned commitment to writing well, and a scholarly background in both humanities and science—are on display daily in our class and in others he teaches," says Newton, who is the University's only professor of interdisciplinary sciences and a Provost's Faculty Fellow. "Sam elevates the academic caliber of any conversation in which he takes part. Thanks to him, I am often reading Hume into the wee hours. I make sure, in turn, that he has an armful of scientific papers to review."

What many people at Syracuse don't realize, Newton says, is the degree to which Gorovitz is an important mentor and advisor to many academic leaders across the country, herself included. "The list of people he has mentored and supported is long, distinguished, and highly diverse," she adds. "It includes deans, vice presidents, provosts, and presidents."

Lynn Cleary, professor of medicine and vice president of academic affairs at Upstate, prepared Gorovitz's nomination material that was submitted to SUNY, on behalf of the faculty nominating committee. She says that, while his curriculum vitae provides ample evidence of his scholarship, expertise, and wise counsel, it cannot do justice to his "infectious enthusiasm" for the intellectual pursuits of the academy.

"Professor Gorovitz has the ability to engage in conversation with almost anyone," Cleary says. "He poses 'simple' questions and then starts to peel the onion with his partner in conversation. He does this with students, with friends, with professional colleagues, with members of the lay public. The titles he has chosen for so many of his articles and invited presentations provide evidence of the twinkle in his eye, his awareness of the paradox, his appreciation of human nature, and of the comic, tragic, and agonizing dilemmas we find ourselves in as we pursue science, technology, medicine, education, politics, and life, in general."

Such an approach has landed Gorovitz many media appearances, including ones on NPR's "All Things Considered," "Larry King Live," and WFMT's "The Studs Terkel Program." He also has been quoted in The New York Times, The New Yorker, Ladies' Home Journal, and other magazines and newspapers.

With a career spanning more than 50 years of teaching, Gorovitz began his Syracuse tenure in 1986 as dean of A&S and professor of philosophy. Since then, he has held other responsibilities at the University, including teaching a course for three years in the Department of Public Administration and International Affairs in the Maxwell School of Citizenship and Public Affairs and co-directing with Newton the Interface of Humanities and Science/Technology research cluster of The Central New York Humanities Corridor.

Arthur Caplan, the Drs. William F. and Virginia Connolly Mitty Professor of Bioethics at New York University Langone Medical Center, worked with Gorovitz and Newton during their joint tenure at the Humanities Corridor. Caplan says Gorovitz's influence has been felt throughout New York State in education, medicine, and public affairs.

"Samuel Gorovitz is a master teacher, a supportive mentor, an engaging writer, an influential public intellectual, and, most remarkable of all, given the sometimes stodgy world of academia, an affable, outspoken man with a rapier-like wit," says Caplan, who also is director of the Division of Medical Ethics at NYU Langone. "He is much deserving of this honor."

While at Syracuse, Gorovitz has held visiting appointments at the University of California, Berkeley, and at Yale, Cornell, and Cleveland State universities. From 2001 to 2004, he was the Dearing-Daly Professor of Bioethics and Humanities at Upstate, where he served as an informal advisor and consultant to the CBH, and taught in the College of Medicine and in various graduate education programs.

"He is an outstanding scholar, an engaged intellectual, an inspiring teacher, and a very helpful colleague," adds Dwyer, who, last fall, hosted a discussion about bioethics with some of Gorovitz's honors students. "His keen sense for emerging issues [in biomedical ethics] and his insightful analysis of these issues have advanced the field and benefited a wide range of people."

Gorovitz's academic career includes various positions at the University of Maryland at College Park, the Beth Israel Deaconess Medical Center in Boston, the National Center for Health Services Research, the Council for Philosophical Studies, Case Western Reserve University, and Wayne State University.

He earned a B.S. from M.I.T. in 1960 and a Ph.D. from Stanford University in 1963. His doctoral dissertation, "Deductive Models for Causal Explanation," revealed his analytical acumen and foreshadowed much of his life's work.

Adds Battin: "Anybody who is working in bioethics owes Sam ... an enormous debt for creating the field in the first place. Otherwise, you know, you'd have to be a lawyer or a doctor or maybe a theologian to be talking about issues like these."