Syracuse Professor Throws Cold Water on Fracking Debate
New study confirms poor water quality existed in Appalachian region, long before fracking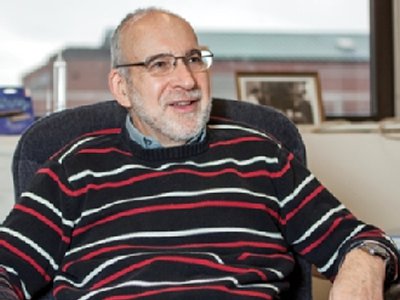 A professor in Syracuse University's College of Arts and Sciences is shedding new light on an old debate.

Donald Siegel, an accomplished hydrologist and geochemist who chairs the Department of Earth Sciences, is the author of two articles on hydraulic fracturing, also known as "fracking." One is an invited commentary about doing science in the public arena, published by Hydrological Processes (John Wiley & Sons 2015); the other is a research article about the quality of pre-drilling groundwater in the Appalachian Basin, which has appeared in Applied Geochemistry (Elsevier Ltd., 2015).

Holder of both the Heroy and Meredith professorships, Siegel is an expert on contaminant transport in groundwater systems, peatland hydrogeology, and geochemistry. He is also known for his involvement in the ongoing debate over fracking—a process by which water, sand, and chemicals are injected into underground shale rock, in an attempt to extract oil and natural gas from it.

Capable of producing more than 300,000 barrels of natural gas a day, fracking has all but revolutionized the U.S. energy industry, but not without drawing the ire of environmentalists. 

"I have never promoted fracking, but I have promoted sound water science," Siegel says. "From the beginning of the controversy, I have intuitively felt there would be minimal chance for groundwater contamination caused by modern hydrocarbon drilling. This is based on my long-standing research of how fluids in the subsurface move and of the fate of contaminants, should they get into groundwater supplies."

Anti-fracking advocates see things differently, having spent much of the past two years denouncing Siegel, personally and professionally. Matters came to a head this past spring, when Siegel was called to testify before the Committee on Science, Space, and Technology in Washington, D.C., regarding work he did for the Chesapeake Energy Corporation. At the center of it all was a 2013 paper, which argued that groundwater collected near gas wells in northern Pennsylvania contained high levels of dissolved methane.

"When I read the paper, I noticed that, although the chemical analyses were first-rate, some samples had been collected near gas wells, which were famous for accidentally contaminating groundwater with gas," Siegel says. "So when Chesapeake Energy asked me to head up a project to explore some 13,000 analyses of dissolved methane and other substances in groundwater, taken from domestic wells [located near gas wells] in Northeastern Pennsylvania, I jumped at the opportunity. How could I, as a scientist, refuse to explore a data-set so unprecedented in size and overall quality?"

Siegel published his findings in Environmental Science & Technology (American Chemical Society, 2015), maintaining there was "no systematic relationship" between dissolved methane in the domestic wells and their proximity to commercial gas wells.

But that didn't satisfy his opponents. They claimed Siegel's data was tainted because of his ties to the oil industry. Case in point: Chesapeake Energy paid him the equivalent of a month's professorial summer salary for his work. Siegel had no choice but to defend his research.

"I provided the largest, most detailed disclosure statement I have ever written," says Siegel, regarding his hearing in Washington, D.C. "To what I think is their credit, both the University and Environmental Science & Technology found no problems with my initial disclosure statement, let alone the expanded one. They've stood by me."
The debate over industry-funded research is nothing new. From Galileo to Alexander Graham Bell, scientists have long benefited from the largesse of well-heeled patrons. Siegel says that, in his case, the debate has more to do with how the science is promoted—by the news media, politicians, and think tanks—than the science, itself.

"Everyone should find it unfortunate that opponents on both sides of issues involving science, engineering, and public safety often cherry-pick data and launch personal attacks to sow doubt, as a means to achieve desired ends," he says. "These tactics, commonly used in the courtroom to settle local disputes, serve the public poorly by any rational assessment, when it comes to developing broad scientific policy."

Siegel has returned to the well, so to speak, for his latest study, whose findings were published in Applied Geochemistry. Drawing on more than 21,000 groundwater samples collected by third-party contractors on behalf of Chesapeake Energy, the study boasts one of the most comprehensive pre-drilling water-quality data-sets in the Appalachian Basin.

The result? The quality of water in private water wells located near gas wells, throughout Pennsylvania, Ohio, and West Virginia, was the same before and after shale development. In many cases, contamination was the result of natural processes, involving geological formation, turbidity, and salinity.

The findings are in line with recent studies by the Environmental Protection Agency and the U.S. Geological Survey, both of which have found excessive amount of ions and metals in private water wells throughout the tristate area. Siegel says that part of the problem is due to a lack of domestic well standards.

"Fundamentally, water-quality data from domestic water wells needs to be understood within the natural geochemical context, when evaluating suspected water-quality changes from shale-gas methane production or any other source," says Siegel, adding that the Appalachian Basin is home to large amounts of saline-rich connate water, which gets trapped in the pores of sedimentary rocks during deposition. "We've essentially have proven what we already know—that domestic groundwater in this area naturally exceeds regulatory standards. Even many opposing environmentalists have now come to accept this."

Siegel co-authored the article with Bert Smith, an oil and gas practice manager at Enviro Clean Group; Elizabeth Perry and Rikka Bothun, data specialists at AECOM and data maximus Data Management Solutions, respectively; and Mark Hollingsworth, an environmental manager at Chesapeake Energy.
Featured
Donald Siegel Research Professor, Earth Sciences and Professor Emeritus
Media Contact