Religion Faculty Earn Top Honors
Professors Lloyd, Burrus, Gold awarded major research fellowships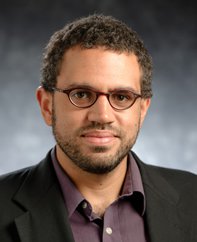 Three religion professors in Syracuse University's College of Arts and Sciences have received major research fellowships.

Vincent Lloyd, assistant professor of religion, has been awarded an American Council of Learned Societies (ACLS) Collaborative Research Fellowship. He will use it to study the correlation between religion and prison growth in the United States.

Virginia Burrus, the Bishop W. Earl Ledden Professor of Religion, has been named a Fellow-in-Residence by the European Institutes for Advanced Study, enabling her to spend the next academic year in Jerusalem, studying the poetics of ancient Christian performance.

Both awards come on the heels of Ann Grodzins Gold, the Thomas J. Watson Professor of Religion, garnering fellowships from the John Simon Guggenheim Memorial Foundation and National Humanities Center (NHC).

"I am extremely proud of my three colleagues, as their awards highlight the creativity, insight, and academic rigor for which their research is well known," says James Watts, professor and chair of religion. "Their areas of research are very different, yet all three embody the vision of our department by exploring the complicated interaction of religion and culture with crucial implications. Their research shows how people think about law enforcement, the natural environment, and their own neighborhoods and communities."

Lloyd is sharing his award with Joshua Dubler, assistant professor of religion at the University of Rochester. They argue that while changes in the American religious landscape have led to an increase in mass incarceration, many religious ideas and practices still oppose such treatment.

"We intend to substantiate these two claims and explore the tension between them," says Lloyd, whose work draws on philosophy of religion, religion and politics, and race. "Our research seeks to explicate the peculiar nexus of religious and political ideas that has enabled astronomical prison growth."

Lloyd's project grew out of a working group of the Central New York Humanities Corridor, where he, Dubler, and others spent two years investigating the link between religion and mass incarceration.

Lloyd says he will use the ACLS fellowship to examine how concepts such as "justice" and "law" function as secularized theological concepts—behind prison walls, inside institutions of worship, and in the language of political elites. He and Dubler also plan to conduct a study of religion in recent prison strikes, with the goal of publishing a book on the subject. "We want to know why the language of prison reform has been thoroughly secularist," Lloyd adds.
Like Lloyd, Burrus is relatively new to the religion faculty. (She joined in 2013; he, two years earlier.) Much of her work concerns the literary and cultural history of ancient Christianity, with emphasis on gender, sexuality, and the body. She recently has become interested in bringing ecological questions and concerns to bear on readings of ancient Christian texts, an interdisciplinary project involving conversations with literary critics, philosophers, and other ecologically minded theorists.

It's against this backdrop that Burrus will spend the 2015-16 academic year at the Israel Institute for Advanced Studies (IIAS) as a member of the Poetics of Christian Performance research group. The group is made up of eight scholars from the United States, Israel, and Italy, representing the fields of religion, history, art history, and musicology. During their 10-month sojourn, they will meet for weekly seminars to explore practices of prayer and liturgy in medieval and Byzantine Christianity. Burrus is also using the fellowship to continue work on a book titled Ancient Eco-Poetics.

"I am particularly excited about the opportunity for interdisciplinary collaboration,'" she says of her fellowship. "I have so much to learn from this group of international scholars who are noted for excellence in their fields. The questions I will bring to the table have to do with how we understand the role of the senses and emotions in practices of prayer and contemplation, and how prayer and contemplation foster awareness of the interconnectedness and agency of all beings."

Burrus says IIAS is particularly conducive to scholarly research, writing, and conversation. "It's scholarly life at its best," she adds.
Ann Grodzins Gold A 20-year veteran of the religion department, Gold is using her fellowships to underwrite work on a book project titled Shiptown: Passages Between Rural and Urban in North India.

Drawing on recent fieldwork supported by the Fulbright-Hays Program, Gold's book provides an unflinching look at life in the provincial town of Jahazpur, which means "Ship-City." Gold uses "ship" as a metaphor for town life, arguing that places such as Jahazpur offer villagers a kind of vehicle to education, employment, and other opportunities.

"I choose Jahazpur because its ordinary stories and everyday struggles characterize a viable 21st-century way of life: imperfect and troubled, aspiring and resilient," says Gold, who is dually appointed to the Department of Anthropology in the Maxwell School of Citizenship and Public Affairs. "Jahazpur lives are in motion, but this small town, as opposed to a big city, offers a slower gentler transition from rural to urban—more boat-like, less rocket-like."

Gold is in residence at NHC in North Carolina, where she is working on her manuscript.