Sexual Abuse Survivor, Activist Jennifer Nadler to Speak at Syracuse Nov. 12
Visit is part of University's National Week of Action campaign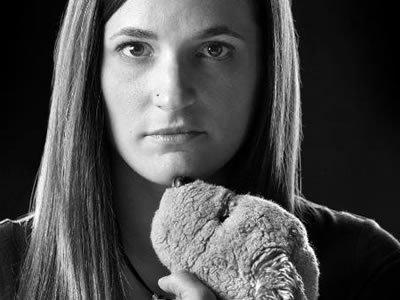 The Chancellor's Task Force on Sexual and Relationship Violence continues its National Week of Action campaign at Syracuse University with a special program by a local sexual abuse survivor and activist.

Jennifer Nadler, who was sexually abused as a teenager by a male family member, will present "No More Sorrow, No More Silence: The Voice of a Survivor" on Thursday, Nov. 12, at 7 p.m. in Room 104 of MacNaughton Hall in the David B. Falk College of Sport and Human Dynamics. The event is free and open to the public. Communication Access Real-Time Translation (CART) services will be provided.

Her presentation is part of the National Week of Action (Nov. 9-13), which is an initiative of "It's on Us," a national educational campaign, launched by the White House, designed to raise awareness of and prevent sexual assault on college campuses.

According to Barry L. Wells, special assistant to the chancellor and chair of the University's "It's on Us" committee, Nadler's story is one of tragedy and triumph. "It's our hope that her presentation will connect with the strength inside every sexual abuse survivor, regardless of age, gender, and background," he says. "Her unwavering commitment to shedding light on this dark topic gives hope to not only survivors, but also their friends, family members, and allies."

Nadler is no stranger to the campus community. A graduate of Le Moyne College, she is an adjunct professor of English at Onondaga Community College. Most people know her, however, as a gifted public speaker and dedicated board member of Vera House, which aims to end domestic abuse and sexual violence, particularly among women and children.

At Syracuse, Nadler will recount her two years of abuse, which led her to carry around a so-called "suitcase full of guilt and shame." "Each survivor has his or her way of dealing with the trauma and emotional pain of sexual abuse," she explains. "For me, it was drinking and binge eating, among several other destructive behaviors that got me through my darkest of days."

As part of the healing process, which has spanned more than 25 years, Nadler has put together an award-winning multimedia presentation. It has not only kept Nadler in the spotlight, but also earned her a raft of honors, including the 2015 Visionary Voice Award, sponsored by the National Sexual Violence Resource Center, in conjunction with Sexual Assault Awareness Month; the 2015 "Makers: Women Who Make America" award from WCNY; and a 2014 Award of Appreciation from Vera House.  

"I have worked in the field of domestic and sexual violence for almost 24 years, and I have never seen a more powerful presentation on the impact of childhood sexual abuse than the one Jennifer has developed," says Randi Bregman G'90, Vera House's executive director. "No matter who comprises the audience—male, female, survivor, ally, student, professional—Jennifer has the innate ability to connect with each person."

More information about Nadler is available at thevoiceofasurvivor.wix.com/Jennifer and @notasilentvoice. Parking is available in the Q-1 lot and Irving Avenue Garage. If both lots are full, guests will be redirected accordingly.

Click here for a complete schedule of "It's on Us" events.