Getting Sentimental
At 98, Don Waful is one of Syracuse University's oldest surviving wartime vets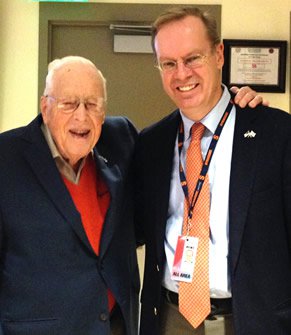 Like many war veterans, Don Waful '37, G'39 is a study in humility. But what separates him from his peers is he's willing to discuss parts of his life that others with similar experiences would just as soon forget.
At 98, Don is not only one of Syracuse University's oldest living alumni; he's also part of a rapidly shrinking group of World War II vets—a feat that engenders in him feelings of pride and melancholy. "There's nobody left," he says over lunch at Pascale Italian Bistro at Drumlins. "I've outlived my two wives. My family has moved away. And most of my friends and war buddies are gone. I'm all I have left."
Click here for "A Conversation with Don Waful '37, G'39" (VIDEO)


It's a snowy afternoon, and Don is huddled over a small table, nursing a bowl of soup. Between sips, he waxes nostalgic about his student days in the College of Arts and Sciences and then the
Maxwell School of Citizenship and Public Affairs
; World War II;
baseball; his beloved "Wife No. 1," Olga "Cassie" Casciolini, to whom he was married 53 years; and "Wife No. 2," Virginia Hofheins "Ginny" Blick, his college sweetheart who passed away in 2010, after a decade of marriage.
Don may be long in the tooth, but he's still got spunk. Wrapped in a sensible blazer, a patterned flannel shirt, and waist-high trousers, he
almost
fits the elderly stereotype. For instance, one would be hard-pressed to see him reaching for a cane or a hearing aid. Don still lives in the same house, near campus, that he bought in 1954. Still drives his own car. And, until recently, he has spent the past 25 years playing trombone in the Rhythm Airs big band.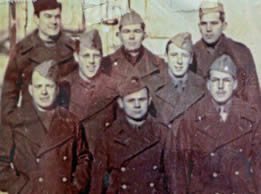 Not bad for someone whose life was almost cut short as a P.O.W. during World War II. "It was a tough existence," recalls Don, who was imprisoned for three years in Italy, Poland, and Germany, as well as endured the notorious "March" across Eastern Europe in the winter of 1945. "Between German rations [including "Black German Bread," made of sawdust, straw, and leaves] and the occasional Red Cross parcel, we lived on 500 calories a day," he says, scratching his tuft of white hair. "No wonder I lost 35 pounds."
If Don is feeling a tad sentimental, it's understandable. In November 2014, he was Chancellor Kent Syverud's guest-of-honor at the home football game against North Carolina State University. The invitation was a first for Don, who has missed only three home football games since 1946 and has never missed a football game in the history of the Carrier Dome. "Being with the Chancellor was amazing," he says, cracking a smile. "In all my years of going to football games, I had never been inside the Chancellor's suite. Kent Syverud is a pleasant man, a gracious host. We talked about sports."
A week later, Don found himself commemorating another milestone: the 72nd anniversary of the day that changed his life. On Nov. 8, 1942, Don was among the first soldiers of the U.S. Army's European Theater of Operations (ETO) to set foot on African soil. Their goal? To capture the port cities of Oran and Tunis (in Algeria and Tunisia, respectively), creating an Allied stronghold in the Mediterranean.
"The anniversary of this landing always comes three days before Veterans Day, which gets all the national publicity, as it should," says Don, a self-described "expendable 2nd Lt." of Headquarters Company, 1st Armored Division, 13th Armored Regiment. "Nobody really cares anymore about the first ETO troops in North Africa, except for the few of us who are still alive and were there. I probably told three or four people about it, while watching a football game in the Dome. It's still important to me."
Not long after arriving in North Africa, Don found himself leading a small platoon—four tanks and 11 men—toward a low-risk area outside of Tunis. "It was supposed to have been a simple milk run," he recalls, adding that his platoon was relatively inexperienced. "Instead, we walked right into 14 German tanks and a couple of platoons of infantry. They started 'spraying' us, so we dove into some foxholes. If I hadn't put away my pistol, I probably would have been shot."
Don was captured, and as if that wasn't bad enough, he was terribly lonely. A few months earlier, he had a whirlwind romance in Northern Ireland with Cassie, an attractive nurse with the 5th General Hospital from Boston, Mass. The inspiring story of how they met at a dance and got engaged on their third date, only to be separated for almost three years, virtually sustained Waful during his internment. "I knew I'd never get a 'Dear John' letter from her," he says, with a trace of emotion. "Sixty days with Cassie, and her commitment was as good as gold."