Syracuse Professor to deliver keynote address at MLK celebration in Geneva, NY
Silvio Torres-Saillant will discuss importance of peaceful coexistence, interfaith respect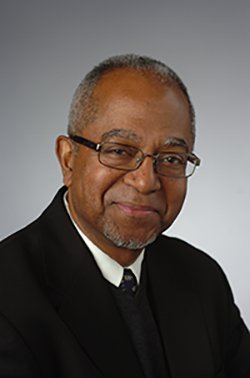 Drawing on his work in intellectual history, Silvio Torres-Saillant will be the keynote speaker at this year's Martin Luther King, Jr. March and Memorial Service in Geneva, N.Y., on Monday, Jan. 19.
Torres-Saillant, a professor of English in Syracuse University's College of Arts and Sciences (A&S), will shape his remarks around the theme of "Respect for All: It's Still the Dream!" His presentation is free and open to the public and will take place at 11:00 a.m. at the First United Methodist Church (340 Main St., Geneva).
"The notion of compassion across differences is indispensable to peaceful co-existence," says Torres-Saillant, co-founder of La Casita Cultural Center and former director of the Latino-Latin American Studies Program, both in A&S. "We are born empathic beings, and our natural disposition toward empathy gets interrupted, as we are fed ideologies of othering that trick us into thinking ourselves better than those different from us. We will never contribute to peaceful co-existence until we liberate ourselves from our presumed superiority."
Since 1969, Geneva has held an annual march in memory of the Rev. Martin Luther King Jr., whose civil rights work still reverberates around the world. The event has grown to include musical performances, community service activities, and a fellowship dinner.
"I have addressed many kinds of audiences, but this one will be my first in a liturgical setting," Torres-Saillant adds. "I see it as a challenge, since I plan to refer to some religious ideologies that have interrupted our natural disposition toward empathy. There's an urgent need to cultivate interfaith respect."
Torres-Saillant is a core faculty member of Democratizing Knowledge, a Syracuse collaborative that seeks to foster a more open, inclusive, democratic institution. He also is affiliated with the Modern Language Association, having served as a member of the Delegate Assembly and chair of the Committee on the Literatures of Peoples of Color in the United States and Canada.
Details:
The Annual Martin Luther King Jr. March and Memorial Service
Monday, January 19, 2015

9:30 a.m.
March from Geneva Public Safety Building (255 Exchange St.) to First United Methodist Church (340 Main St.)

11 a.m.
Martin Luther King Memorial Service First United Methodist Church of Geneva Fellowship dinner following service