Recognitions Roll in for LLL Faculty
Syracuse professors occupy top positions at Modern Language Association, International Association of World Englishes, and Linguistic Society of America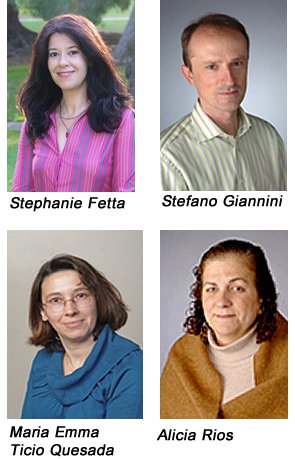 Success comes in droves for members of Syracuse University's College of Arts and Sciences. An unprecedented six professors in the Department of Languages, Literatures, and Linguistics (LLL) have been elected to top positions at three of the world's leading language organizations.

Professors Stephanie Fetta, Stefano Giannini, Maria Emma Ticio Quesada, and Alicia Rios have been elected to executive committees at the Modern Language Association (MLA), which promotes the worldwide study and teaching of language and literature.

Fetta, assistant professor of Spanish, is a member of the MLA's Division of Literatures of the United States in Languages Other Than English—a position she has held since last January. She also serves on the Women's Indigenous Native Caucus of the national organization Mujeres activas en literatura y ciencias sociales.

Giannini, associate professor of Italian, is newly elected to the MLA's Division on Twentieth-Century Italian Literature. His term begins this month.

Ticio Quesada, assistant professor of Spanish, is in her second year as a member of the MLA's Comparative Romance Linguistics Discussion Group Executive Committee. She's also serving as the committee's secretary this year.

Rios, associate professor of Spanish, has been elected to the Division on Latin American Literature from Independence to 1900. She also serves on the executive committee of the Venezuelan Section of the International Latin American Studies Association (LASA).

Each professor serves a five-year term on his or her MLA committee.

"To have such strong faculty representation at the MLA and these other international organizations is a reflection of my colleagues' character," says Gail Bulman, associate professor and chair of LLL. "Their leadership and service are indicative of our department's commitment to students, programs, the campus, and the professional community. These professors are some of our best ambassadors."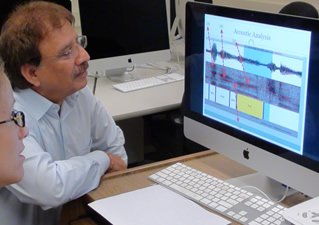 Meanwhile, Tej Bhatia, professor of linguistics, is the new vice president and president-elect of the International Association of World Englishes (IAWE), which studies the forms and functions of different Englishes in diverse cultural and sociolinguistic settings.

The announcement came last month at IAWE's 20th international conference in Delhi, India, where Bhatia also delivered the plenary address.

"I am extremely proud of Professor Bhatia," Bulman adds. "He brings a deep understanding of the issues and constituencies that are central to IAWE. I can't think of a higher honor in our field nor a more deserving person."

Along with fellow LLL professor William C. Ritchie, Bhatia has been named editor-in-chief of Brill Research Perspectives in Multilingualism and Second Language Acquisition (Brill, 2015). At Syracuse, Bhatia also serves as director of the South Asian Languages Program and as a faculty fellow in the Forensic and National Security Sciences Institute.


Jaklin Kornfilt
Jaklin Kornfilt, professor of linguistics and director of the Linguistic Studies and Computational Linguistics programs, has been invited to serve as an advisor to the Linguistic Society of America (LSA)'s Committee on Linguistic Institutes and Fellowships. She also is in her third year as a member of the Advisory to Programs Committee of LSA.

Kornfilt can trace her involvement with the society back to 1980, when she attended that year's LSA Summer Institute as a prestigious Bloch Fellow. Since then, she has received numerous other honors and awards, including the 2010 Humboldt Research Award.

"Professor Kornfilt knows, firsthand, the impact of these various institutes and fellowships," Bulman says. "They bring together some of the field's leading minds in pursuit of cutting-edge teaching and research. Her involvement bodes well for us and the LSA."

Kornfilt is currently writing a recommendation for a highly talented graduate student to attend the upcoming 2015 Summer Linguistic Institute.