Syracuse Professor Publishes Book on Well-Being
Philosopher Ben Bradley explores how well-being is defined, measured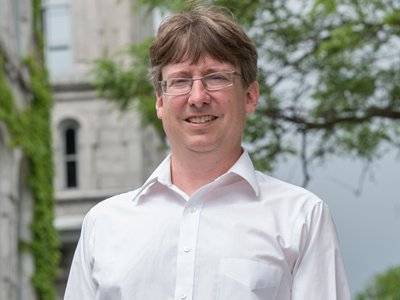 Ben Bradley, the Allan and Anita Sutton Distinguished Chair of Philosophy in Syracuse University's College of Arts and Sciences, is the author of a new book titled Well-Being (Polity Press, 2015). It's Bradley's third book project.
An A&S faculty member for more than a decade, he also is a philosophy professor and the director of the Integrated Learning Major in Ethics.
In Well-Being, Bradley guides readers through the various philosophical theories of well-being, such as hedonism, perfectionism, and pluralism, showing the benefits and drawbacks of each theory. He explores the role of well-being in moral and political theory, as well as the limitations of welfare-based approaches to ethics, such as utilitarianism and welfare egalitarianism. Finally, he introduces puzzles about well-being that arise in moral and prudential deliberations about procreation and death.
"One of my goals in writing this book is to make philosophy more accessible to the everyday person," Bradley says. "It is supposed to be understandable to readers with no formal experience with philosophy. We all have unsystematic and to some extent unconscious beliefs about the good life and its importance to morality; the book identifies many of these beliefs and subjects them to critical scrutiny."
Roger Crisp, professor of philosophy at the University of Oxford (U.K.), considers Bradley one of today's foremost ethicists. "In recent decades, philosophers have made serious progress in answering the hugely important question of what, ultimately, makes life good for anyone. Ben Bradley is one of these philosophers, and this insightful, accessible, informed, and open-minded book is an outstanding survey of where the debate now stands."
An expert in ethics and in philosophy of death, Bradley earned a Ph.D. from the University of Massachusetts at Amherst. He has held academic positions at Princeton University, Western Washington University, Virginia Polytechnic Institute and State University, and Illinois Wesleyan University. His other books are The Oxford Handbook of Philosophy of Death (Oxford University Press, 2012) and Well-Being and Death (Oxford: Clarendon Press, 2009). He also is a frequent contributor to top scholarly journals, including Philosophical Studies, Journal of Ethics and Social Philosophy, Utilitas, and Ethics.
Featured
Ben Bradley Allan and Anita Sutton Professor
Media Contact
Sarah Scalese