Art Historians Make History at Syracuse
Professors Luis Castañeda and Sascha Scott make authorial debuts with art books on '68 Olympics and Native cultures, respectively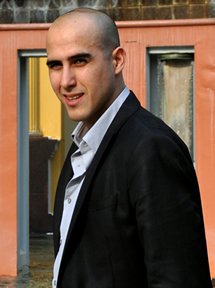 December was a good month for Syracuse University's Department of Art and Music Histories (AMH), as two of its assistant professors made their authorial debuts.

Luis Castañeda, an expert on urban, visual, and design culture in the Americas, is the author of Spectacular Mexico: Design, Propaganda, and the 1968 Olympics (University of Minnesota Press, 2014). Sascha Scott, a specialist in American and American Indian art, has written A Strange Mixture: The Art and Politics of Painting Pueblo Indians (University of Oklahoma Press, 2015), due out in February.
"Luis and Sascha are stellar representations of the interdisciplinary research that we value so highly in AMH," says Theo Cateforis, associate professor and chair of AMH. "Their politically-charged books are both primed to shape art history scholarship in new and fascinating directions."

Castañeda studies how objects, spaces, and images have influenced social and geopolitical transformations in Latin America across time, especially in the context of global media events. In Spectacular Mexico, he analyzes the creative run-up to Mexico City's 1968 Summer Olympics. These Olympics were only "the most ambitious of a sequence of design projects" that also included the creation of sports venues, a subway system, and pavilions for World's Fairs.
Throughout the book, Castañeda demonstrates how these projects were used to create a spectacle of social harmony and, ultimately, guide Mexico City into becoming the powerful megacity it is today.

Castañeda remarks that Mexico was not only the first Latin American country to host the Olympics, but also the first Spanish-speaking country to do so. "As a result of Mexico's architectural transformation in the lead-up to the Olympics, the country and its people were put on international display. Architecture and design were used as instruments of propaganda and nation-branding."

Castañeda joined the Syracuse faculty in 2011, after earning a Ph.D. from New York University. He is already working on his next book project, tentatively titled The Modernist Frontier: Architects, Bureaucracies and Power in Latin America.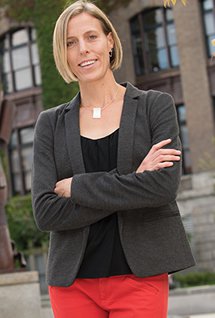 Like Castañeda, Scott is relatively new to AMH, having joined the faculty in 2008. A Strange Mixture looks at how Native and non-Native artists have used art to address some of the most pressing political and cultural issues of their day.

Scott focuses on the work of five early 20th-century artists: Ernest L. Blumenschein, John Sloan, Marsden Hartley, Awa Tsireh (San Ildefonso Pueblo), and Georgia O'Keeffe. With each artist, she examines how his or her work shaped or was shaped by American Indian politics during the "interwar period" (i.e., 1915-30), when federal Indian policy shifted away from forced assimilation and toward preservation of Native cultures. These artists helped to change political landscape, in part, by reshaping public opinion about Native peoples and cultures through their art and activism.

"What's fascinating and discouraging is that the political and ethical struggles of indigenous peoples in the 1920s and '30s are still relevant today," says Scott, who, along with her family, spent more than a year touring the country as she completed her research for the book.

Scott describes the research process as long and intense. "When my husband and I embarked on our travels with our then seven-month old son, he was beginning to crawl. By the time we returned home, he could run, count to 20, and found out he was going to be a big brother," she continues. "Although seeing this book through is a huge personal accomplishment, the journey is what I've remembered most fondly."

Scott, who earned a Ph.D. from Rutgers, The State University of New Jersey, is also on the faculty of Native American Studies, a premier interdisciplinary program in the College of Arts and Sciences.
Featured
Sascha Scott Associate Professor
Media Contact
Sarah Scalese