Olga Makhlynets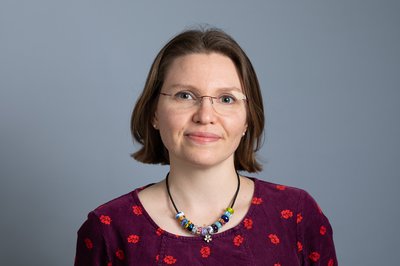 Olga Makhlynets
Assistant Professor

CONTACT
Chemistry
2-016A Center for Science and Technology
Email: ovmakhly@syr.edu
Office: 315.443.1979

PROGRAM AFFILIATIONS
Biochemistry
Biotechnology

Degrees
B.Sc., 2003, National Taras Shevchenko University of Kyiv, Ukraine
M.Sc. in Chemistry, 2004, National Taras Shevchenko University of Kyiv, Ukraine
Ph.D., 2011, Tufts University
Postdoctoral Researcher, 2011-2013, Massachusetts Institute of Technology
Courses Taught
CHE139: General Chemistry Laboratory II (Honors and Majors)
CHE422: Inorganic Laboratory Technique
metalloproteins, manganese homeostasis, protein design, antimicrobial hydrogels, catalytic fibrils
Manganese homeostasis in S. pneumoniae: My research program focuses at the interface between chemistry and biology. We use bioinorganic chemistry and microbiology approaches to study how human pathogen Streptococcus pneumoniae controls manganese levels inside the cell. Specifically, we target two proteins, one involved in manganese acquisition when this element is not easily available and another protein is responsible for removing excess manganese from the intracellular space. Since regulation of manganese levels is critical for the ability of S. pneumoniae to cause disease, this research may ultimately lead to new therapeutics.
Antimicrobial hydrogels: Another project aims to design peptide-based antimicrobial hydrogels. Infections associated with methicillin-resistant Staphylococcus aureus (MRSA), E. coli, P. aeruginosa, and Candida species have become a common problem in hospitals. Antimicrobial gels emerged as one of the strategies to prevent or treat such infections and have been designed in form of wound fillers, implant coating and for drug delivery. We study how sequence length and hydrophobic component of peptide as well as metal ion presence influence properties of the resulting hydrogel.
Protein design: We redesign small and stable non-enzymatic proteins to catalyze useful chemical reactions, such as ester hydrolysis and acylation. Most recent work focused on modulating pKa value of a catalytic histidine and measuring how this change influences catalytic efficiency. This work involves a series of NMR experiments in combination with a straightforward computational analysis, and provides guidance to rationally improve catalytic efficiency of histidine-promoted catalysis.
2014, Chancellor's Faculty Fellowship, Syracuse University.
2010, Award for Outstanding Graduate Student Contribution to Undergraduate Education, Graduate Student Council of Arts, Sciences and Engineering, Tufts University.
2008, Graduate Student Research Excellence Award, Chemistry Department, Tufts University.
Moroz, Y.S., Dunston, T.T., Makhlynets, O.V., Moroz, O.V., Wu, Y., Yoon, J.H., Olsen, A.B., McLaughlin, J.M., Mack, K.L., Gosavi, P.M., van Nuland, N.A.J., Korendovych, I.V.* New Tricks for Old Proteins: Single Mutations in a Nonenzymatic Protein Give Rise to Various Enzymatic Activities. J. Am. Chem. Soc. 2015, 137(47), 14905-14911.
Makhlynets, O.V., Boal, A.K., Rhodes, D.V., Kitten, T., Rosenzweig, A.C, Stubbe, J. Streptococcus sanguinis class Ib ribonucleotide reductase: high activity with both iron and manganese cofactors and structural insights. J. Biol. Chem. 2014, 289(9), 6259-6272.
Rhodes, D.V., Crump, K.E., Makhlynets, O.V., Snyder, M., Ge, X., Xu, P., Stubbe J., and Kitten, T. Genetic characterization and role in virulence of the ribonucleotide reductases of Streptococcus sanguinis. J. Biol. Chem. 2014, 289(9), 6273-6287. Has been selected as a paper of the week (top 2% of all papers submitted to the journal).
Makhlynets, O.V.; Oloo, W.; Moroz, Y.S.; Belaya, I.G.; Palluccio, T.D.; Filatov, A.S.; Müller, P.; Cranswick, M.A.; Que, L., Jr. and Rybak-Akimova, E.V. H2O2 activation with biomimetic non-haem iron complexes and AcOH: connecting the g = 2.7 EPR signal with a visible chromophore. Chem. Commun., 2014, 50, 645-648. Has been selected as a cover article of the issue (Issue 6, January 21, 2014).
Makhlynets, O.V.; Rybak-Akimova, E.V. Aromatic hydroxylation at a non-heme iron center: observed intermediates and insights into the nature of the active species. Chem. Eur. J., 2010, 16(47), 13995-14006 Has been selected as a cover article of the issue (Issue 47, December 17, 2010).
Huang, D.; Makhlynets, O.V.; Tan, L.L.; Rybak-Akimova, E.V.; Lee, S.C.; Holm, R.H. Extremely rapid carbon dioxide fixation: kinetics and mechanistic analysis. Proc. Natl. Acad. Sci. USA, 2011, 108(4), 1222-1227.
Korendovych, I.V.; Cho, M.; Makhlynets, O.V.; Butler, P.L.; Staples, R.J.; Rybak-Akimova, E.V. Anion and carboxylic acid binding to monotopic and ditopic amidopyridine macrocycles. J. Org. Chem., 2008, 73(13), 4771-4782. Has been selected as a cover article of the issue (Issue 13, July 4, 2008). PMID: 18396906